Hamilton eyeing 'potential podium' after securing third-row start in Australia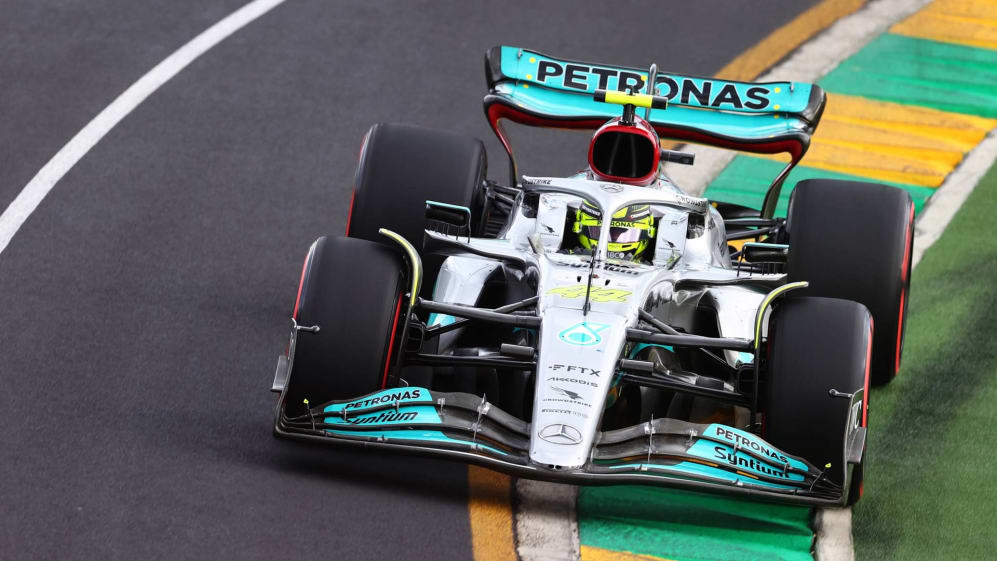 Mercedes occupy the third row on the provisional Australian Grand Prix grid, with Lewis Hamilton fifth and George Russell sixth – and the seven-time champion says a podium could be on the cards if he's dealt the right hand on Sunday.
Hamilton qualified almost a second off pole-sitter Charles Leclerc at Melbourne, Russell another tenth off. But Mercedes locked out the third row and managed a third consecutive top-six start – and their best combined qualifying performance so far this season.
FACTS AND STATS: Leclerc breaks Hamilton's Melbourne pole streak, while Bottas sets a new F1 record
"I think we did a decent job to get to where we are because we had a bigger deficit yesterday," said Hamilton. "My last lap, I felt like I there was more in it, so I had this unexpected step of grip and didn't get to maximise it, but I am still naturally happy with it."
Looking ahead to his prospects for Sunday, with Carlos Sainz starting ninth and Sergio Perez in danger of a penalty, Hamilton said: "Well then that means we've got a good fight up front and there are potential podiums possible – who knows? I am just going to be battling as hard as I can, try and get off the line as well as I can."
Russell, having qualified sixth for the second race running, expressed his surprise at the presence of a papaya car in front, as Lando Norris qualified a season-best P4, with McLaren getting cars into Q3 for the first time in 2022.
"I mean it's a bit of a surprise to get pipped by one of the McLarens, they are seemingly very fast this weekend. Definitely on low fuel I think we should be quicker than them," said Russell.
"Tomorrow... I think we are still learning, still trying to understand the car. Wasn't perfect out there; it's bouncing around a lot and that was limiting into the fast corners, and that's where I lost all my lap times. But I think P5, P6, we would have taken prior to the session."
READ MORE: Verstappen laments 'terrible weekend so far' despite taking P2 on the grid for Melbourne
Russell eyed a move into the top five – but was wary of Sainz, who was left "angry" after an issue compromised him in Q3 – recovering from P9 on the grid.
"I think there is no reason why we can't finish ahead of the McLaren. We need to try and keep Sainz behind us, I don't really know what happened with him today – he is clearly a lot quicker than us at the moment. All things going well [we could finish] P4, P5, but it's probably won't be quite as straightforward as that."