Hamilton forced to 'eat my words' after Spanish GP qualifying as Russell describes intra-team Mercedes clash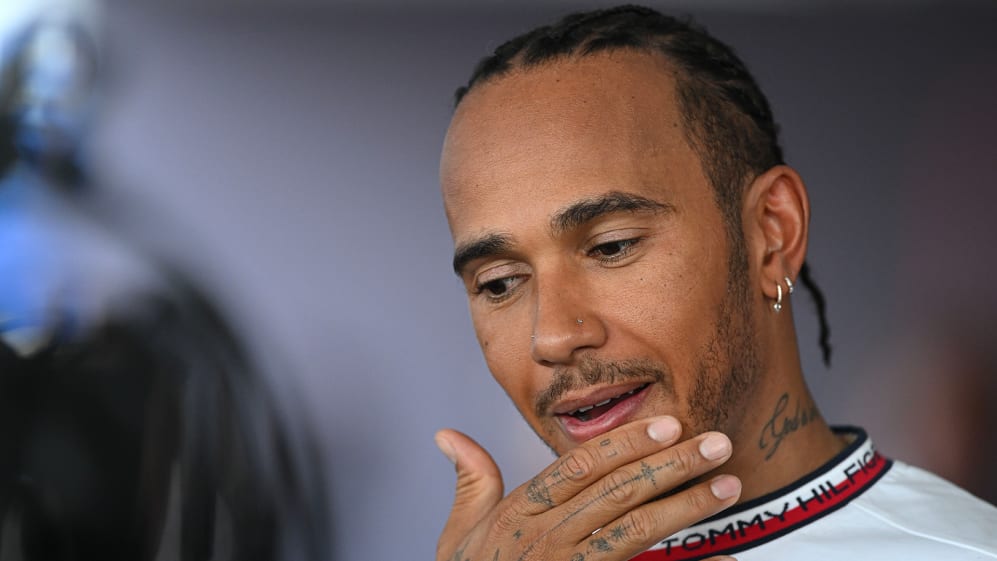 Lewis Hamilton hailed his run to fifth on the grid during Spanish Grand Prix qualifying as "massively encouraging" for Mercedes, having feared he was in a fight to even reach the top 10 after Friday practice.
Hamilton made the comments off the back of a quiet run to 11th in FP2 but was left delighted by a much-improved display in the grid-deciding session and paid tribute to the team for the progress made overnight.
READ MORE: Verstappen storms to Spanish GP pole ahead of Sainz and Norris after Leclerc drops out in Q1
"It was interesting because during the session I was thinking, 'Damn, yesterday I said I wasn't going to get into Q3 or into the top 10, and basically I was eating my words'," said Hamilton.
"It was a really, really great session and massively encouraging to us to be competitive. I couldn't believe I was fighting for the top three at one stage.
"Of course, my last lap wasn't the dream lap, I was second basically all the way until Turn 10 and I had a snap and lost two-tenths. On one side I'm gutted, but one side of me is really grateful just to be up there, up in the fight and have that pace."
Asked what his objective is for Sunday's race, he added: "My goal is to win somehow. I'm going to try and drive the wheels off the car and try and get up as high as I can."
READ MORE: Verstappen says second Q3 lap in Spain 'would have been even better' and explains why he abandoned it
Hamilton's session included a strange coming together with Mercedes team mate George Russell on the start/finish straight (available to view in the video below) and left the seven-time world champion with a damaged front wing.
Russell, who wound up 12th after a change in his car's balance between FP3 and qualifying that left him "bouncing all over the place", offered an explanation over the incident when he spoke to the media post-qualifying.
Asked if he and Hamilton were working to a plan, Russell replied: "I hope that wasn't part of the plan, because it's not a good plan if it is! No, I think it was just a big miscommunication, a lot of traffic on the out-lap, I was just looking ahead trying to take the slipstream from Carlos [Sainz], and the next thing [I know] Lewis was there.
"Fortunately, nothing big happened, but I'm just a bit disappointed to be out in Q2. I was really struggling with the car the whole session, wasn't feeling the same as it was in practice, and that was kind of the maximum I could get out of it. Not ideal, but it's a long race tomorrow."
READ MORE: Leclerc left searching for answers after 'very, very weird' feeling leads to shock Q1 exit in Spain
Pushed on whether Mercedes had been trying to set up a tow between their two drivers, Russell added: "No, not between the two of us. I think there were cars on fast laps behind us. I had to let Sainz past at Turn 13, you can't really see that far in the distance.
"Maybe Lewis was starting his lap… I don't even know if he was starting his lap or finishing his lap. Obviously it's not ideal for the both of us, but that didn't really contribute towards the lack of pace."