Hamilton hails 'amazing day' in Monaco as Mercedes get first glimpse of upgraded W14 out on track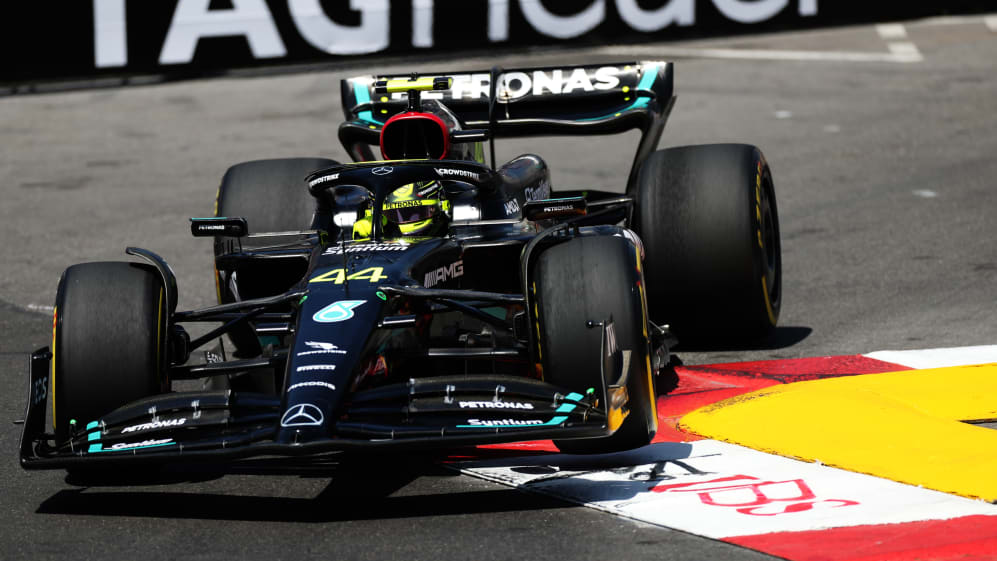 Lewis Hamilton showed his appreciation for his Mercedes team after what he described as an "amazing day" of running in Monaco. The Silver Arrows put their upgraded W14 through its paces on track for the first time during the practice sessions on Friday.
Hamilton had a strong first outing in Monaco, as the Briton traded fastest times early on in FP1 to end up third fastest, before finishing sixth in second practice following the qualifying simulation runs.
FP2: Verstappen leads Leclerc while Sainz crashes during ultra-close second practice in Monaco
When asked how the upgraded W14 felt to drive around Monaco, Hamilton replied: "I've generally had an amazing day. I've really enjoyed driving today. I want to say a big, big thank you to everyone back at the factory.
"To build, and design and develop a car is not an easy thing. Everyone has put so much time in, so many hours of hard work, to have us here today. I'm glad we were able to keep it on track for them and I think we got a lot of data.
"It's not the place to ultimately test an upgrade, but the car was generally feeling good. It's a shame we weren't as close as I'd hoped at the end of the session.
"But I definitely felt the improvements and I'm grateful for them. I've just got to keep chipping away and see if we can squeeze any more juice out the car."
When asked whether there was one specific area on the car that he had seen the most improvement with the new update, a coy Hamilton responded: "There is, [but] I'm not going to say where it is.
AS IT HAPPENED: Follow all the action from second practice for the Monaco Grand Prix
"But there is, and it is very clear where there is a lack of performance for me. We will talk about that in the debrief. We will put our heads together and try and figure out how we can do that within what we have. But, hopefully, this gives us a platform moving forward."
Looking ahead to Saturday's qualifying, Hamilton was asked whether a surprise pole position could be on the cards. He responded: "In FP1 I thought maybe we are looking good, but we are always looking pretty good in FP1 for some reason.
In [FP2] we were close to half-a-second off, maybe that could have three-tenths maybe, but I don't think we have half a second in the bag, so we will see. We will work on it and see if we can squeeze some more out tonight."
On the other side of the garage, George Russell did not enjoy as smooth a day as Hamilton, finishing 15th in FP1 and 13th in FP2. While the Mercedes racer says it is too early to draw conclusions, he admits there are "positive signs".
READ MORE: Williams offer fans chance to choose their livery for Singapore, Japanese and Qatar Grands Prix
"I think, as we said yesterday, in Monaco – [it's] such a unique circuit – it's not really the place to be evaluating any updates for changes," said Russell. "We knew that coming into the weekend.
"So... we'll worry about that next weekend [in Spain] and just focus on trying to improve around here, a really unique circuit.
"Qualifying is obviously the most important part of the weekend and qualifying is a part of the weekend where we generally struggle; we always do better on a Sunday when you look at the last 18 months.
"So, we'll need to try and figure some stuff out overnight. There's definitely some positive signs to take from the session, definitely improved from FP1.
"It's never easy around this place… We'll need to work on our qualifying pace for this event and reassess the car globally next weekend."