Williams offer fans chance to choose their livery for Singapore, Japanese and Qatar Grands Prix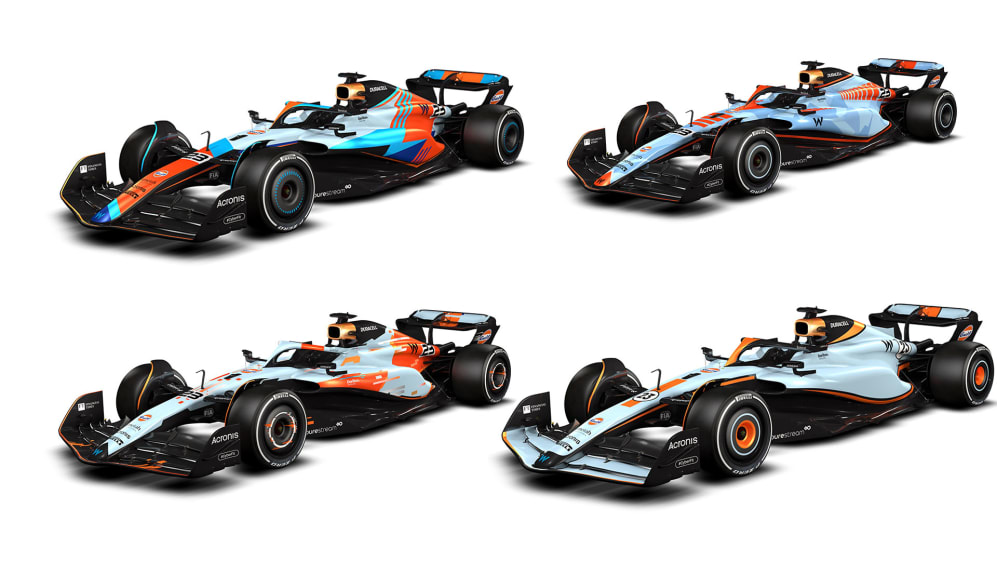 Williams are offering fans the chance to pick a special one-off livery in their partner Gulf's iconic colours, which will feature on their FW45 race cars at the Singapore, Japanese and Qatar Grands Prix later this season.
Williams have given fans the choice of four liveries, which include designs named 'Bolder Than Bold', 'Contemporary',' Visionary' and 'Heritage', all inspired by Gulf's historic blue and orange colourway.
READ MORE: PADDOCK INSIDER: Monaco is one of F1's great challenges – and it's where Red Bull's rivals will feel they are beatable
The design that is chosen will not just feature on the FW45, but also on the race suits worn by drivers Alex Albon and Logan Sargeant, as well as Williams' social media feed throughout all three races.
There will be three rounds of voting, with round one starting on Friday, May 26. Following the final vote, the winner will be announced at the Williams stand at the Goodwood Festival of Speed event in the UK, where fans can see the livery up close.
"I'm excited to announce the livery vote as part of our partnership between Gulf and Williams Racing," said Williams Team Principal James Vowles. "The winning livery will showcase two iconic motorsport brands coming together.
"Our fans have the opportunity to create motorsport history with their livery decision, bringing this partnership to life. I can't wait to see the winning design and watch the Williams Racing fans cheering the team on."
Mike Jones, CEO of Gulf Oil International added: "Gulf's iconic colours have created stunning liveries throughout motorsport history, and this year is set to be no different.
PALMER: Monaco is the biggest challenge in F1 – here's how the drivers prepare for a race fraught with risk
"This project is all about giving fans control and placing them at the centre of our partnership with Williams Racing. We feel strongly that each theme and livery will go down extremely well and look forward to seeing which one the fans choose.
"We hope that Gulf and Williams Racing fans alike love this vote and get excited about their role in choosing the latest Gulf livery. This activation marks what will be an iconic moment for both Gulf and Williams Racing in motorsport."
To be able to have your say, you can click here to vote for the livery that you would like to see on the FW45 later this year.