Vasseur explains why Zhou is the 'right choice' for Alfa Romeo – and reveals how he and Giovinazzi have cleared the air
Alfa Romeo Team Principal Frederic Vasseur has explained why he's brought Chinese F2 driver Guanyu Zhou to the team for 2022 alongside Valtteri Bottas – and revealed what he said to clear the air with Antonio Giovinazzi after a pointed social media post from the departing Italian…
An all-new line-up will grace the Hinwil team in 2022 as Bottas joins from Mercedes and Zhou graduates from Formula 2 to Formula 1, the Chinese driver becoming the first from his country to race full time in the world championship. So why Zhou?
"Because that I think we are at the beginning of a new journey for the team, for F1, with the regulations and if we have to change I think it's the right [moment]. And Zhou is doing very well in F2… there is still two races to go, and he can be champion, and it's the right choice," began Vasseur.
READ MORE: 5 key moments on 2022 Alfa Romeo driver Guanyu Zhou's Road to F1
"I think that first the performance is speaking for itself, that he is a frontrunner, he won this season in Bahrain and Silverstone – in F2 it's probably the two most demanding tracks… and he did some pole positions, he's always there, consistent, and I'm sure he will do well in the next step," he added.
Vasseur added that the combination between rookie Zhou and veteran Grand Prix winner Bottas will serve Alfa Romeo well. "I think the combination is an important topic, that Valtteri is very experienced, he is doing well. He did a fantastic second part of the season this year and he will bring to the team his own experience and alongside we will have a rookie coming from F2. It's important for a rookie to have a reference…"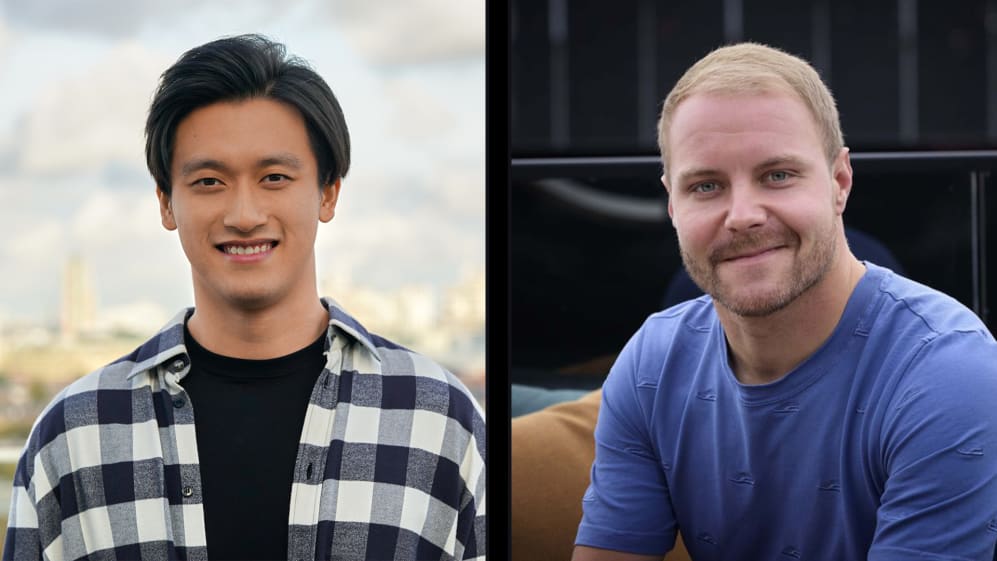 As for Italian Giovinazzi, who will bow out of F1 having spent three seasons with Alfa Romeo, the 27-year-old made a pointed social media post on Instagram calling the sport "ruthless" after it was announced that Zhou would take his seat. Vasseur made his feelings clear on Giovinazzi's opinion, and added that it may be wise for his outgoing driver to keep his bridges to F1 intact.
READ MORE: Giovinazzi says he could do 'nothing more' to keep Alfa Romeo seat as he looks to retain Ferrari ties
"Yes, you can imagine that I was not very happy," said Vasseur, "but on the other hand I can understand that it was quite emotional for him. We had a discussion. Now he knows perfectly that he has to stay focused in the next three events - that it will be important for him, that motorsport is a small world if you want to come back in F1 he has to show that motivation… is still there.
"But now regarding the fact that motorsport is driven by sponsors, it's not new, that I think every single team on the grid they have sponsors, they have finance, and we have to deal with it – but we have all the same target that at the end is to perform. It's part of the job."
That led to the question of whether sponsorship played a significant role in Zhou's appointment to Alfa Romeo.
ANALYSIS: Why Alfa Romeo went for Zhou, how the deal came together – and who else was in contention for the seat
"The first criteria is the performance of the team," stressed Vasseur. "It [finance] was a pillar of the decision for sure and it was always clear like this because we want to be at the cost cap, it's the best way for us to be performant, but it's not the only one. It's that Zhou is doing a good job in F2. Everyone is underestimating the level of performance and the job done by Zhou this season," he concluded.
Vasseur wouldn't reveal the duration of Zhou's contract with Alfa Romeo but in Qatar he said: "we are expecting to have a long-term collaboration".