Hamilton points to 'something in the pipeline' for Mercedes as he eyes Red Bull fight by end of season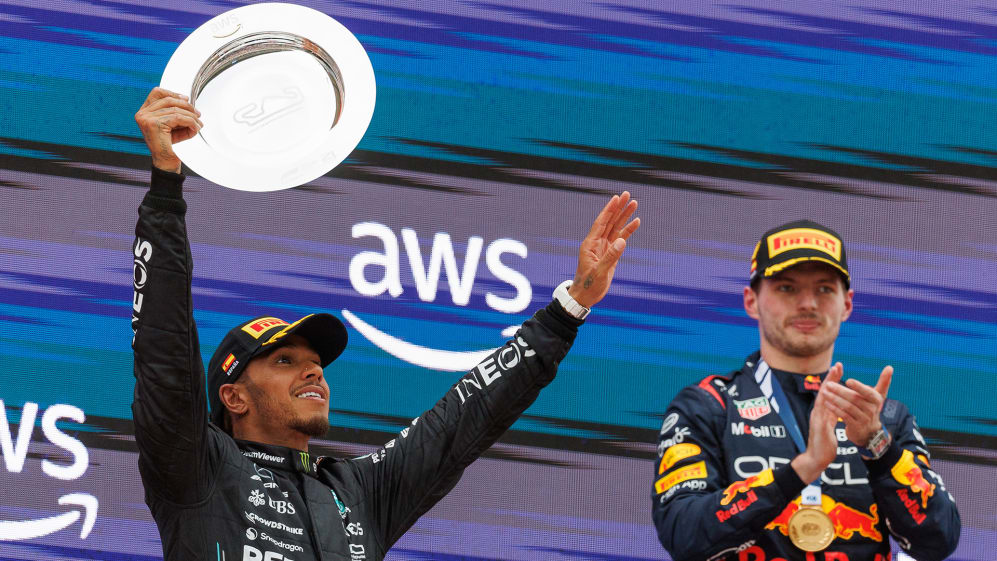 Lewis Hamilton has expressed hope that Mercedes will be in a position to challenge Red Bull by the end of the season, saying there should be more to come from the team after their double podium finish in Spain.
Having recently scrapped their zero-sidepod concept in favour of a more conventional design, and introduced a host of other updates, Mercedes emerged as Red Bull's nearest rivals on race day at the Circuit de Barcelona-Catalunya.
PALMER: Did Spain offer us a clue as to when Mercedes might be able to seriously challenge Red Bull?
Indeed, Hamilton followed Max Verstappen home for second and team mate George Russell rose from 12th to third to round out the podium, fending off the other Red Bull of Sergio Perez – who started ahead of him – in the process.
While Hamilton crossed the line almost 25 seconds away from Verstappen, and admits the W14 is not yet in a position to fight with the RB19 on merit, the seven-time world champion is optimistic over Mercedes' chances of reeling Red Bull in before the year is out.
Asked about the prospect of matching Verstappen and Red Bull at any of the Grands Prix coming up this year, Hamilton began: "With the current car that we have, I don't think we'll be matching their performance, but we're working on improving the car.
"With the current package, we're limited to the pace that we had today, but I think there's a huge amount of work and studying and improvement that we hopefully will have coming in the future.
POWER RANKINGS: Who makes it into the top 10 after a tough Spanish Grand Prix?
"Naturally, they should also be progressing through the year, so we need to be taking big chunks out of them with every step we take. I think today they were a good few tenths ahead of us, maybe half a second ahead of us per lap, and on a single lap, that's a little bit bigger.
"But I think we're going in the right direction and I know we have something in the pipeline moving forward, so I'm hoping that at least by the end of the year, maybe we can… It would be great if we could challenge them."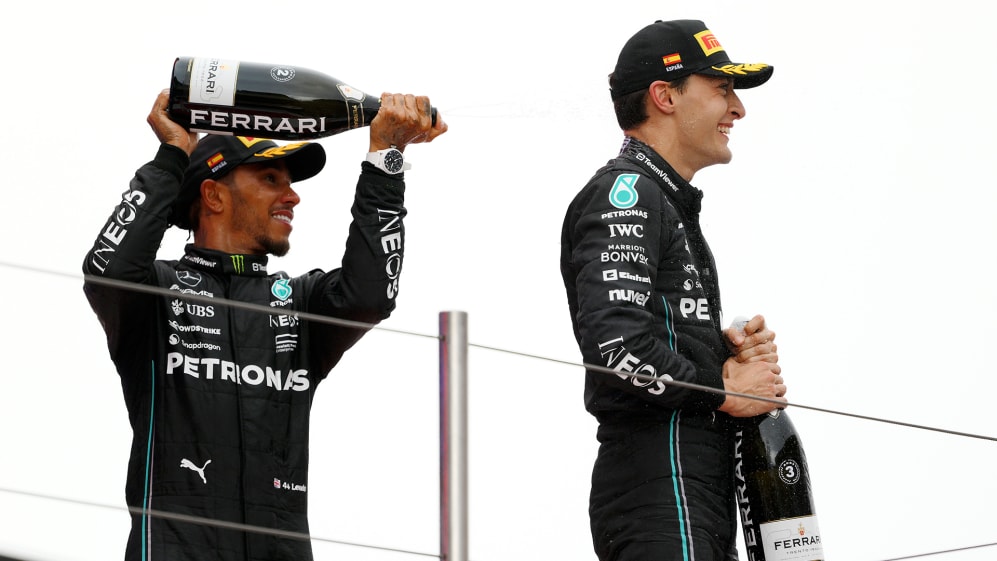 Hamilton added that, while he is keen to get closer to Red Bull and push them as the 2023 campaign develops, he also wants Mercedes to have everything they need to hit the ground running in 2024.
"I'm more focused on making sure next year we have the car to challenge them from day one, and the further we continue to push this car this year, the more that impacts next year also, in some ways," he commented.
TREMAYNE: Why dejected Norris should take heart from Hamilton's smile in Spain
"The more we learn about this car, that also sets us in the right direction – it's trying to find the right balance [between this season and the next]."
Mercedes' double podium in Barcelona moved them above rivals Aston Martin for second in the constructors' standings, while Hamilton and Russell sit fourth and fifth respectively in the drivers' battle.