Hamilton says it will take 'everything and more' to repeat Bahrain success against Red Bull this season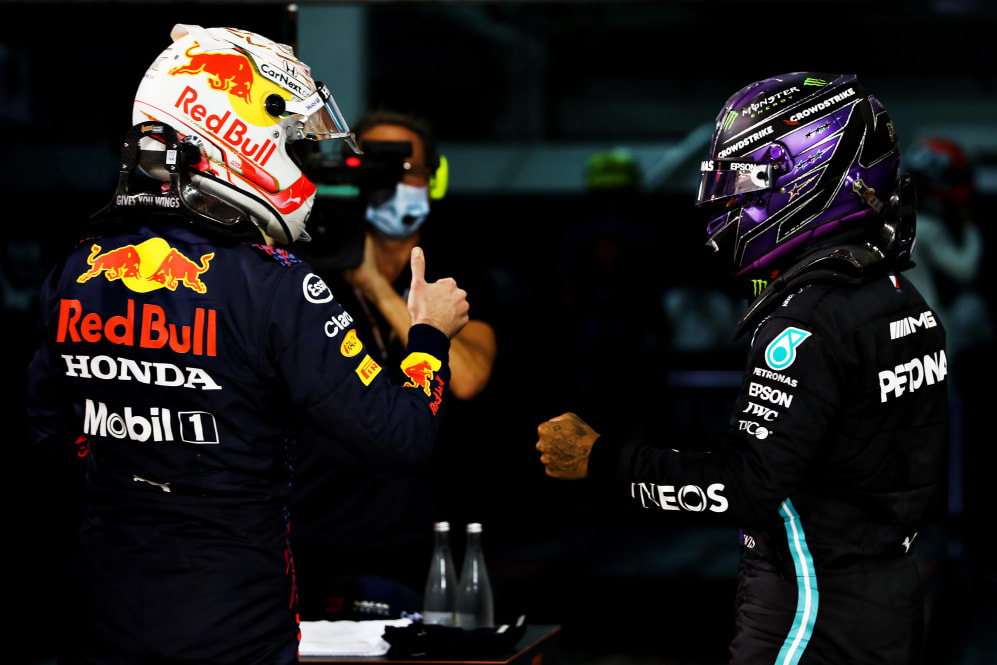 Lewis Hamilton won his first season opener since 2015 at the Bahrain Grand Prix, taking an unlikely victory against the more fancied Red Bull of polesitter Max Verstappen. But Hamilton said that it would take a lot of work from his Mercedes team to clock up similar results in the coming races.
Despite Verstappen's superior pace, both across the weekend and particularly in the closing stages of the Bahrain Grand Prix, Hamilton was able to hold off the Dutchman's challenge – including an ultimately unsuccessful lunge around the outside of Turn 4 – to claim his 96th win.
READ MORE: Last laps were 'horrifying' says Hamilton after he fends off Verstappen to win Bahrain GP
The victory marked just the third time Hamilton has ever won the opening race of a season in his illustrious career. But despite the seven-time champion believing that he was driving at his peak currently, Hamilton wasn't fooling himself about the challenge facing him and Mercedes from Red Bull this year.
"Each year they're talking about when you've hit your peak," said Hamilton after the race. "I think I'm probably at that and Max is really doing well at the moment too. So it's going to take everything and more for us to put in performances like this. We love the challenge, I love the challenge – I still love what I do."
Hamilton has withstood stiff challenges before during his seven title-winning seasons in F1. But the Mercedes driver was moved to call the start to 2021 "the toughest" he'd experienced to date, with the Silver Arrows having struggled throughout pre-season testing, while being open about not yet being on the pace of Red Bull.
"This has got to have started off as one of the toughest, if not the [toughest seasons]," said Hamilton after the Grand Prix. "I think Red Bull's pace is incredibly strong, as you could see. We can't match them in qualifying right now. That's a big, big step for us but obviously I thought we could get closer in the race – but that was a little bit too close for my liking!
READ MORE: Hamilton 'super excited for fans' at prospect of title battle with Verstappen after Bahrain thriller
"The thing is, we just don't know how much better they'll be in other places that we go to – or how much worse," Hamilton added. "Maybe our car's better in other places than it is here, or maybe it's worse, we'll wait and find out. One thing's for sure, we'll work as hard as we can to improve it."
We'll next get a chance to see how Red Bull and Mercedes fare against one another at the Emilia Romagna Grand Prix, held at the iconic Imola circuit, on April 16-18.