Hamilton says jumping ahead of traffic queue cost him final shot at pole in Q3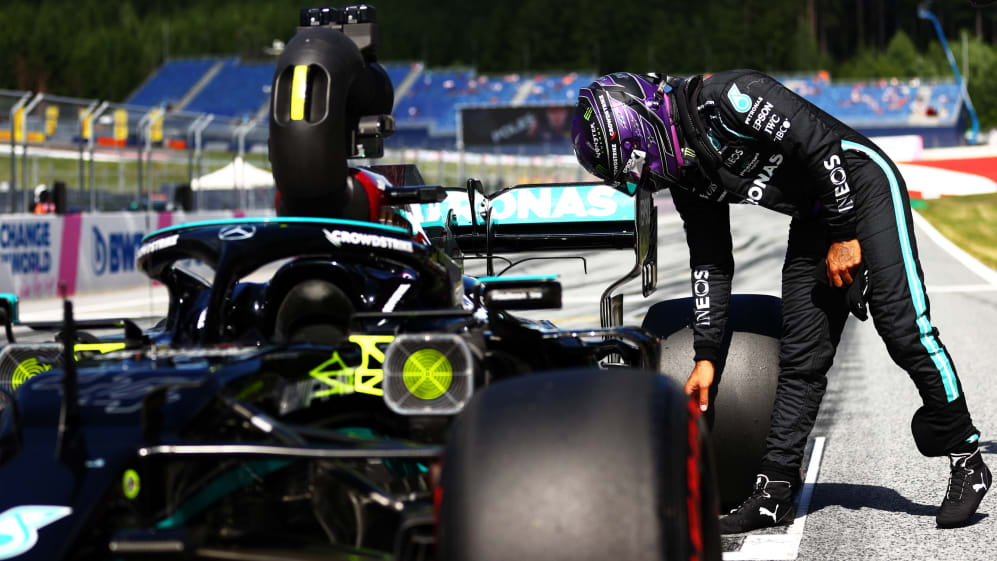 After saving a set of tyres early in qualifying, Lewis Hamilton gave himself three shots at bagging pole position for Sunday's Styrian Grand Prix. But the Mercedes driver ultimately came up short to title rival Max Verstappen, with the Briton left ruing an instinctive move to overtake the queue of cars ahead of him before his final run for blowing his final chance of P1 on the grid.
Fastest in FP3, Hamilton had high hopes for qualifying, but in the event could only manage the third quickest time behind Verstappen and Silver Arrows team mate Valtteri Bottas, though the Finn's grid penalty means Hamilton will indeed line up alongside Verstappen on the front row.
REPORT: Verstappen fends off Mercedes duo to take Styrian GP pole on Red Bull home soil
Asked about whether that moment, where he'd overtaken several rivals as Q3 neared its conclusion, and whether it cost him, Hamilton laughed: "Yeah definitely, in hindsight. I was worried everyone was going so slow, and not having the tyres up to temperature.
"I went on all the dirty lines – just picking up dirt on the tyres, then poor exit out of the last corner. Already by Turn 1 I was a tenth down and then by Turn 3 I was two-tenths down. So no hope in that respect. Then naturally tried to overdrive it to gather that time lost back and it didn't work."
Hamilton went on to explain that he'd been at a loss where the pace had gone between FP3 and qualifying.
"It was a difficult session for me," he said. "Generally I've had a really good weekend so far, of course not as quick as Max but I did a lot of work before the event and the car was feeling great all day yesterday. We've just been chipping away at it – each change is just trying to eke out like 10 milliseconds or something. Then I got into qualifying and the car just didn't feel as great as it did in P3 – I don't fully understand it.
READ MORE: Verstappen says tense exchange with engineer 'fired him up' after claiming first ever back-to back poles
"I didn't have expectations [going into qualifying]," Hamilton continued. "I wanted to have a good session and deliver a good lap. In FP3 I did a lap and I was like 'that's the one I need in Q3' – and I got nowhere near it [laughs].
"These things happen. We gave it everything and we've got a long race tomorrow, so I hope the balance works for us. It's going to be a tough battle with these guys [Red Bull]. I think they've generally had the edge this weekend and the analysis last night was they were a quarter of a second ahead on long run pace – I hope we've closed that gap."
Hamilton goes into Sunday's race 12 points behind Verstappen in the title race, with each driver having triumphed twice at the Red Bull Ring.