Hamilton says Mercedes have 'potential to win' after 'pretty epic' drive to second in Hungary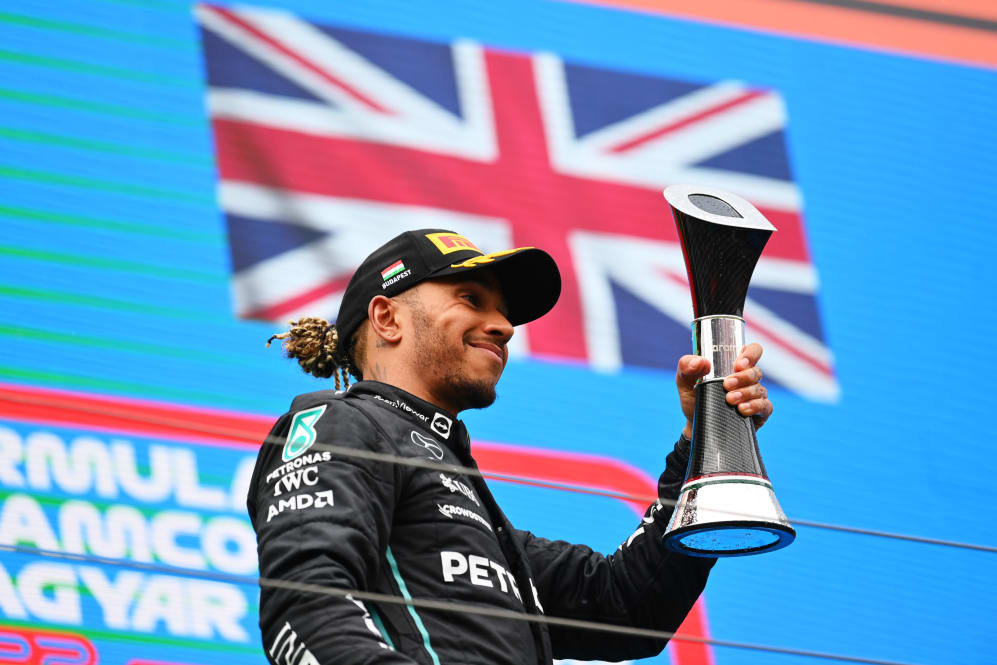 Seven-time world champion Lewis Hamilton has set his sights on a first victory of the season when F1 returns following the summer break, after the Mercedes driver delivered his most competitive drive of the season to finish second in Hungary – his fifth podium in succession.
Hamilton was on the back foot for the Budapest race after a DRS issue in qualifying meant he started seventh – while team mate George Russell started on pole for the first time in his career, as the Silver Arrows showed a shock turn of pace after a miserable day on Friday in free practice.
READ MORE: Verstappen recovers from P10 to take Hungarian GP win as Mercedes secure double podium
But an impressive start hauled Hamilton into fifth and two strong stints on the medium tyre opened the door for a final stint on the soft, which gave him the pace to snatch second from Russell, crossing the line 7.8s adrift of race winner Max Verstappen.
"It's hugely satisfying and a great feeling for us given the year we've had and to see the progress we've started to make," said Hamilton. "Just getting P2 last week [in France] was huge and it's two races in a row George and myself have shared the podium, which is fantastic.
"To start seventh and get up here is a great recovery. The race was lost on the first medium tyre stint, but yes, the second and third part of the race was pretty epic."
He added: "There was potential for a win. If we had both been up there, we could have worked together with support strategy wise, but if we are able to take this pace in the second half we can fight with [Red Bull and Ferrari].
"To fight and battle with Ferrari for the first time, that's huge. Red Bull are ahead. The fact Max spun and finished 10 seconds ahead says enough, but we've still made huge progress and so to have consistency and two double podiums in the last two races gives us great hope."
It was a case of mixed emotions from Russell, who fended off the Ferraris of Carlos Sainz and then Charles Leclerc to maintain the lead early on – but didn't have the pace to deal with a fast-recovering Verstappen in the Red Bull and struggled on the mediums in the final stint as light rain fell and temperatures dropped.
READ MORE: 'It was a disaster' – Leclerc 'very disappointed' with P6 finish in Budapest as he singles out what cost him victory chance
"We did everything right for both of us to fight for the win but it didn't go our way," said Russell. "It was always going to be tricky because there was rain throughout.
"Knowing you're on soft tyres I was rubbing my hands, pulled a gap to Carlos and then the rain stopped. It was a good first stint and I pitted early to cover Max and the Ferraris but Max was too fast and that put us in a tricky place on the last stint on the mediums.
"I was struggling. My engineer said we had 25 laps to go and I thought this would be tricky. Lewis did an amazing job and had better pace at the end."
Reigning world champions Mercedes are now just 30 points behind Ferrari in the chase for second in the constructors' championship, as F1 heads into its summer break before the Belgian Grand Prix on August 28th.