Report
Verstappen recovers from P10 to take Hungarian GP win as Mercedes secure double podium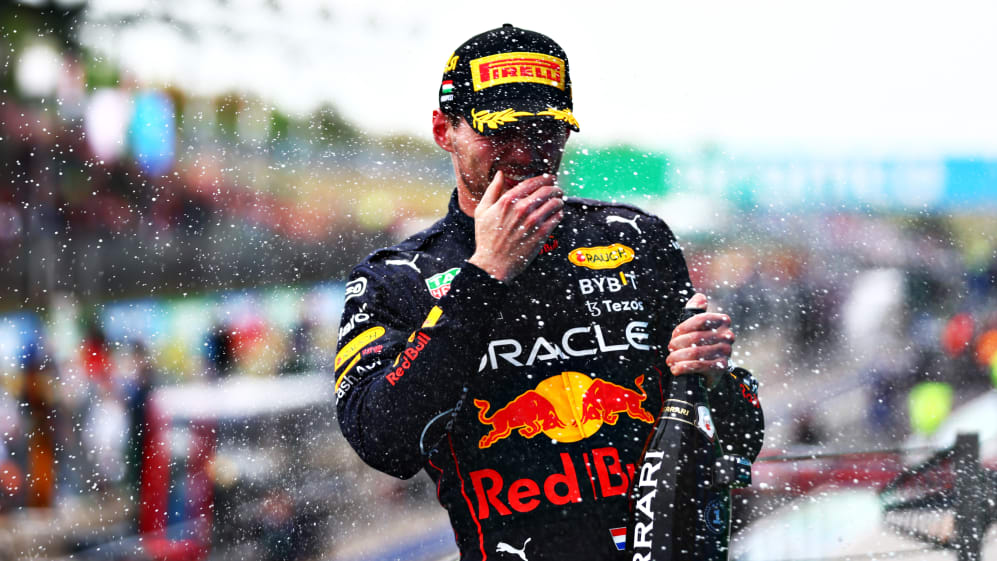 Max Verstappen won the 2022 Hungarian Grand Prix from P10 with pitch-perfect execution of Red Bull's strategy, while Lewis Hamilton finished second ahead of his pole-sitting Mercedes team mate George Russell.
Russell led on soft tyres and pitted on Lap 15, soft-shod Verstappen pitting from P5 a lap later to force Carlos Sainz to pit from the lead. Charles Leclerc meanwhile stayed out in the lead, extending his first stint until Lap 22. Russell led again but was passed by Sainz on Lap 31. So, from P4, Verstappen forced the issue with a second stop for mediums on Lap 39.
FACTS AND STATS: Verstappen matches Red Bull's best-ever recovery win
Crucially, with that stop, Verstappen had pulled off an undercut on Sainz and had an advantage on Leclerc too, the Monegasque starting on mediums to swap for the same compound after a lengthy first stint – and from the lead pitting from hard tyres well after Verstappen. The Dutchman cleared his rival with ease soon after that and it became clear that hard tyres weren't the answer; Leclerc falling to P6 as he switched again for softs while Verstappen won by 7.8s.
And that was despite a 360-degree spin that almost cost Verstappen at the final corner and forced him to make another overtake on Leclerc.
Hamilton started seventh on mediums, cleared the Alpines, pitted for mediums and stayed out long to ensure he could finish the race on softs, which ensured he could pass the likes of Sainz and then Russell to finish second.
FORMULA 1 ARAMCO MAGYAR NAGYDÍJ 2022
Hungary
2022
Race results
POSITION
TIME
POINTS

1

Max

Verstappen VER

Red Bull Racing

1:39:35.912

25

2

Lewis

Hamilton HAM

Mercedes

+7.834s

19

3

George

Russell RUS

Mercedes

+12.337s

15

4

Carlos

Sainz SAI

Ferrari

+14.579s

12

5

Sergio

Perez PER

Red Bull Racing

+15.688s

10
Having started on pole, Russell couldn't convert that to a win, his soft-medium-medium strategy seeing him end up third ahead of Sainz, who was cost by slow pit stops to finish fourth behind the Mercedes. Sainz still held off Sergio Perez by a second, while Leclerc couldn't use his soft tyres to pass Perez and ended up sixth behind the Red Bull on another disappointing day for the Scuderia.
Lando Norris beat the Alpines to seventh, while Fernando Alonso finished P8 at the expense of team mate Esteban Ocon. Sebastian Vettel scrapped with Lance Stroll to lead his Canadian team mate for P10.
READ MORE: 'It was a disaster' – Leclerc 'very disappointed' with P6 finish in Budapest as he singles out what cost him victory chance
Pierre Gasly took P12, comfortably ahead of 13th-place Zhou Guanyu. Mick Schumacher was next, while Daniel Ricciardo could only manage 15th thanks to a five-second penalty ahead of the other Haas of Kevin Magnussen – who was involved in a minor collision early on.
Williams were next, Alex Albon finishing ahead of Nicholas Latifi in P17 and P18 respectively, while a spin saw Yuki Tsunoda finish 19th and last for AlphaTauri.
Valtteri Bottas stopped five laps from the end to bring out a Virtual Safety Car and a last-place classification for the Alfa Romeo.
AS IT HAPPENED
Spots of rain threatened to add even more drama to a weekend that has already seen Nicholas Latifi lead a session, George Russell take his maiden pole position to keep the Ferraris of Charles Leclerc and Carlos Sainz at bay – and then Max Verstappen qualify 10th ahead of team mate Sergio Perez.
Meanwhile, Pierre Gasly would begin from the pit lane with a new power unit, something Red Bull also opted to fit for both drivers after their qualifying glitch, but, given special dispensation to do so by the FIA, neither Perez nor Verstappen took grid penalties.
The drivers sported a range of Pirellis, Russell on used softs from pole, Lando Norris taking used softs from P4, his team mate Daniel Ricciardo following suit (from P9), along with Max Verstappen and Sergio Perez (new softs). Further down the top 10, Lance Stroll, Yuki Tsunoda, Alex Albon, Sebastian Vettel and Pierre Gasly would begin on new softs while the rest of the grid opted for new medium compounds.
The lights went out to end the feverous anticipation, Russell holding off a charging Sainz, who tried to pry the lead around the outside of Turn 1 while Hamilton cleared the Alpines – Fernando Alonso baulking at Esteban Ocon squeezing him at Turn 1 – to go into fifth, Verstappen up to eighth and Perez ninth after Lap 1. The Virtual Safety Car was then deployed for collisions between Magnussen and Ricciardo and another between Vettel and Albon, but the caution was swiftly withdrawn to restart the race on Lap 3.
Russell gained a jump on the Ferraris as the VSC withdrew, Hamilton tailing fourth-place Norris, while Verstappen was badgering the Alpines of Ocon in P6 and Alonso in P7, Perez also giving chase. Alonso exclaimed that he was "much faster" than Ocon but on Lap 5 the two-time champion ran wide at Turn 3 and Verstappen swept by for P7.
Verstappen made another move on Lap 7, prying P6 off Ocon and now it was reigning champion versus seven-time champion for P5, Perez behind using DRS and going round the outside of Turn 2 soon after for P8 at Alonso's expense. Perez would wrestle seventh off Ocon two laps later to make it a Red Bull six-seven.
Magnussen had made it into the fight for points but was forced to pit on Lap 7 after his early scrap with Ricciardo; the Alfa Romeos had fallen down the order with poor starts, Bottas 12th and Zhou Guanyu 16th.
Russell's gap to Sainz stood at around 2.5 seconds as the counter reached Lap 10 of 70 but the Mercedes driver had a set of soft tyres to nurse, as did Norris and the Red Bulls. Norris soon found himself creating a bottleneck with both Hamilton and Verstappen tailing him for that coveted fourth-place spot and a shot at the Scuderia.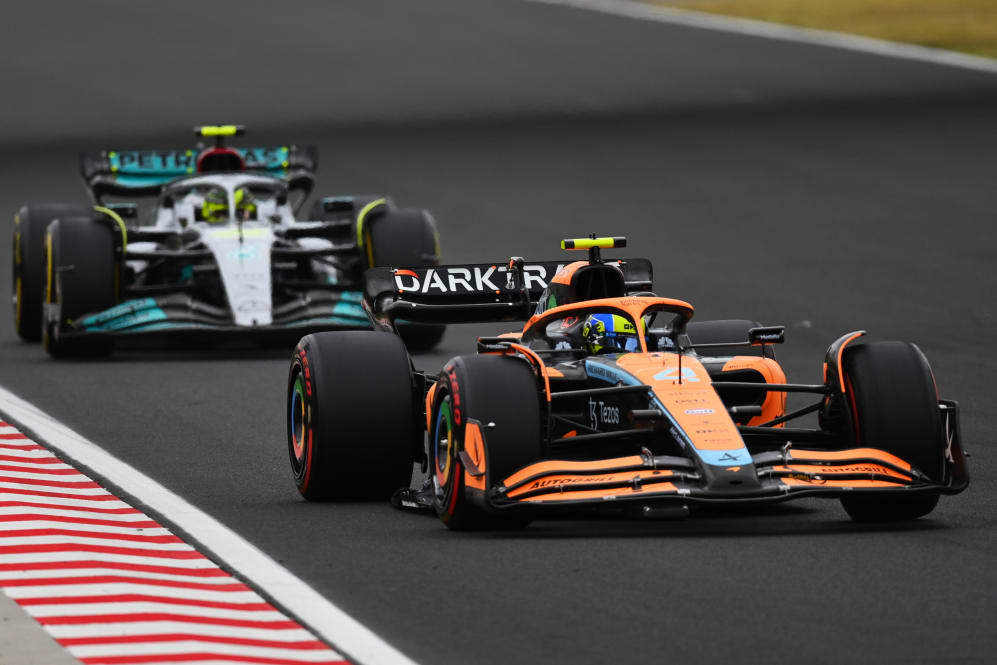 Hamilton enjoyed a superior run to Turn 1 on Lap 12 and went round the inside of Norris for P4, Verstappen going around the outside of the McLaren just after that to leave him sixth ahead of Perez – who would take that place off him with DRS one lap later.
Verstappen began to complain, with some colourful language, that his clutch was slipping, and soon he would drop off Hamilton's rear wing; Leclerc would ask his pit wall if Sainz could speed up. Indeed, Sainz was picking up the pace having cut the gap to 1.2s by the start of Lap 15, DRS his privilege one lap later when the call to box was given. Sainz skipped the pit entry and instead, it was Russell who stopped for mediums – Verstappen following – to emerge sixth at the start of Lap 17.
Russell came out of the pits – his stop slightly slow – only to find Alonso trying to battle him around the outside of Turns 1-4, but the Mercedes just hung on.
Sainz took his stop on Lap 17 but it wasn't ideal either and he was released between the Alpines in P6, with Alonso and Verstappen behind him. Crucially, Sainz was now on the same tyre as Russell but with Ocon the obstacle between himself and the pole-sitter. Ocon was cleared with ease on Lap 19 (when Perez pitted and emerged 10th in traffic) and so Leclerc was in the lead, 11.5s ahead of Hamilton and another 7.5s ahead of Russell as the ticker reached Lap 20.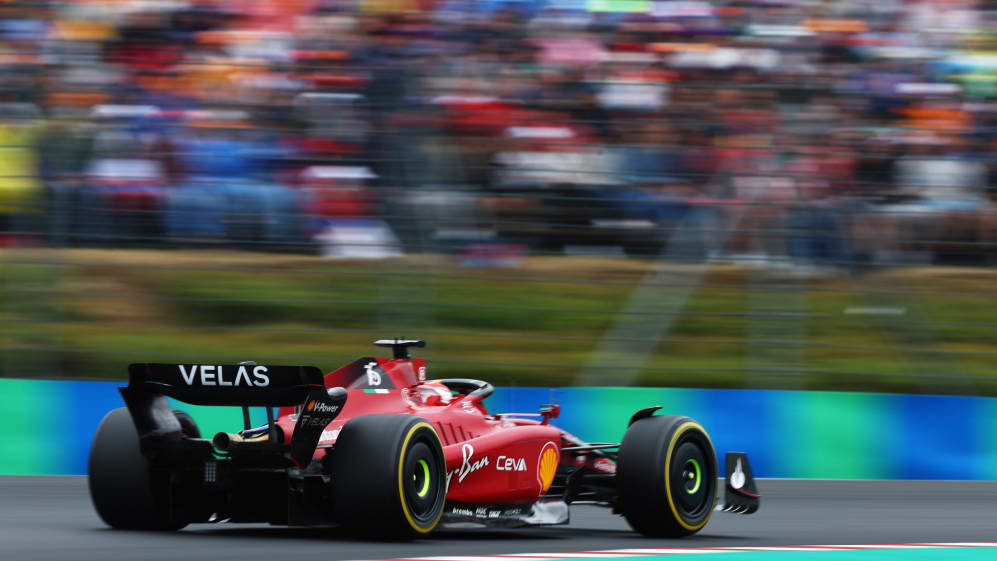 Hamilton took the cue to stop from P2 on Lap 20, but with Verstappen lighting up the sectors, the Dutchman successfully managed to undercut the Mercedes that emerged in P7. The reigning champion was comfortably up the road in P5 having cleared Alonso just as Hamilton had stopped for another set of mediums, Verstappen taking another place off Ocon on the following tour.
That new set of mediums not only gave Verstappen an undercut on Hamilton, plus two places off the Alpines, but the pace to threaten then-leader Leclerc, who was forced to cover off the Dutchman with a solid stop for mediums on Lap 22. That released Russell back into the lead, Leclerc emerging ahead of Sainz.
Alpine's strategy was contrarian: Alonso pitted for hards on Lap 22 while Ocon came in for the same compounds two laps later. Ocon emerged in battle with his team mate and Ricciardo then saw an opportunity, pouncing on the pair at Turn 3 to jump them and go 10th behind the yet-to-stop Alfa Romeos – while Alonso was left frustrated having failed to get past his team mate.
To add insult to injury, Aston Martin's Stroll would soon take P12 off Alonso, passing Ocon by Lap 30, as the Alpines began to struggle. Vettel compounded Alpine's woes, picking off Alonso two laps later and then Ocon on Lap 39.
Russell's lead over Leclerc was dropping as the Monegasque driver turned up the pace and on Lap 27 the Ferrari was in DRS range of the Mercedes, having a look but declining not to pass into Turn 1. The following lap saw a more committed attempt to take the lead, but Russell held Leclerc off in a wheel-to-wheel skirmish on the downhill run to Turn 5.
The battle continued, Russell going slightly wide at Turn 2 on Lap 29 but Leclerc declining not to try a move down the hill, instead trying that on Lap 30 – the Mercedes driver taking unconventional, wide lines to tempt the Ferrari before swooping into the apex to deny him the lead fairly but sternly.
Leclerc kept his cool and the finally sent it on Lap 31, DRS giving Leclerc a run on the Mercedes and late braking giving Leclerc the lead around the outside of Turn 1. They say that when it rains, it pours, and Russell now had Sainz and Verstappen catching up to his rear wing – while numerous drivers began to report drizzle on their visors at the halfway mark.
Sainz preyed on Russell's Mercedes but could only hover around DRS range. But Leclerc proved his pace on the fresh set of mediums, extending to a 4.8-second lead by Lap 39. It was then that Verstappen broke the seal and went for an aggressive undercut strategy by pitting for another set of mediums, Leclerc reacting to pit for hards on Lap 40 and Russell changing to mediums a few seconds later.
Verstappen's undercut worked, the stop releasing him ahead of Russell and closer to the hard-shod Leclerc. Leclerc's tyres were cold, and Verstappen was too; the Dutchman swept past the Ferrari down the inside of Turn 1 on Lap 41. Although Sainz was leading Hamilton, Verstappen had executed a brilliant strategy that potentially gave him the net lead of the race.
At the penultimate corner, a puff of smoke signalled that all was not right as Verstappen got on the throttle and spun 360 degrees, putting him back behind Leclerc and allowing Russell a chance to overtake Verstappen at Turn 1. Russell couldn't make the move, however, and Verstappen shrugged off his spin to pick the pace back up, closing back up to the rear wing of Leclerc and passing him once more at Turn 2 on Lap 45.
Back at the front, Sainz and Hamilton were yet to take their second stops with Verstappen chipping away at a 12-second gap to the lead – and drivers still reporting light drizzle.
Sainz chose to take his second stop on Lap 48 for softs, but the tyre change was slow and saw him emerge fifth ahead of Perez – who had stopped five laps prior. Yellow flags briefly flew as Stroll and Ricciardo pitted in tandem and collided in the fight for P11 at Turn 2, with the Australian receiving a five-second time penalty.
With Sainz having taken his second stop, Hamilton was in the lead on Lap 51 – Verstappen just 3.5s behind. Leclerc, meanwhile, was third but only half a second ahead of Russell as the medium tyres seemed at this stage the superior option. Hamilton decided to pit at the end of that tour, diving in for a set of softs and emerging fifth ahead of Perez.
With one Mercedes briefly stationary, the other was flying. Russell was right on the diffuser of Leclerc's Ferrari in the fight for P3, and on Lap 54 he made the move for P2 with ease around the outside of Turn 1. Verstappen was eight seconds up the road, and Leclerc's side reacted by pitting him for softs.
Hamilton soon proved to be the fastest man on track, passing Sainz – both drivers on softs – at Turn 1 on Lap 63. Russell soon found himself in the clutches of his team mate and now we had an intra-team battle for P2 at Mercedes, Hamilton getting a better exit from Turn 1 on Lap 65 and prying the place away – team boss Toto Wolff watching on from the Mercedes garage.
Bottas reported a loss of power on Lap 68 and the Virtual Safety Car was then deployed to slow the field, Verstappen leading ahead of Hamilton and Russell. The VSC was withdrawn in the middle of Lap 69, from where Verstappen comfortably led to win by nearly eight seconds. Perez was in the clutches of soft-shod Leclerc but the Ferrari driver couldn't salvage P5 on the final lap, ending up three-tenths behind the Red Bull in P6.
With Mercedes completing the podium in a mirror image of the top-three standings at Paul Ricard, Sainz finished fourth from second – one better than he had from P19 in France.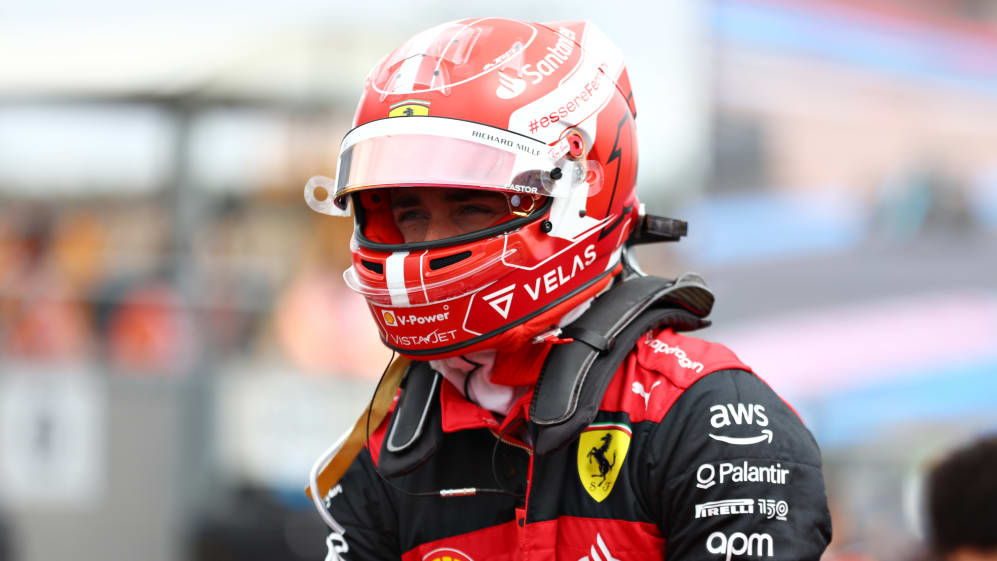 Norris ended up seventh as the last driver on the lead lap, shrugging off a slow pit stop earlier on to overhaul both Alpines, Alonso having finished in eighth and well behind the McLaren, Alpine's medium-to-hard one-stopper having failed to reap major reward.
Stroll made it into the top 10 at Bottas's expense on Lap 63 but the two Aston Martins then made contact – something they avoided on the last lap in France – with medium-shod Vettel soon passing his soft-shod team mate to take P10.
Pierre Gasly managed to finish an anonymous P12 after his pit lane start, comfortably ahead of Zhou but well behind Stroll. Though Mick Schumacher was passed by Ricciardo early on, the German finished ahead of the Australian, thanks to his five-second time penalty for his earlier tangle with Stroll.
Albon led Latifi, who said that his car was "all over the place, a disaster, literally", with Yuki Tsunoda 19th and only ahead of the stationary Alfa Romeo of Bottas, thanks to a Lap 36 spin at the chicane.
The rain stayed away but there was a cloud over Ferrari, who entered Hungary looking for a one-two finish yet were once again outscored by Mercedes, while Verstappen pulled off a highly unlikely win part in thanks to an ingenious Red Bull strategy.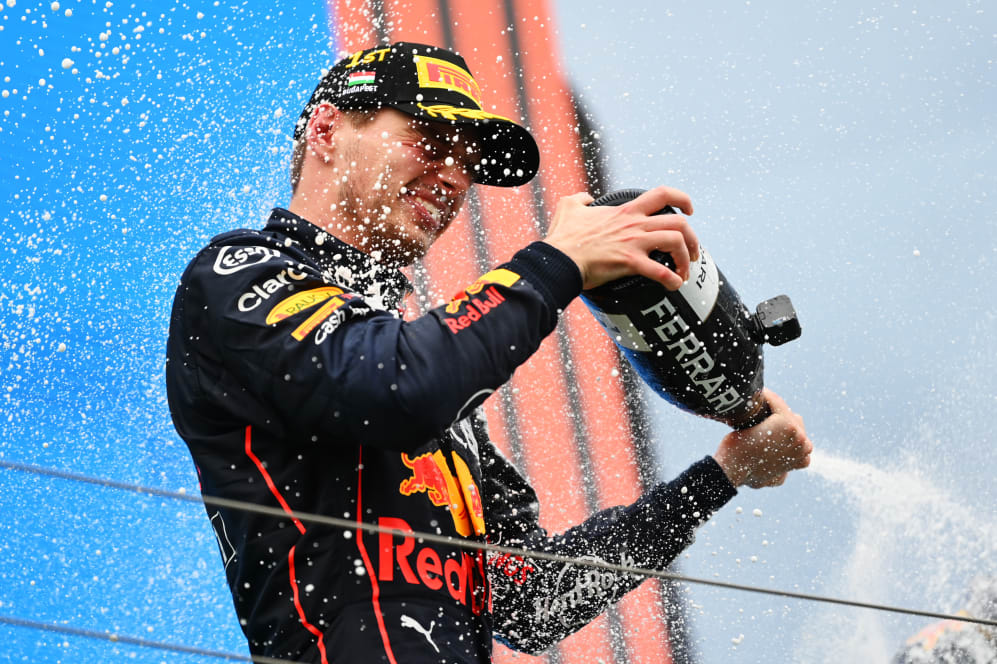 Key quote
"I was of course hoping I could get close to the podium, but very tricky conditions out there. But we had a really good strategy, we were really reactive and always pitting at the right at time, I think we had some good out-laps and at the end even with 360, we won the race!
"It was very good, I was battling a lot of guys, so it was a lot of fun out there… a crazy race and of course very happy that we won't it" – Max Verstappen, Red Bull
What's next?
Red Bull enjoy a 97-point lead in the constructors' championship; Verstappen has an 80-point lead in the drivers' standings, and the teams and drivers have a break to reflect on the first half of the season. Action resumes with the Belgian Grand Prix on August 26-28.