Hamilton says Russia win 'feels like the first' after ending Ferrari run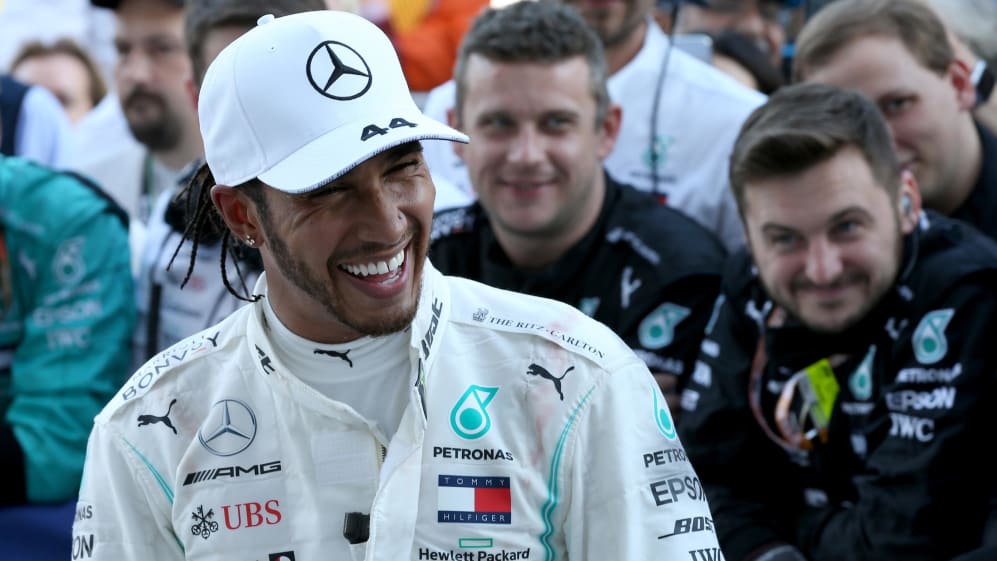 A three-race winless streak ended for Mercedes in Sochi, with Lewis Hamilton saying that his ninth victory of the season - and 82nd overall - felt like his first win all over again, as the Silver Arrows put a halt to Ferrari's recent dominance.
Ferrari once again put themselves in a prime position for the top step on the podium as they ran one and two in the opening stint in Russia. But then Sebastian Vettel's Prancing Horse hit trouble and Hamilton was able to jump ahead of Leclerc under the subsequent VSC in what Mercedes called a moment of 'delicious irony'.
Having shown his emotions with a series of delighted messages on team radio, Hamilton was still buzzing when he stepped out of the car.
READ MORE: Hamilton snatches Sochi win after Ferrari fail to make advantage count
"Firstly, just an incredible job for all the guys this weekend, not giving up, trying new things, pushing forwards always, trying to be innovative and just never giving up and that makes me incredibly inspired," he said.
Just one step at a time, one foot in front of the other, we don't want to stumble
"Ah man, it feels like a long time coming but it feels like the first time as well, so that's why it feels special.
"It's just incredible to have this result today, considering how quick they [the Ferraris] were at the start, just keeping up with them was an incredibly hard task."
After qualifying second behind Leclerc, Hamilton had said he'd hoped to 'tow the life out' of the Ferrari man on the long run to Turn 2. But having started on medium tyres, on the dirtier side of the track, he was left behind by both Ferraris.
"I wasn't able to get the tow because he [Charles Leclerc] stayed on the left and gave Seb [Vettel] the tow, and then I tried to sneak in behind Seb but there was a McLaren there, so I had no tow down to Turn 1 and lost another place," he explained.
"But after that, it was just trying to keep up with them – it was like trying to do qualifying laps every lap trying to keep up with them because they were so fast," he explained.
With a 26-point haul for the win and fastest lap, a sixth drivers' title is edging ever closer, though the Briton says his focus remains the same as ever.
"I try not to think about the championship and one race at a time, one step at a time, and I think that's what we collectively have been working on, obviously it gets harder and harder as the season goes on," he said.
WATCH: Vettel's victory charge comes to a halt with technical issues
"Just one step at a time, one foot in front of the other, we don't want to stumble, of course we've got to keep putting on performances like this in and I know the bosses back in Stuttgart will be super happy with today," he said.
Somewhat unexpectedly, and perhaps slightly fortunately, Hamilton leaves Sochi with a 73-point lead over Russian GP runner-up Valtteri Bottas, with Mercedes 162 points ahead of Ferrari as they look to Suzuka in October.
2019
Drivers' standings after Russia
POSITION
POINTS

1

Lewis

Hamilton

Mercedes

322

2

Valtteri

Bottas

Mercedes

249

3

Charles

Leclerc

Ferrari

215