'Deliciously ironic' that Vettel failure inspired Hamilton victory – Mercedes
There's no doubt that Ferrari's recent resurgence has ruffled feathers at Mercedes, with the world champions admitting it had given them added resolve to raise their game. In Russia they plotted a completely different strategy in a bid to defeat the Scuderia, and in the end the Italian team unwittingly helped them execute it – something Silver Arrows tech boss James Allison described as 'deliciously ironic'...
Lewis Hamilton and Valtteri Bottas were running third and fourth respectively in the opening stint, with Vettel having vaulted ahead of the Briton – and team mate Charles Leclerc – at the start.
READ MORE: Hamilton says Russia win 'feels like the first' after ending Ferrari run
But the race was turned on its head on lap 28 when Vettel, shortly after a pit stop in which he lost track position to Leclerc, stopped on track with a technical issue, triggering a Virtual Safety Car period.
Yet to stop having started the race on the more durable medium tyres, Mercedes quickly called Hamilton and Bottas into the pits for fresh rubber, with what amounted to a free stop enabling Hamilton to retain a comfortable lead.
READ MORE: Vettel not keen to discuss details of pre-Russian GP agreement with Leclerc
Mercedes had always hoped to steal the lead through strategy – but this wasn't exactly what they had in mind.
"We had the feeling that we were likely, wherever we qualified, to end up not going into Turn 2 in the lead [at the start] because [Ferrari] are going to be strong down that very long straight," said Allison. "There's a big old slipstream down to Turn 2, so the medium tyres gave us possibilities to recover from that and we were fortunate in the way it played out.
"It's sort of deliciously ironic in a way that it was Sebastian's misfortune that brought us our fortune."
It's sort of deliciously ironic in a way that it was Sebastian's misfortune that brought us our fortune
But even with the lead, victory was not assured, especially after Charles Leclerc pitted for a second time, forfeiting second place to Bottas in the hope that fresh rubber would enable him to attack both Mercedes.
In the end, that bid failed when he was rebuffed by Bottas, with Allison quick to highlight how important the Finn's driving had been to Hamilton sealing victory:
"Valtteri did a very, very good job keeping [Leclerc] at bay," he explained, "especially those opening laps, he was under tremendous pressure and didn't stumble and just gradually following that close, Charles' tyres got a bit hot and it got a bit easier but there was a long period of sustained pressure that Valtteri did very well with."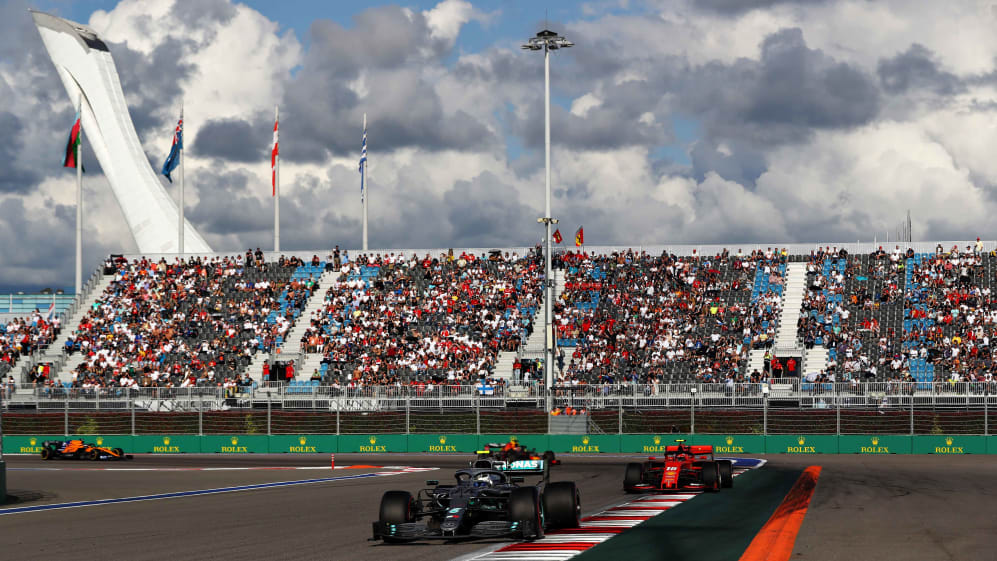 Not since Hungary, before the summer break, had Mercedes tasted victory. And you have to go all the way back to Britain for the Silver Arrows last one-two – a long time for a team so used to winning.
"It has been an awkwardly long time and all the more welcome for that," added Allison. "This wasn't an easy dominating, commanding from the front type win, but when you're up against it and you still win, it feels really exciting and sweet, and it's a massive rush for us."
So, Mercedes maintain their 100% win record in Russia. And furthermore, they maintain the remarkable record of never being defeated in four straight races since the turbo-hybrid era began in 2014. A sixth straight constructors' title now looks a formality…