Hamilton shocked by gap to Verstappen in Qatar as he hints at more aggressive approach post-Brazil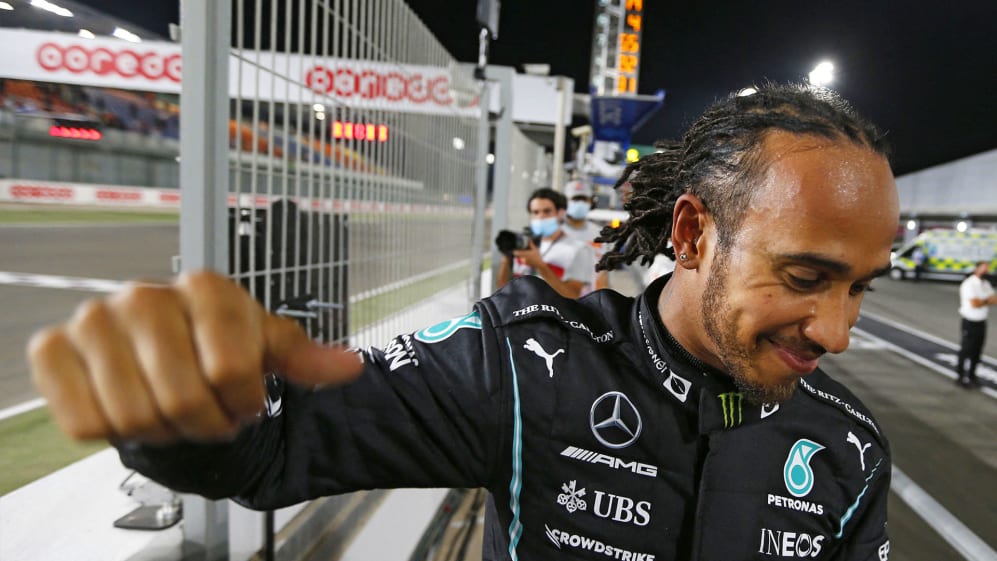 Lewis Hamilton has admitted that he was as surprised as anyone to qualify nearly half a second faster than title rival Max Verstappen for the inaugural Qatar Grand Prix – with the seven-time champ also not ruling out adopting a more aggressive approach to racing following his and Verstappen's on-track battle in Brazil last time out.
Hamilton could do no better than P4 across Friday's practice running, and admitted on Saturday that he'd been suffering with a stomach ache for several days.
QUALIFYING: Hamilton blitzes to crushing Qatar Grand Prix pole under the Losail lights
But he was right into the groove as qualifying got under way under the floodlights at the Losail International Circuit, with his second Q3 run seeing him improve on his provisional pole lap by a massive 0.435s – Hamilton winding up a full 0.455s quicker than Verstappen, a gap which he admitted afterwards had been a shock.
"It was really beautiful out there today, especially under the night lights," he said. "I didn't know that I was going to gain as much as time as I did on that last lap – normally it's a bit of a struggle with the second run in Q3, but the last couple of races, I managed to really put a nice clean lap together, and it felt amazing.
"Of course [I'm surprised by the gap to Red Bull]," Hamilton added. "The same as in the last race. Probably the last three races in qualifying we've been ahead of them, which has been a bit of a surprise and today I definitely wasn't expecting to have as big a gap as that.
"I was relatively comfortable with around a tenth or so ahead through most of the session, but to be able to pull out that extra bit of time – that felt great."
HIGHLIGHTS: Catch up on all the action from qualifying in Qatar
Hamilton will now start the first ever Qatar Grand Prix on the front row alongside Verstappen, with the pair having controversially diced last time out at the Sao Paulo Grand Prix.
And following a prolonged drivers' briefing on Friday, where the two drivers' incident was rumoured to have been a major talking point, Hamilton was asked if he would up his aggression levels in the coming races – with the stewards having also refused Mercedes' 'Right of Review' request into the incident on Friday.
"Yeah, I guess so, potentially," said Hamilton. "I would assume so, yeah."
Asked what he'd taken from the drivers' briefing on Friday, as well as how he'd approach the start, Hamilton replied: "[That] what happened in the last race is okay… It's a fairly decent long run down to Turn 1, it's a tail wind but nice and wide into Turn 1 so we'll be giving it everything."
Hamilton's form in qualifying was in contrast to team mate Valtteri Bottas, who'd been lightning quick in Free Practice 2 and 3, but could only manage P3 on the grid in qualifying, 0.651s off Hamilton – although he at least made Q3, unlike Verstappen's 11th-placed Red Bull team mate Sergio Perez, giving Mercedes strategic advantages for the race.
READ MORE: Stewards deny Mercedes request for 'Right of Review' over Verstappen-Hamilton clash in Brazil
"It's been a good weekend so far until qualifying for me," said Bottas. "I felt really comfortable and strong in the car but I don't know really what happened overnight. I could feel in FP3… I was still fastest but I really had to push a lot, I knew I couldn't find much more.
"In quali, I struggled quite a bit, especially in Turn 1 so I struggled to get the tyres ready, unlike yesterday evening. I need to have a look… A little bit confused what happened with the car overnight… but obviously we've got two cars against Max and I'm sure we can do something."
Mercedes currently sit 11 points ahead of Red Bull in the constructors' standings, with Verstappen 14 points clear of Hamilton.