Hamilton keeps P2 on grid after yellow flag investigation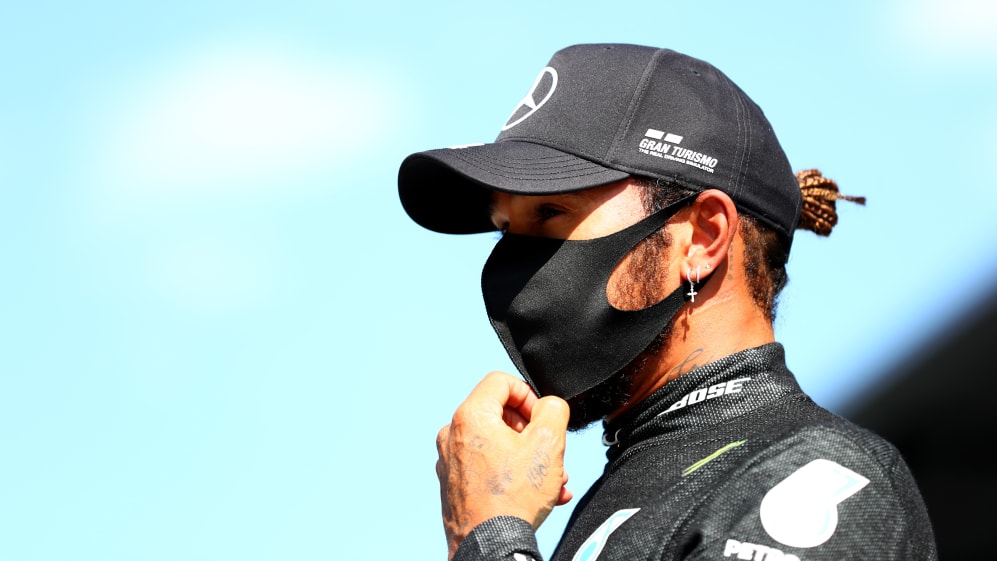 Lewis Hamilton has been cleared by the stewards of failing to slow down for yellow flags after team mate Valtteri Bottas slewed off the track in front of him in the final stages of qualifying for the 2020 Austrian Grand Prix.
Hamilton was adamant after qualifying at the Red Bull Ring that Bottas' off on the pair's final flying laps in Q3 hadn't slowed his pace, as Hamilton ended the session 0.012s adrift of his pole-claiming Mercedes team mate.
But it was an admission that nearly landed the reigning world champion in hot water, as the stewards summoned him to appear before them on Saturday evening to explain an alleged failure to slow for yellow flags.
However, after reviewing footage, the stewards cleared Hamilton of any wrongdoing, saying: "[Hamilton] mentioned that he passed a green light panel in Turn 5. The video footage confirmed that there have been yellow flags and green light panels at the same time and therefore conflicting signals were shown to the driver. Taking this into account, the stewards decide to take no further action."
The stewards did, however, delete Hamilton's first flying effort in Q3, after they deemed that he'd run too wide on the exit of Turn 10 – through that decision will not affect his grid position for Sunday's race, since his second run was also good enough for second place.
READ MORE: 'I finally unlocked the performance in myself' says Bottas after Austria pole
With Hamilton having led all three free practice sessions and Q1 of the 2020 Austrian Grand Prix weekend, Bottas had turned the tide in Q2 by heading that segment, before his first effort in Q3 was good enough to give him provisional pole. It was on his final flying lap that Bottas edged off the track at the exit at Turn 4, costing himself a chance to improve.
Running just behind on the circuit, Hamilton did improve his own lap – but a small correction through the Turn 7-8 chicane appeared to be enough to leave him 0.012s adrift of his team mate, a deficit Hamilton blamed squarely on himself, rather than Bottas' off.
"I came out of Turn 4 and there was a big puff of dust and I didn't know where the car was or anything and managed to see that Valtteri was just about to come on track. Fortunately it didn't affect the lap and he kept his position.
"The car was great," Hamilton added. "I just didn't manage to put the greatest laps together, so work for myself to do. I'll just go back to the drawing board and work harder."
Although Hamilton appeared dejected not to have taken pole in the immediate aftermath of qualifying, he could at least take comfort that Mercedes appear to be a significant step ahead of their rivals, with Red Bull's Max Verstappen a full half a second off Bottas' time in P3 on the grid – while Ferrari even witnessed Sebastian Vettel failing to make it out of Q2 due to a straight lack of pace.
READ MORE: 'I thought we had more in hand' - Vettel 'surprised' by Q2 exit as Ferrari struggle in Austria
"We definitely didn't expect to have that gap," said Hamilton. "It's just a true showing of the great work everyone back at the factory continues to do. Valtteri did a fantastic job today with his lap and it's amazing... We thought we were definitely quick enough to be fighting for the lead but there were different showings [on the data] of the other teams – sometimes [they were] quick, sometimes further behind.
"But that's the true showing of our car – and we plan to try and improve that."