Hamilton 'super grateful' to Mercedes for delivering upgrades to US Grand Prix
Mercedes brought their final upgrade package of the season to the 2022 United States Grand Prix, with the updates leaving Lewis Hamilton feeling "super grateful" and George Russell quietly optimistic about the W13's performance at Austin.
Among the visible upgrades on Mercedes' W13 this weekend was a new front wing, while the team also implemented floor updates and a new rear wing endplate in Texas. Hamilton, who finished third in FP1 and eighth in FP2 – which was extended for drivers to carry out Pirelli's 2023 tyre testing programme – was all smiles on Friday evening.
READ MORE: FP1 debutants reflect on 'amazing' first session in Texas
"Everything went to plan, and firstly I'm super grateful to everyone back at the factory for working so hard and bringing us an upgrade this weekend," he said. "It's been a tough year for everyone at the factory, and for them to continuously be pushing and keeping their heads out and pulling out these new pieces, I'm super grateful.
"And I kept the car in one piece today, which is good, just about. And just about felt some improvements in the car… [FP1] was feeling quite good and I'm hoping we make some changes tonight and tomorrow we'll see where we stand. But it doesn't feel like we're too far from everybody."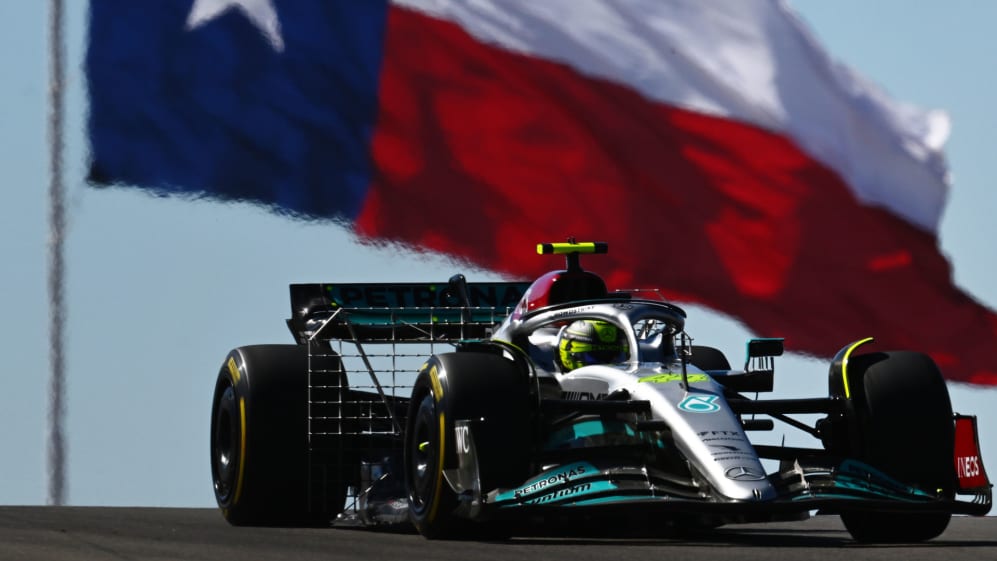 The seven-time champion also enjoyed the Pirelli test in FP2.
"It's quite like a fun experiment to be honest just to get out there, you don't know what to expect, and there's always just a different balance – the tyres reacting in so many different ways each time you go out, when you're trying something new.
"It's interesting, so as you're just trying to get into the groove and trying to feel it and trying to feel what the difference is and trying to store what the differences are, so when you're coming in you have to try and jot them all down," said Hamilton.
READ MORE: Verstappen hails positive start for Red Bull at COTA as Perez eyes damage limitation in qualifying
Team mate Russell, who was seventh in FP1 and 13th in FP2, said that Mercedes were on the path to having a solid weekend in the United States.
READ MORE: Perez and Zhou receive 5-place grid penalties for US Grand Prix
"I think it worked okay, to be honest," said Russell. "FP1 was a bit of an odd session for everybody as well. There were a few teams who were looking very fast, a little bit unexpectedly. Some other teams who probably weren't as quick as we probably would have thought. And obviously having semi-missed FP2 because we were all running our own programmes, we don't really know what the pecking order is.
"So far the car's feeling quite strong, which is promising. I think you always get an inkling very early on in the day if it's going to be a good weekend or a tough weekend – we're midway. It feels like it's definitely not the worst the car has been, but we don't know what Red Bull and Ferrari are going to do when they turn up tomorrow."