Hamilton sympathises with Leclerc after Baku qualifying crash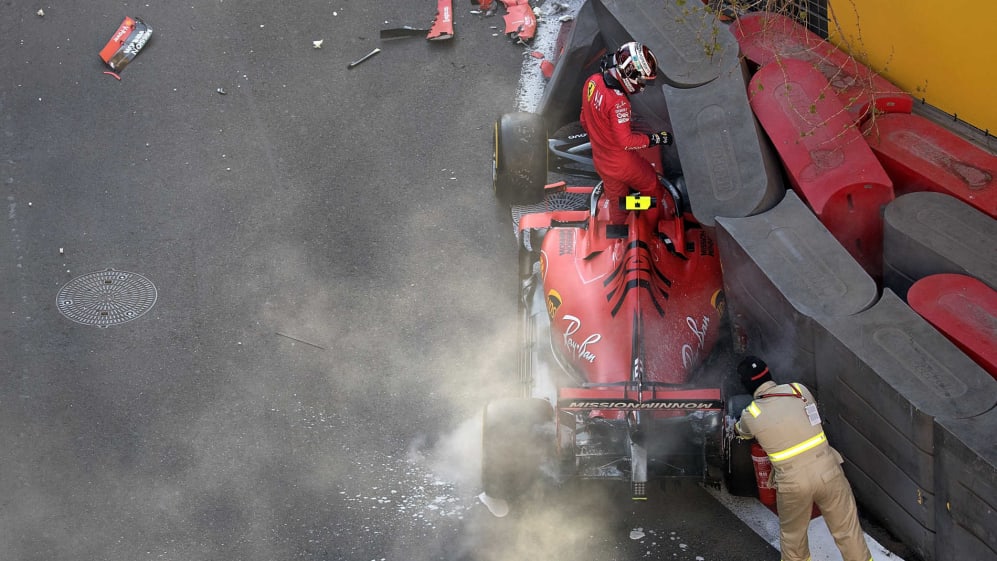 "I've been useless," admitted Charles Leclerc in a brutally honest reaction to crashing out in Azerbaijan Grand Prix qualifying having been favourite. Reigning world champion Lewis Hamilton said he understood his rival's pain, saying he would have felt the same in the same situation…
Leclerc looked immense in final practice and the opening part of qualifying, but got it all wrong at Turn Eight on his second run in Q2, pitching his Ferrari into the barriers in the same spot as Robert Kubica managed in his Williams earlier in the session. His instant reaction on team radio was "I am stupid. I am stupid."
Hamilton, now in his 13th Formula 1 season, had earlier in the weekend said that he sees "much of myself in" Leclerc and praising him for "doing a great job with huge expectations on him at a huge team like Ferrari". And after taking second on the grid behind Mercedes team mate Valtteri Bottas, Hamilton had some sympathy for Leclerc, following his crash.
"I would be the same," said Hamilton when asked about Leclerc's assessment of himself. "That's how we're tuned as racing drivers, when it's your mistake we're tough on ourselves. Maybe a little bit less when you're older. But still it's painful.
"It's a lot of pressure around a track like this and on his young shoulders. It's totally normal. Years and years ago I didn't come out of my room for two or three days when I had some experiences like that. So I totally understand how he feels and that's cool he's open about it, because he can get it out and move forwards tomorrow."
Leclerc's team mate and four-time world champion Sebastian Vettel also sympathised. "It's normal if you do a mistake, you're not happy about it," said the German.
"Being critical is the reason why he is here, why we're here. I don't think anybody enjoys that part of our racing life but every now and then it is part of it. The weekend isn't over yet. We have a good car and I'm sure we can recover as a team tomorrow."
Polesitter Bottas added: "Your own mistakes, the ones you do by yourself and could have been avoided they hurt the most and it's annoying," he said. "I definitively can understand him, but maybe Finns don't shout it out loud but we still have feelings."
Leclerc is set to start Sunday's race from ninth on the grid, providing the repairs required do not incur any grid penalties, but a good result is still possible.
Races have been won from further back in Baku – Daniel Ricciardo came from 10th to win in 2017 – while the Ferrari is clearly a quick car. Leclerc's fightback through the field will provide an interesting thread to what could be another storming race…