Hamilton takes full responsibility for first-lap collision with Russell in Qatar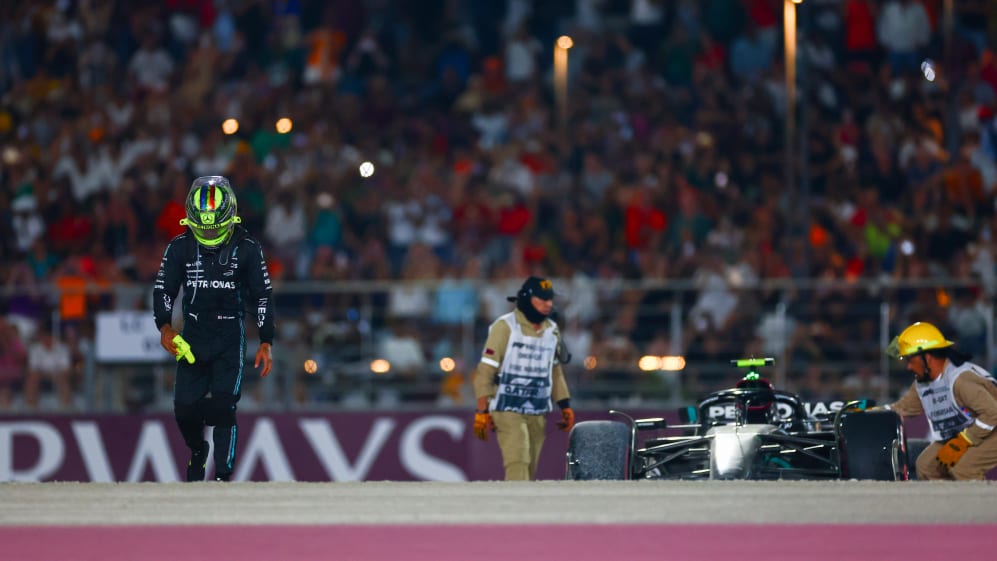 Lewis Hamilton has conceded that he was to blame for the first-corner clash with Mercedes team mate George Russell that led to the seven-time world champion retiring on lap one of the Qatar Grand Prix.
Russell started from the front row alongside pole sitter Max Verstappen, both on medium tyres, with the soft-shod Hamilton third on the grid. As Russell and Verstappen duelled into Turn 1, the fast-starting Hamilton attempted to go around the outside of both, but made contact with Russell, who was sandwiched between his team mate and the Red Bull.
READ MORE: Verstappen cruises to Qatar GP victory over Piastri and Norris after Mercedes drivers collide
Hamilton was pitched into the gravel with his right-rear tyre destroyed, complaining over the radio that he had been taken out by Russell, who was able to continue. However, once back in the pit lane – after walking across the track for which he was later reprimanded and fined – he had a slightly different view.
"Obviously gutting," said Hamilton, who won the only other Qatar Grand Prix to date in 2021. "Massive apologies to everyone back at the factory. I think it was probably just a racing incident. I take full responsibility for it. I don't think George had anywhere to go."
Qatar stewards investigated the incident after the race, but decided no action was necessary, deeming it a typical "Lap 1, Turn 1" incident.
AS IT HAPPENED: Follow all the action from the 2023 Qatar Grand Prix
Offering his views on the incident post-race, Russell said: "I'm obviously bitterly disappointed with what happened at the start. It all happened so quick… I made a good start, Lewis made a good start, I was alongside Max, and next thing just got completely sandwiched. There was nowhere I [could] go.
"I felt so disappointed for us both, because we spoke this morning, we knew we were going to work together, and we both said we both want to be standing on that podium, it doesn't matter what order, we're here for the team.
"I know there was nothing intentional, both ways. I'm still glad we managed to finish ahead of Ferrari, get some more points on the board and we had a fast race car, so we'll just take the positives."
DRIVER OF THE DAY: Piastri follows Sprint win with another podium to win your vote
He added: "We have so much respect for one another. It's very difficult in these F1 cars to see when there's certain blind spots in the car. Of course, this should never happen. We'll talk and we'll go from there."
Oops! Error retrieving Twitter post
Mercedes Communications Director Bradley Lord described the situation as the "worst possible start" as he gave the team's take on what unfolded between their two drivers.
"We discussed it in the morning, so it was a scenario we'd been through, the different start tyre performance and things like that," he said. "I think in the moment they just all ran out of space. George obviously had nowhere to go and Lewis was trying to take his line.
BUXTON: Nobody came close to Verstappen in 2023 – Catch him if you can
"Unfortunately these things can happen and you can't programme everything even with a discussion beforehand. We'll talk about it afterwards as we do, go through it and learn what we can to hopefully have it never happen again."