Report
Hamilton takes record-equalling 91st victory as Ricciardo claims first Renault podium at Eifel GP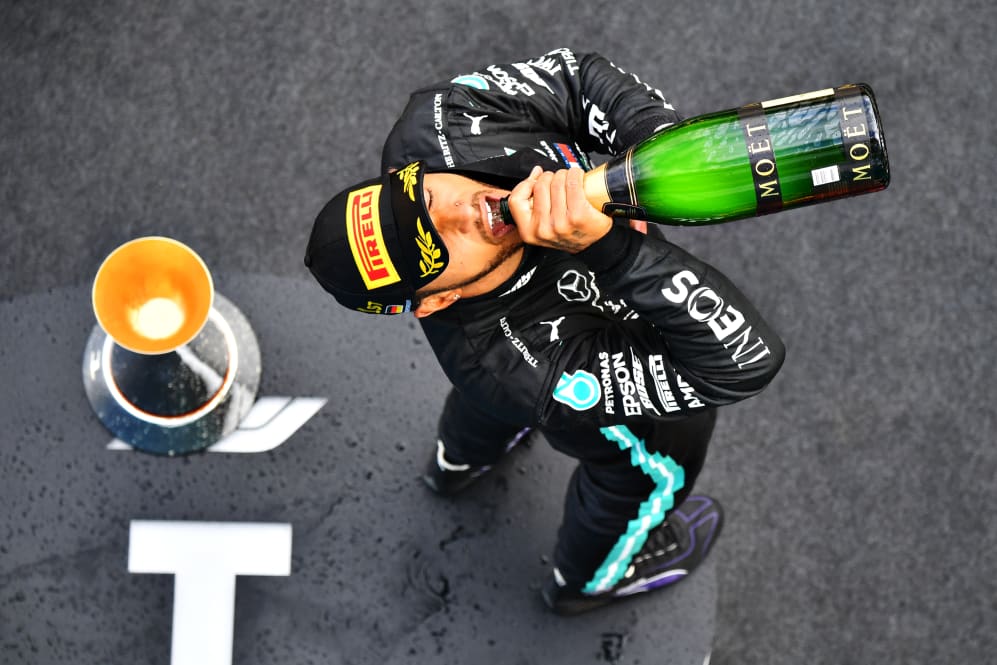 Mercedes's Lewis Hamilton has matched the career win record of Michael Schumacher with his 91st F1 victory at the Eifel GP, triumphing over the Red Bull of Max Verstappen at the Nurburgring, as Daniel Ricciardo secured his first podium for the Renault squad.
Hamilton had been outmuscled by his polesitting team mate Valtteri Bottas at the start of the race, but passed the Finn on Lap 13 of 60 after Bottas locked up at Turn 1 – before a loss of power forced Bottas into retirement six laps later, Mercedes's first DNF of 2020.
From there, Hamilton then had a relatively comfortable run to his record-equalling win #91, overcoming a Safety Car restart – coming after McLaren's Lando Norris had retired on Lap 44 – to win from Verstappen by 4s, Hamilton's victory poignantly coming in front of Schumacher's son Mick, who was due to drive in Friday practice for Alfa Romeo this weekend, and on Schumacher's home turf to boot.
If there was joy for Hamilton, though, that was matched in the Renault camp, with Ricciardo taking the team's first podium since returning to the sport in 2016, and his first since his win for Red Bull at Monaco in 2018 – with Renault Team Principal Cyril Abiteboul now set to get his first ever tattoo, as per his pre-season wager with Ricciardo…
FORMULA 1 ARAMCO GROSSER PREIS DER EIFEL 2020
Germany
2020
Race results
POSITION
TIME
POINTS

1

Lewis

Hamilton HAM

Mercedes

1:35:49.641

25

2

Max

Verstappen VER

Red Bull Racing

+4.470s

19

3

Daniel

Ricciardo RIC

Renault

+14.613s

15

4

Sergio

Perez PER

Racing Point

+16.070s

12

5

Carlos

Sainz SAI

McLaren

+21.905s

10
Ricciardo headed off the Racing Point of Sergio Perez, who came home P4, ahead of the sole remaining McLaren of Carlos Sainz – while a stealthily brilliant race from AlphaTauri's Pierre Gasly saw him take P6 after a late pass on Ferrari's Charles Leclerc. The Monegasque just managed to hold off the second Racing Point of super sub Nico Hulkenberg, who did a fine cameo job in place of Lance Stroll to jump from P20 to P8.
The top 10 was rounded out by the Haas of Romain Grosjean in P9, taking his first points of the season, while Alfa Romeo's Antonio Giovinazzi claimed the final points paying position, just holding off the Ferrari of Sebastian Vettel.
Meanwhile, it was a race of attrition at the Nurburgring, with Bottas joined in retirement by the Red Bull of Alex Albon, the Renault of Esteban Ocon, the McLaren of Norris and the Williams of George Russell, who was taken out after colliding with Kimi Raikkonen at Turn 1, on Raikkonen's own record-breaking 323rd start.
But in terms of records, it was all eyes on Hamilton, who becomes the joint-most successful F1 driver of all time – and seemingly took another important step towards his own record-equalling seventh title.
AS IT HAPPENED
Unsurprisingly with 96 career poles to his name, Lewis Hamilton does not like getting beaten in qualifying – and he clearly wasn't in a mood to make his polesitting team mate Valtteri Bottas' life easy at the start of the Eifel Grand Prix. While when the lights went out, Hamilton got alongside Bottas and ran parallel with the Finn into Turn 1.
As the two Mercedes barrelled into the corner, Hamilton held his line all the way to the edge of the track, helping his team mate off the circuit before turning the wheel to make the corner – and appearing to have wrested the lead away from Bottas. But the Finn wasn't going to let himself be bullied, pulling his W11 back alongside Hamilton and muscling himself into the lead once more. Even Hamilton admitted after the race that he'd been impressed.
Behind, the pack were safely through the first turns, barring Alex Albon, who locked up heavily into Turn 3 and tagged the rear left of Daniel Ricciardo's Renault, which had jumped up from sixth past Albon to fifth – Albon causing a flat spot that necessitated an early stop for mediums on Lap 7.
The triumvirate of Bottas, Hamilton and Max Verstappen quickly gapped fourth placed man Charles Leclerc, Bottas keeping Hamilton at bay, while Hamilton was worried about the pesky Verstappen, whose pace in the uprated Red Bull looked ominous in the early stages. Leclerc, meanwhile, had Ricciardo in close company, the Australian eventually getting past the Ferrari on Lap 9 around the outside of Turns 2-3 for P4.
Lap 11 saw an unforced error from Sebastian Vettel, the German appeared to get spooked as he looked to overtake the Alfa Romeo of Antonio Giovinazzi – who'd jumped from P14 to P11 on Lap 1 – Vettel spinning off at Turn 1, and flat-spotting the medium tyres on his Ferrari, forcing a change to hards.
That dropped him down the order, but a bigger position change was coming. Heading into Lap 13, Bottas locked up horribly into Turn 1 – with Hamilton requiring no second invitation. The Briton was past and into the lead, and quickly built up a 2s gap in free air, with Bottas forced to pit for new tyres. More luck was about to come Hamilton's way too…
WATCH: Hamilton sweeps past Bottas for race lead
On his record-breaking 323rd start, Kimi Raikkonen got a swapper on into Turn 1 and clunked the Williams of George Russell, throwing the car into the air and causing a puncture. With Russell forced to park up – and Raikkonen handed a 10s penalty – a Virtual Safety Car to clear the FW43 away allowed Hamilton, Verstappen and Ricciardo a chance to quickly pit on Lap 16 – while two laps later, Bottas was seen to slow, reporting that he had "no power".
The Finn was forced into retirement a lap later, uttering grizzled expletives as he pulled into the Mercedes box and cursed his cruel luck. Mercedes' first retirement of the year left just a duel at the front between Hamilton and Verstappen for the victory – while opening up an enticing opportunity for a rogue podium.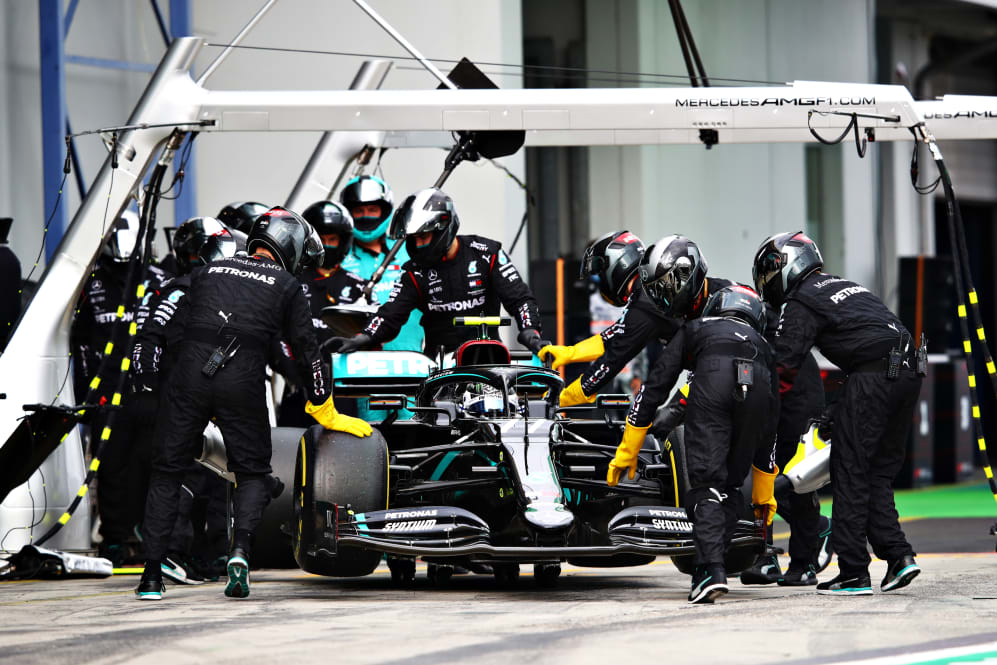 Albon's scrappy race continued, meanwhile, the Red Bull driver passing Daniil Kvyat's AlphaTauri on Lap 17 after Kvyat cut the final chicane, but then pulling back in front of the Russian before he'd cleared him, wiping the front nose off the AlphaTauri. Five laps later and Albon locked up heavily into Turn 1 and nearly piled into the sister AlphaTauri of Pierre Gasly. "The [AlphaTauris] race me so hard," he lamented to his race engineer.
Albon was handed a five-second penalty, but that became immaterial when he boxed into retirement on Lap 24 with a power unit problem – one lap after Renault's Esteban Ocon, who'd had a hydraulic issue that had dropped him out of P6.
By the halfway point of the race on Lap 30, Hamilton was 5.4s clear of Verstappen, the Dutchman then a massive 53s clear of Ricciardo in third, who himself was 12s clear of Leclerc with Lando Norris rounding out the top five.
All was not well in the #4 McLaren, though, with Norris reporting a loss of power on his newly-fitted power unit. McLaren told their man to manage the situation with button switches, citing a sensor issue, but Norris was clearly struggling, as Sergio Perez breezed past him for P5 on Lap 30.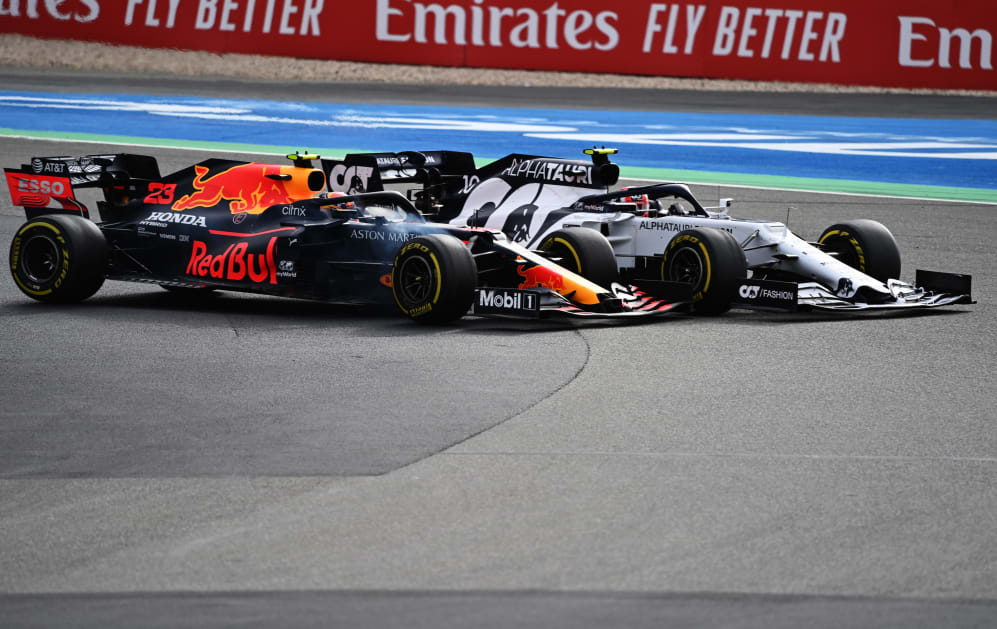 The next 10 laps allowed Hamilton to extend his advantage over Verstappen, the gap over 9s with 20 laps to go. Ricciardo, meanwhile, was looking good in third, but was on 12-lap older tyres than the chasing Racing Point of Sergio Perez, who'd stopped on Lap 28.
Vettel opted for a second stop on Lap 42, choosing softs after getting passed by team mate Leclerc, Gasly and the second Racing Point of Nico Hulkenberg in quick succession, Hulkenberg doing well on his cameo appearance in place of Lance Stroll.
WATCH: Norris and Perez go wheel-to-wheel
Norris's struggles in the McLaren came to a head on Lap 44, his MCL35 cutting out as he cruised into the run-off area at Turn 6, Norris then resurrecting a McLaren tradition by pulling up a deck chair and watching the rest of the action, Fernando Alonso-style. A full Safety Car was called for, however, eradicating Hamilton's lead, as all five of the frontrunners – Hamilton, Verstappen, Ricciardo, Perez and Sainz – were able to pit.
That set up a fascinating final 10 laps of the Eifel Grand Prix, starting with the Safety Car restart itself on Lap 50. It looked primed for Verstappen to attack Hamilton into Turn 1, but the reigning World Champion aced the restart, gapping the Dutchman so much that he even had time to weave some heat into his tyres down the main straight, in the 10 degrees C conditions.
Verstappen, in fact, had to avoid getting attacked by Ricciardo into Turn 1, who then had to defend himself from Perez behind. Leclerc was passed by Gasly on Lap 51, Gasly moving up to P6, while Leclerc was then forced to resist pressure from the hard-charging Hulkenberg.
At the front, though, there was nothing Verstappen could do to make in-roads into Hamilton's lead, the gap opening up to around 4s between the pair as the laps ticked away.
With Mick Schumacher watching on in the Alfa Romeo garage, Hamilton duly swept across the line at the end of Lap 60 to match Mick's father Michael's 91 Grand Prix victories – an achievement that until relatively recently had seemed nigh on impossible, with Hamilton poignantly receiving one of Michael's helmets from Mick during his post-race interview.
It was a joyous moment for Hamilton, whose joy was only increased by the knowledge that he'd increased his championship lead to 69 points over Bottas. That would have been 70, were it not for Verstappen stealing the bonus point for fastest lap on the final tour, as he come home second – with Hamilton acknowledging how fast the Dutchman and Red Bull have been this weekend, telling the media after the race, "We've got a serious fight on our hands."
Ricciardo's podium appeared to have been coming after a run of four top-six finishes coming into the Eifel GP – and he finally got the job done at the Nurburgring, sparking raptures at Renault, with Ricciardo saying that it felt like his first podium all over again. "Persistence pays off," he told his team as he slowed down. "Merci!"
Perez took his second fourth-place appearance in as many races, but may have been slightly disappointed not to have pulled off a customary podium poaching, while after struggling across Saturday, Sainz would have been relieved to hold onto P5, ahead of Gasly after yet another impressive race for the Frenchman, who'd started P12.
Leclerc did manage to hold off Hulkenberg to take P7, but that should take nothing away from the performance of the German, who 27 hours before the race start had been casually enjoying a coffee with a friend in Cologne, before receiving a call to come and stand in for Lance Stroll. The fact that he'd started the race in P20 made it all the more impressive.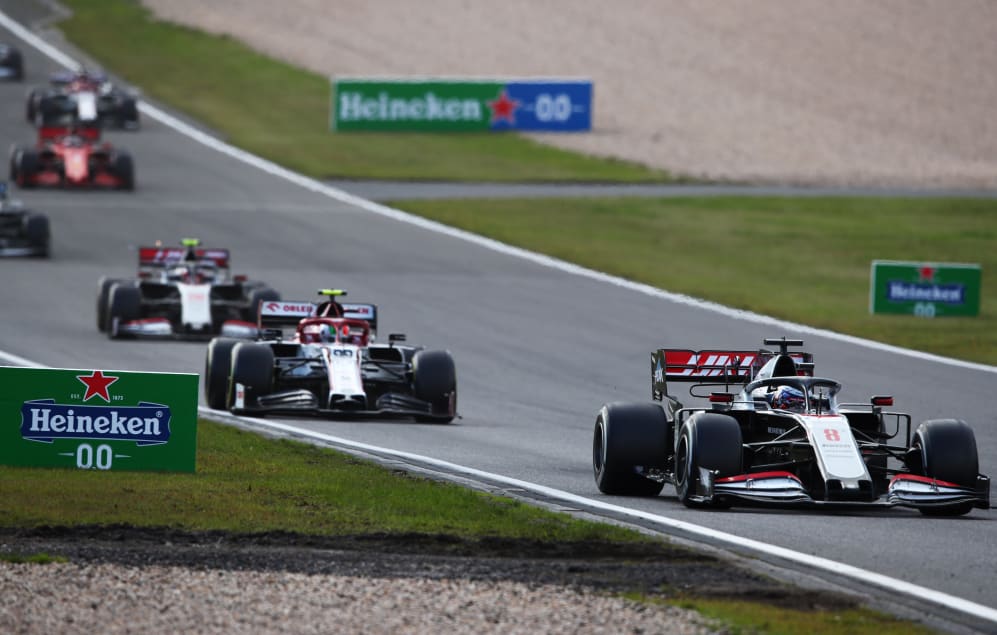 Antonio Giovinazzi held off the Ferrari of Vettel to come home in 10th for his first points since the season opener in Austria, but he had to finish behind the Haas of Romain Grosjean, who drove most of the race with a finger he suspected had been broken by gravel kicked up by Raikkonen's Alfa Romeo to score his first points of the season, after intelligently working a one-stop strategy after a mid-race switch to hards.
Up at the front, though, with Michael Schumacher's record now equalled, it had been another landmark moment achieved in the career of Lewis Hamilton. And with the other Schumacher record of seven world championships looming on the horizon, don't be surprised if you see that one broken come the end of 2020 as well.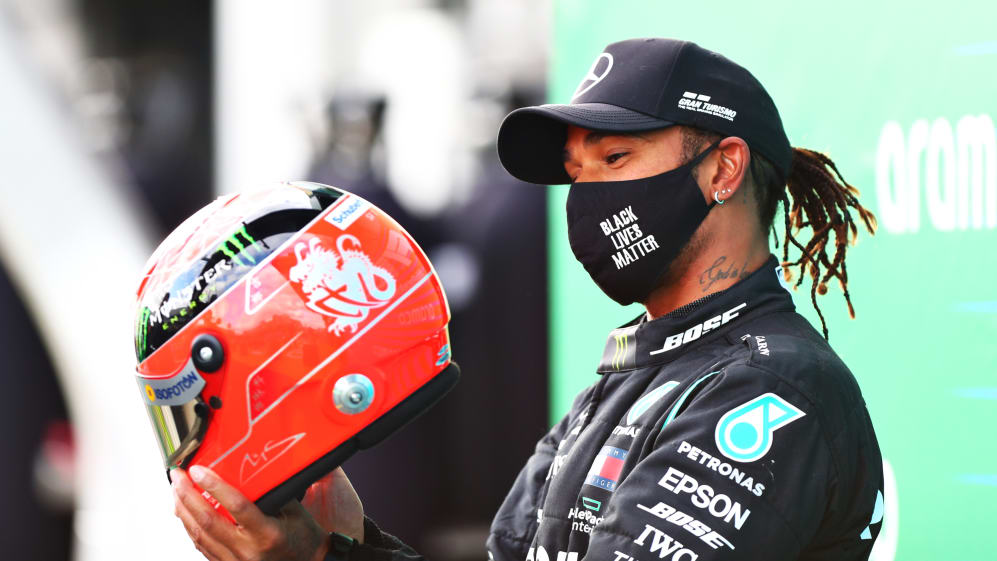 The key quote
"I don't even know what to say. I mean, when you grow up watching someone and you generally idolise them, really, just in terms of the quality of the driver they are and what they are continuously able to do year on year race on race week on week with their team… Seeing his dominance for so long, I don't think anyone, especially me, didn't imagine I would be anywhere near Michael in terms of records and it is an incredible honour. It's going to take some time to get used to it.
"Honestly as I came into the pit lane that was the only when I realised I equalled it, I hadn't even computed it before that across the line. I couldn't have done it without this incredible team, everyone continuing to push behind me and giving it their everything. So a big, big thank you and huge respect to Michael." – Lewis Hamilton, Mercedes
What's next?
With the return to the Nurburgring done and dusted, it's now time for an all-new track for Grand Prix racing as we prepare for the Portuguese Grand Prix at the magnificent Portimao track on October 23-25. Who can get up to speed with the undulating Algarve circuit the quickest? Tune in in two weeks' time to find out.