'It was even crazier than last time!' – Hulkenberg describes mad dash to Nurburgring for latest sub appearance
Under normal circumstances, Nico Hulkenberg would be disappointed with last place in qualifying at his home Grand Prix, having missed Q2 by 0.4s. But given he had no idea he'd be driving just four hours before the session was due to start, his achievement at the Nurburgring was quite something.
The 33-year-old was due to attend the Eifel Grand Prix as a television pundit, but when Lance Stroll took ill on Saturday morning and missed FP3 he found himself rushing to the circuit to perform substitute duties for Racing Point once again, just as he did for the pair of Silverstone races in July when Sergio Perez contracted Covid-19.
Asked how he felt after stepping out of his hastily adjusted RP20, Hulkenberg joked "I feel good considering I had a heart attack at about 11am" before going on to explain how his day had unfolded.
"It was even wilder and crazier than last time," he said. "I was in Cologne which is an hour from here. I was due to come here this afternoon anyway, I was going to do some TV stuff from RTL tomorrow. I was sat with a friend having a coffee at 11am when I see that Otmar [Szafnauer, Racing Point Team Principal] rings me and says 'Hulkenberg, hurry we need you here'.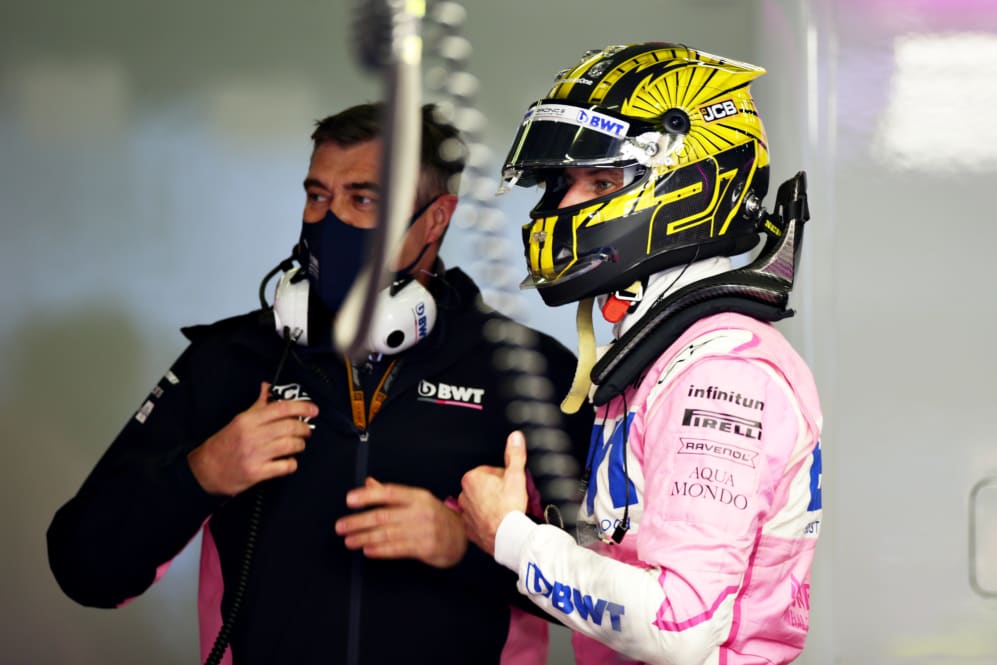 "I stepped in the car, came here and the rest is history. We saw what happened here. You saw what happened now, obviously. A 2.0 return in the moment of a heartbeat."
In the circumstances, getting out of Q1 with zero practice was always going to take a Herculian effort, even with Hulkenberg's experience of the RP20, so it was little surprise when it didn't come to pass.
"It felt quite different again to Silverstone, obviously a completely different circuit, the car has moved on too, there's a couple of technical bits that are very different and give the driver a very different sensation, so I had to adjust around that a bit and find my feet again.
"In four laps that's not so easy. All in all, even though I'm last, I'm quite pleased with the laps we've produced right now."
So what does he expect on Sunday, having not driven the car this weekend on full tanks? Having finished seventh in the 70th Anniversary GP in his last start, will Hulkenback 2.0 have a similarly happy ending?
"Tomorrow is going to be very difficult and a hell of a challenge, but we'll do what we can," he said. "Obviously I have the experience, the four laps in the pocket now, those will sink in and tomorrow, yeah, we'll just go racing and see what we get.
"You have to expect the unexpected and it's just what happened again today."