Hamilton vows to 'give it everything' after shock Q1 exit in Saudi Arabian GP qualifying
Lewis Hamilton's Q1 elimination in Saudi Arabia is his worst qualifying result since 2017 and while he isn't expecting an overnight transformation, the seven-time champion is adamant he will be going all-out to salvage his race.
Hamilton exited Q1 in P16 on Saturday night at Jeddah as Aston Martin's Lance Stroll improved at his expense – sending the Mercedes driver out of qualifying while his team mate George Russell managed to make it into Q3 and eventually clinch sixth on the grid.
WATCH: Lewis Hamilton eliminated in Q1
The 103-time pole-sitter was almost lost for words when asked if he was surprised by the result: "Yes, of course. I just struggled with the balance of the car and yes, not where we want to be.
"It was something in the set-up. It was looking good in P3, we tried to progress in a similar direction and maybe we went too far. And the car was just undriveable – I was so nervous.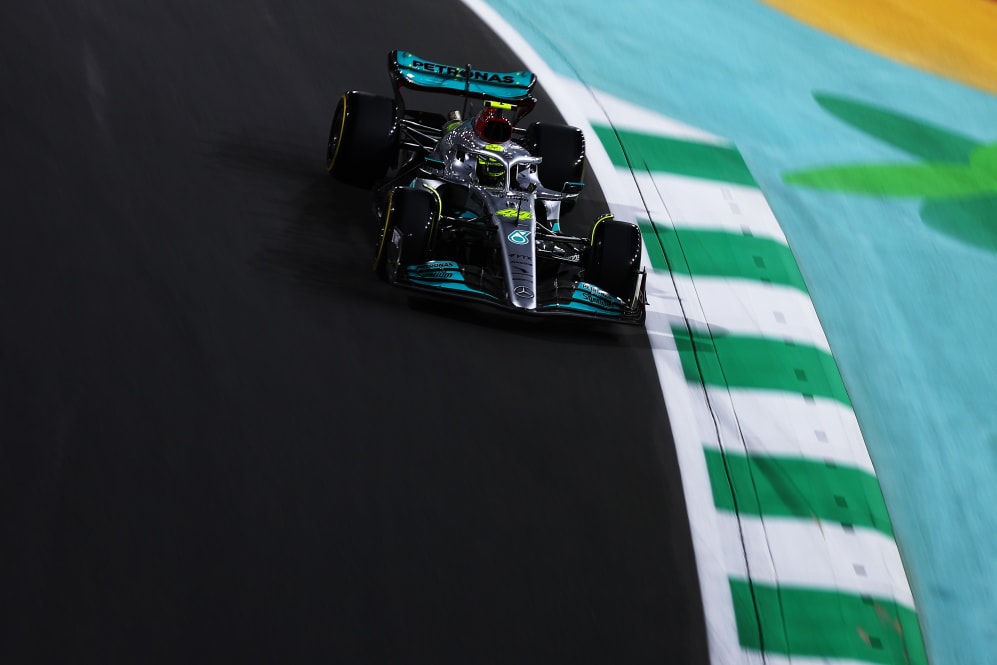 Now Hamilton, who took pole and won here in the 2021, will start three rows from the back of the grid as he attempts to rescue a result for the Silver Arrows – for whom he salvaged a podium in last weekend's Bahrain GP.
"I've got the same car as I had in qualifying so I don't anticipate moving that far forwards," he continued. "But I'll give it everything."
Team mate Russell was more forthright with his concerns over the Mercedes W13's pace as he qualified sixth – behind the Alpine of Esteban Ocon, and just 0.043s ahead of the other Alpine of Fernando Alonso.
READ MORE: Perez edges out Ferraris for sensational maiden pole position in Saudi Arabia qualifying
"P5 was definitely possible," said Russell, "but it's been a very tough day and weekend for the team. Really struggling to get the car in the window. We know what our issues are with porpoising. We are doing everything we can to solve it but unfortunately, we are not making huge progress at the moment, everybody is working day and night to get on top of it.
"Every day is a learning day, I am sure we have learnt something further from that qualifying session but unfortunately, it's a championship and we want to be fighting further up."
Sergio Perez took a stunning maiden pole in qualifying ahead of Ferrari's Charles Leclerc – in a session halted for Mick Schumacher's heavy crash, for which he was taken to hospital for precautionary scans.