Hamilton vs Verstappen: We round up all the opinions after their controversial British GP clash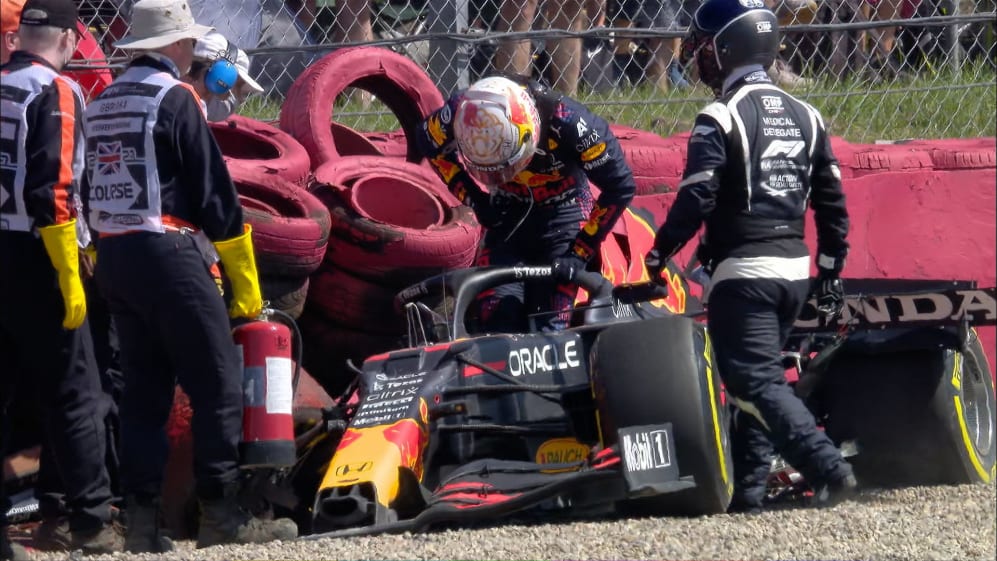 Lewis Hamilton may have won the British Grand Prix for the eighth time – but the 2021 Silverstone race will also be remembered for the controversial Lap 1 coming together between Hamilton and Red Bull's Max Verstappen, with a number of drivers, team principals and commentators weighing in on the incident.
Verstappen was taken to hospital in the aftermath of the crash for checks, as Hamilton drove a searing recovery race to pass Ferrari's Charles Leclerc three laps from the end and take victory, the 99th of his career. Here's what he, and a number of other figures, had to say about the crash.
READ MORE: Verstappen transferred to hospital for further checks after British Grand Prix crash
Lewis Hamilton
"I tried to give him the space but I was quite a long way up the inside into 9 and none of us backed out and that was the end result.
"I dummied him, moved to the right for that gap and I was pretty far up alongside him but I then could see he wasn't going to back out, and we went into the corner, and we collided.
"When someone's too aggressive, these things are bound to happen. There's not really much more for me to say – hope he's OK, because of course I would love to have a wheel-to-wheel battle for the whole race, I enjoy racing with him and I'm looking forward – but I will never back down from anyone and I will not be bullied into being less aggressive."
Christian Horner
"I have reviewed the footage many times and still cannot help but feel that putting a wheel up the inside at Copse, one of the fastest corners in this World Championship, was ill-judged and a huge risk by Lewis to both drivers.
"He was not significantly alongside Max as you can see from the point of contact, Lewis' front left to Max's right rear. The move was never on and resulted in a 51G impact for Max."
Toto Wolff
"These things are nasty to look at, but there is a clear regulation and that is something that is black and white on paper… that if the front axle is over the middle of the car on the outside, it's your corner. Now you can say, is that a corner that is equivalent to any other? Maybe not. But again, an accident involves two drivers.
"At the end they were racing each other hard... During the race we saw overtaking there. Charles and Lewis was another example, and I think you just need to give each other [room]. That would have been my opinion."
READ MORE: 'It takes two to tango' – Wolff defends Hamilton after dramatic crash with Verstappen
Jolyon Palmer, former Renault F1 driver
"To be honest, [Lewis] is actually pretty much completely alongside Max – and then you've got two championship challengers gunning for the inside line at Copse, and one of them had to back out.
"[Lewis] was completely alongside – obviously he misses the apex slightly and moves into Max, but Max also keeps turning in, and he's taking a huge risk doing that at Copse corner.
"It's a tough one, a really tough one. I could have seen it as a racing incident, both racing each other so hard."
Max Verstappen
This tweet has been removed from Twitter
Charles Leclerc
"It is very difficult to judge it from the car. We are very low, so it's difficult to see. Everything went very quick, there were quite a few things going on around me. I think it's a racing incident, it's very difficult to put the blame on one or the other.
"Obviously there was a space on the inside, maybe Lewis was not completely at the apex, but it's also true that Max was quite aggressive on the outside. So things happen, but I think what is the most important today is that Max is unharmed and is fine."
READ MORE: Leclerc '50% happy, 50% frustrated' after narrowly missing out on first Ferrari win since 2019
Karun Chandhok (analysing the crash for Sky Sports F1)
"Max gives him the space, Hamilton is up the inside, but at no point... has he moved in front of Max Verstappen. Max is coming in and Lewis… does appear to be wide of the apex. When they're making contact, his trajectory is heading wide of the apex.
"[Max] has given Lewis racing room, but he's also, I think, expected Lewis to back out of it, that's the critical thing. I think Lewis expected Max to back out of it, and Max expected Lewis to back out of it.
"Max could have given Lewis more room, but Lewis equally could have gone more to the kerb on the right-hand side… If you ask me, they could have both done more to avoid the incident, but I would put it down as a racing incident."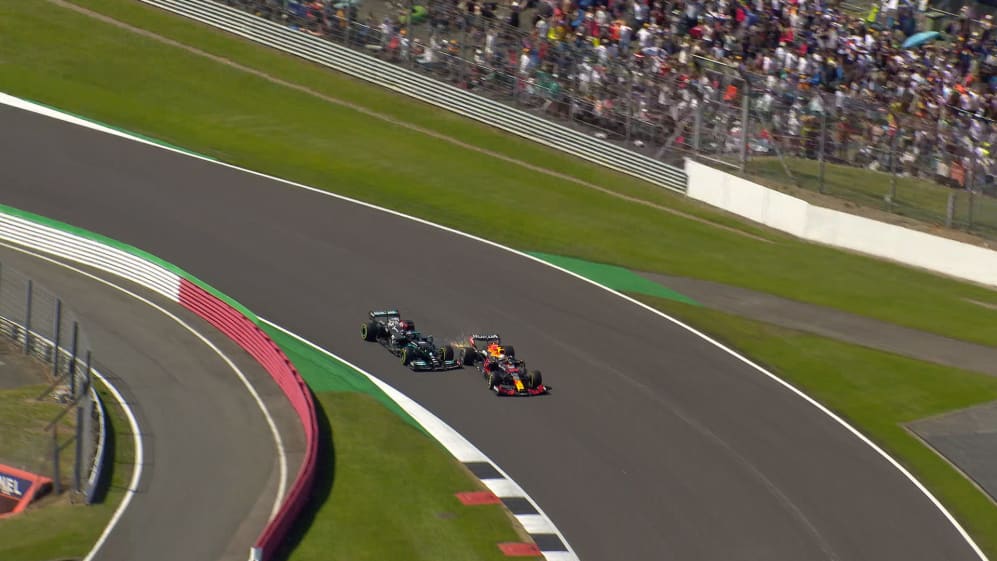 Valtteri Bottas
"I saw them fight on Lap 1, a bit like yesterday. I had a feeling something was going to happen. Obviously they were fighting hard. That kind of thing it happens – that's racing. It can happen when you fight hard, when you don't give up, but also I'm just happy Max is fine because it was a big shunt. But I also I really feel that Lewis fully deserved the win today."
READ MORE: Hamilton overcomes first-lap collision with Verstappen to hunt down Leclerc for 8th British GP win
Alex Albon, Red Bull test driver
"This has been brewing since race one of the championship… Part of me thinks Max could have closed [the door] to stop Lewis from ever going into that position, but at the same time… when Lewis overtook Charles, it was a similar position to me, maybe slightly different angles."
Carlos Sainz
"I obviously had a look at it, and honestly I had a bit of mixed feelings with the accident. First of all, wishing Max a speedy recovery, because I heard the crash was quite big.
"The accident itself I think is very difficult to judge. Only both know what they could have done differently to avoid the crash. It was very tight, they're obviously fighting for big things and I'd prefer not to judge too much."