'It takes two to tango' – Wolff defends Hamilton after dramatic crash with Verstappen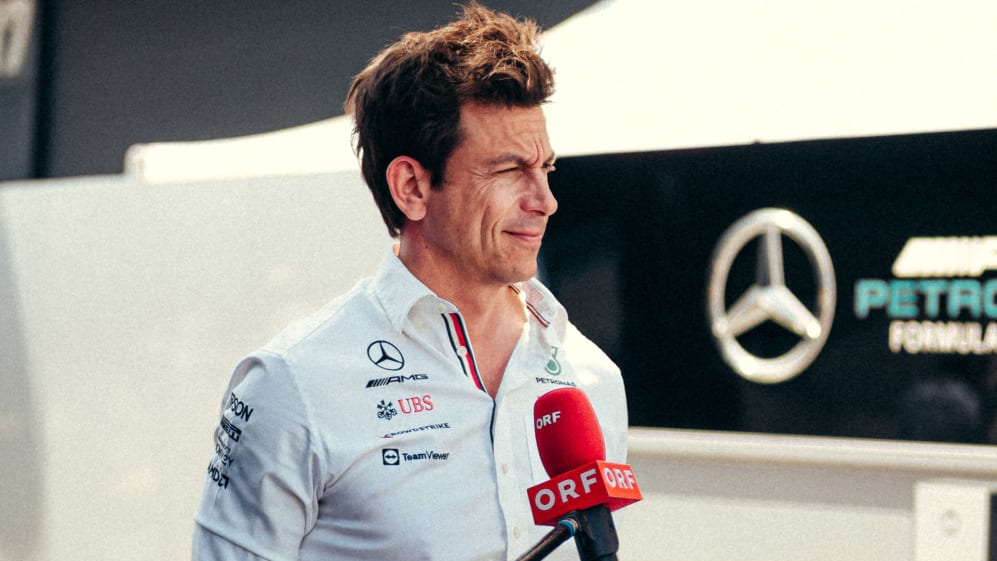 His opposite number at Red Bull Christian Horner may have labelled Lewis Hamilton 'desperate' after his clash with Max Verstappen that saw the Dutchman crash out of the British Grand Prix on the opening lap, but according to Mercedes Team Principal Toto Wolff, the contact between the two title contenders was nothing more than a racing incident.
Hamilton started the Silverstone race P2, but was on the attack in the first few corners, as he tried to pass Verstappen first into Turn 1, then later on in the lap into Brooklands. But a third attempt, going down the inside of Verstappen into Copse, saw Hamilton and Verstappen touch, with the Red Bull driver spinning hard into the barriers and out of the race.
READ MORE: 'It was a desperate move' – Furious Horner hits out at Hamilton after Verstappen crash
Verstappen was later transferred to hospital for checks. But with Hamilton having served a 10-second penalty for the incident, the seven-time champion then put in a stirring recovery drive to close up behind Ferrari's Charles Leclerc and pass for the lead with three laps to go – at the same Copse corner where he'd touched with Verstappen – to close out a memorable eighth British Grand Prix victory.
"I think first of all we've seen a dramatic and exciting race today, with Lewis winning the British Grand Prix again, and catching Charles at the end, so I think that was something for everybody," said Wolff.
"As for the incident, it always takes two to tango, and these two are not giving each other an inch," added Wolff.
"It's a high-speed corner… These things are nasty to look at, but there is a clear regulation and that is something that is black and white on paper and as a racing driver, you may have different perspective from the car, but you need to exactly understand that if the front axle is over the middle of the car on the outside, it's your corner.
"Now you can say, is that a corner that is equivalent to any other? Maybe not. But again, an accident involves two drivers.
READ MORE: Hamilton overcomes first-lap collision with Verstappen to hunt down Leclerc for 8th British GP win
"At the end they were racing each other hard," Wolff concluded. "During the race we saw overtaking there, Charles and Lewis was another example, and I think you just need to give each other [room]. That would have been my opinion."
Hamilton's victory was his eighth at Silverstone, and saw him move to within eight points of Verstappen in the drivers' standings – while with Red Bull failing to score at all after Sergio Perez could only manage P16, Mercedes moved to within eight points of their rivals in the constructors' standings.
And Wolff was philosophical about how Mercedes' weekend – and the fallout from Verstappen and Hamilton's crash – had panned out.
READ MORE: Verstappen transferred to hospital for further checks after British Grand Prix crash
"It was hard racing, and hard racing sometimes, if none of them gives in, ends in collisions," said Wolff. "The most important is that [Max] is fine as it looks and the rest of the race was great… [but] you look at the first lap and you knew that something was coming here."