Hamilton wishing season wasn't ending after '2019-best' Abu Dhabi victory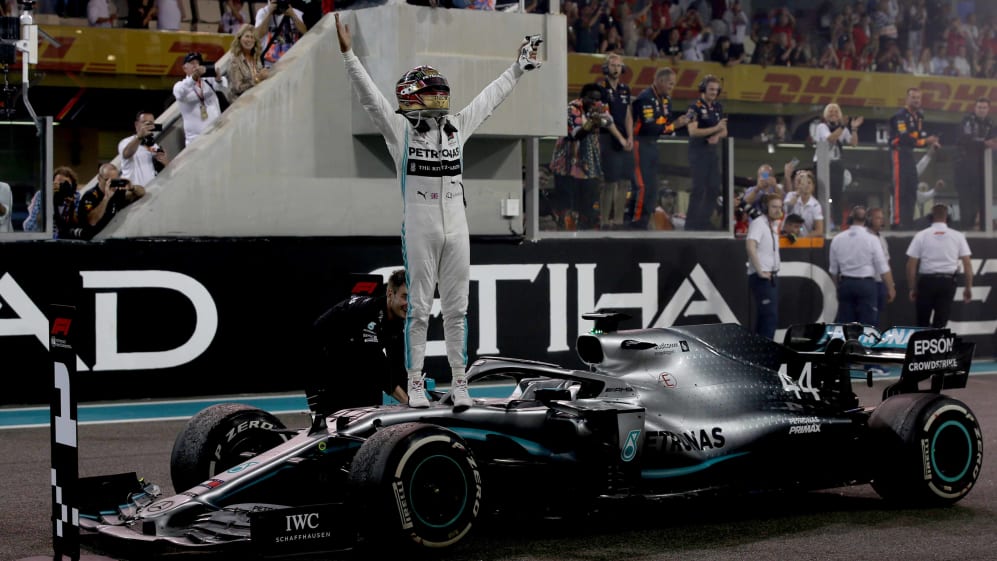 In the past, Lewis Hamilton has been accused of taking his foot off the gas after he's won the title – but this year has been different and in the Abu Dhabi Grand Prix, he had the bit between his teeth, securing one of his most dominant victories of 2019 and admitting he would love to "keep going" this season…
This was one of Hamilton's great seasons, the Briton rebounding from a slightly off-colour start to the campaign to rattle off 11 wins – the final one coming in Abu Dhabi in what was his 250th Grand Prix and 73rd triumph this decade.
Eleven wins in a year equals his previous best, but his final points tally of 413 is his highest-ever single-season points total, while he also equals his record of 33 consecutive points finishes. And it all came after a lacklustre start to the Yas Island weekend where he struggled to find a rhythm.
READ MORE: Hamilton rounds off title-winning season with dominant Abu Dhabi win
"I'm just so proud of everyone," said Hamilton. "I'm so grateful for everyone who has continued to push. I felt great out there today and I feel so good right now.
"It's like, 'there are no more races?' I feel like I'm at my best of the year right now, like I've got to keep going and now we have got to stop? Anyway, we stop on the right foot, and I hope we start on the right foot again next year."
Hamilton's performance across the race was impressive, the six-time champion pulling out a 13-second lead in the opening 20 laps, and he admitted he was still pushing in the final five laps, just because he wanted to see what the maximum he could extract was.
"What an incredible year it's been, what an incredible stretch it has been for this team," he added. "After winning the constructors' and drivers' championships, it was important for us as a team to continue to push.
"We were seeing if we could push the boundaries. This is the perfect way to end the season, on the right foot. I'm grateful for my team, who have continued to push all year long and have never lost sight of the objective. We've all had a common goal - the push in the pursuit of perfection."