Report
Hamilton rounds off title-winning season with dominant Abu Dhabi win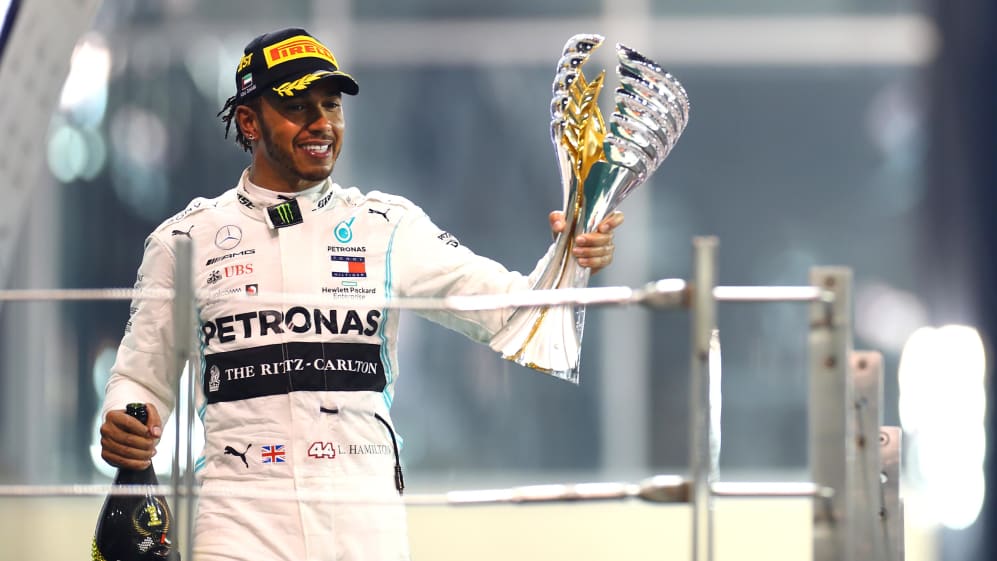 As the curtain came down on the 2019 Formula 1 season, Lewis Hamilton enjoyed a silky smooth evening beneath the floodlights at Abu Dhabi to record his 11th win of the season, ahead of the Red Bull of Max Verstappen and the Ferrari of Charles Leclerc.
Hamilton's 50th pole-to-win of his career was arguably his most straightforward victory this season, as he comfortably eased away in the early part of the race before enjoying an untroubled run to the flag, to maintain Mercedes' 100% win record at Yas Marina since 2014. It also meant that Hamilton tied his hero Ayrton Senna's record for the 19th lights-to-flag victory of his career.
Verstappen had held out hopes of pressuring Hamilton off the start to challenge for victory, but ultimately had to settle for P2, ahead of Leclerc, who survived a post-race investigation into a fuel discrepancy.
Behind the podium trio, Valtteri Bottas recovered from a back-of-the-grid start to end up fourth, less than a second behind Leclerc. A penultimate lap pass by Sebastian Vettel on Alex Albon gave the Ferrari driver fifth, while a fascinating last-lap scrap between Lando Norris and Sergio Perez saw Perez ultimately come out on top to claim 'best of the rest' in P7, ahead of Norris.
Daniil Kvyat was ninth for Toro Rosso, while Carlos Sainz also made a last lap pass, on Renault's Daniel Ricciardo, to take a point for P10 - enough to see him claim sixth in the drivers' standings for 2019.
FORMULA 1 ETIHAD AIRWAYS ABU DHABI GRAND PRIX 2019
Abu Dhabi
2019
Race results
POSITION
TIME
POINTS

1

Lewis

Hamilton HAM

Mercedes

1:34:05.715

26

2

Max

Verstappen VER

Red Bull Racing

+16.772s

18

3

Charles

Leclerc LEC

Ferrari

+43.435s

15

4

Valtteri

Bottas BOT

Mercedes

+44.379s

12

5

Sebastian

Vettel VET

Ferrari

+64.357s

10
AS IT HAPPENED
Even before the race had begun, there was intrigue, with a stewards' directive issued 45 minutes before lights out announcing that Charles Leclerc would be investigated after the Grand Prix due to "a significant difference" in the amount of fuel in the car when he left the garage to go to the pits and the amount Ferrari had said was in it. It meant that Leclerc would race in Abu Dhabi with a shadow over him…
That clearly wasn't playing on Leclerc's mind at the start as he made an incisive getaway from third on the grid before outdragging Verstappen for second into Turn 8. As pole-sitter Hamilton eased away at the front, ahead of Leclerc and Verstappen, behind came Vettel, Albon, Norris and Sainz.
Further back, Kevin Magnussen had a fantastic getaway, jumping up from P14 to P9, while Pierre Gasly was tagged by the Racing Point of Lance Stroll in Turn 1, forcing him in for a new front wing and dropping him to the back of the field. Starting from the back, meanwhile, Valtteri Bottas had made it up to P14 by the end of Lap 1.
Hamilton looked to have the legs on everyone in the early part of the race, as he quickly and consistently built up a cushion over Leclerc. His team mate Bottas was having a slightly tougher time of it, with the drag reduction system not available for any of the drivers for the first 18 laps of the race because of a technical glitch, harming the Finn's early progress.
Ferrari decided to make a bold call early on, double stacking Leclerc and Vettel in the pits on Lap 13. That worked out fine for Leclerc, but issues on the front and rear-left of Vettel's car saw him stationary for 6.9s. Leclerc re-joined in P4 behind Hamilton, Verstappen and Nico Hulkenberg – the likes of Norris, Daniel Ricciardo and Sainz have already stopped – while Vettel's slow stop meant he slotted back into P7.
Further down the order, on what looks to be his last race, Robert Kubica was getting his elbows out, rebuffing the attempts of Alfa Romeo's Antonio Giovinazzi to overtake at Turn 11 on Lap 24, with debris flying off both drivers' cars as they touched. The stewards took a look, but decided no further action was required.
Lap 26 saw Verstappen pit from second, before leader Hamilton followed suit a lap later, the Mercedes driver with enough in hand to emerge with his lead intact, while Verstappen dropped back behind Leclerc in P3.
Not for long though. Despite complaining about apparent engine braking issues on his Red Bull, on Lap 32 Verstappen soared past Leclerc into the Turn 8 braking zone. Leclerc tried to fight back around the outside of Turn 11, but Verstappen had him covered, blasting off into second.
The Ferraris were now struggling to make in-roads – so despite it not working well the first time, the team decided to double stack their drivers again on Lap 39. Their stops were smoother this time, Leclerc changing onto softs and emerging P3 for a final 16-lap assault, as Vettel took mediums, dropping him to P6 behind Albon and Bottas – with Bottas then passing Albon for P4 on Lap 40.
Ultimately, however, Leclerc wasn't able to use those softs to make any indent on Verstappen, meaning he had to settle for third behind the Dutchman, as Hamilton sailed breezily to win #11 of the year – meaning he secured over half the victories in 2019.
There were scores to be settled further back before the chequered flag fell however. Lap 54 of 55 saw Vettel close up to the back of the struggling Alex Albon, using his fresher tyres to ease past him on the run down to Turn 11 to claim P5.
Behind them, Racing Point's Sergio Perez had shown excellent pace in the latter part of the race and narrowly trailed seventh-placed Lando Norris going into the last lap. The Mexican used all his experience, however, to sneak past the rookie on the final tour, claiming 'best of the rest' in P7, as Norris narrowly finished ahead of the Toro Rosso of Daniil Kvyat.
A frantic last lap for Carlos Sainz, meanwhile, saw the Spaniard take P10 from Hulkenberg, the one point he earned meaning that he finished ahead of Gasly and Albon for P6 in the drivers' standings – a fitting return for a fine year for the Spaniard. And while both Renaults failed to score – Ricciardo and Hulkenberg ending up P11 and P12, Ricciardo having followed Sainz through to pass his out-going team mate on the last lap – Kvyat's haul ultimately wasn't enough to stop Renault beating Toro Rosso for fifth place in the standings.
So, 2019 has seen the emergence of Charles Leclerc at Ferrari, Max Verstappen able to take the fight to Mercedes with a Honda-powered Red Bull, and even Bottas 2.0. But despite all that, once again, it's Lewis Hamilton who rises above the rest, ending the season with his highest ever points haul in F1. Bring on 2020…
The key quote
"Honestly I'm proud, definitely, but just super grateful for this incredible team, to all at Mercedes who have continued to push this year. Who would have thought at the end of the year we'd have this strength in the race. Even though we had the championship won, I just really wanted to keep my head down and try to see if we could learn and if we could extend and extract more from this beautiful car, it's a piece of art.
"Thank you for watching, thank you for supporting. I feel so happy" – Lewis Hamilton
What's next?
Grand Prix-wise, that's all for 2019 folks. But the teams will be back in action this week on December 2-4 for the traditional end-of-season test, before slipping off back to their factories to work on their 2020 cars. They'll be showing those off on track at the Circuit de Catalunya-Barcelona on February 19 2020, when testing for next season begins.