Hamilton's win, as Vettel keeps title hopes alive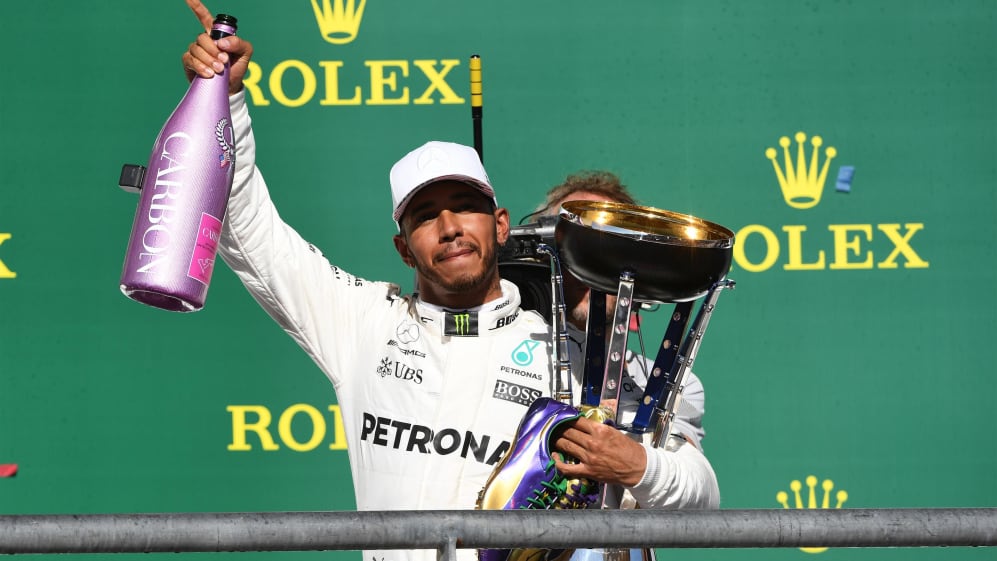 Ferrari's Sebastian Vettel led the opening five laps of the 2017 Formula 1 United States Grand Prix, but it was Mercedes' Lewis Hamilton who went on to dominate the race, winning by 10 seconds from his title rival, whose team mate Kimi Raikkonen clinched third after a last-lap pass on him by Red Bull's Max Verstappen was deemed illegal. The result means Mercedes secure the 2017 constructors' crown, but the drivers' battle goes on to next weekend's round in Mexico.
A five-second time penalty for leaving the track while passing Raikkonen meant the fans' Driver of the Day Verstappen, who started 16th, lost out on the podium by just 0.9s, having seen his team mate Daniel Ricciardo retire early on with engine issues. Valtteri Bottas ended up fifth in the sister Mercedes, followed by the Force Indias of Esteban Ocon and Sergio Perez, split by Renault new boy Carlos Sainz, who like Verstappen saw his team mate, Nico Hulkenberg, retire.
Williams' Felipe Massa and Toro Rosso returnee Daniil Kvyat completed the top ten, the latter's rookie team mate Brendon Hartley taking the flag 13th on his F1 debut.
When Vettel got the jump on polesitter Hamilton at the start, it looked as if Ferrari were going to get the win they needed, but it soon became clear that the silver car, right behind him, had better pace. And when the points leader sliced decisively down the inside of him on the sixth lap, that was pretty much all she wrote.
Hamilton had a scare on the 20th lap as he emerged from what transpired to be his sole pit stop, and Vettel, who had stopped three laps earlier, had wiped out a 4.4s deficit and was almost right on him. Hamilton wasn't amused and rebuked his team, but at the same time he quickly pulled away again, and when Vettel had to stop again on the 39th lap, it was also soon clear that Mercedes would not need to do the same.
Vettel had thus by then fallen to fourth place, as Bottas and Raikkonen waged a single-stop duel for second well behind Hamilton. Eventually the older Finn passed his younger countryman, and as Vettel was by then coming after Bottas like gangbusters, Ferrari sensed the chance to limit the damage. When Vettel pounced on Bottas on the 51st lap, they immediately switched Vettel for Raikkonen, maximising the German's score and limiting the further loss to Hamilton to seven points. Hamilton now has 331, Vettel 265. Very close to that fourth title, but the cigar can't be lit just yet.
Raikkonen, meanwhile, hand his hands full with Verstappen, Red Bull's sole runner after Ricciardo's battle early on with Bottas had ended with a possible engine problem. The Dutchman drove brilliantly from 16th on the grid (due to engine penalties), to snatch third place with an aggressive move on the last lap. Raikkonen, who had already been in fuel-saving mode, dropped back four seconds immediately, but for Verstappen that would not be enough. He was gathered with Hamilton and Vettel in the green room when the news came that a five-second penalty for exceeding track limits to make the pass had dropped him behind Raikkonen. He was not amused.
As Bottas trailed home fifth, there was some excellent racing behind the top five.
Ocon and Sainz were locked in a duel for many laps, but the Frenchman never gave the Renault debutant the opening he was looking for. Likewise Perez, in the other Force India, who had earlier asked his team to tell Ocon to let him by, lacked his partner's pace but just fended off final points scorers Massa and Kvyat at the flag.
Williams' Lance Stroll took 11th, just ahead of McLaren's Stoffel Vandoorne and the aforementioned Hartley, as Sauber's Marcus Ericsson and Haas's Kevin Magnussen completed the finishers; the Swede got a five-second penalty for tipping the Dane into a spin as Vettel lapped them on the 47th lap.
Like Ricciardo and Hulkenberg, McLaren's Fernando Alonso fell prey to mechanical ills, while Pascal Wehrlein's Sauber suffered damage after a first-lap collision with Magnussen.
Though Hamilton still needs nine points to secure the drivers' title – just fifth place in Mexico next weekend will be enough – Mercedes cemented the constructors' championship, and now have 575 points to Ferrari's 428, Red Bull's 315 and Force India's 159.
Renault have moved back in front of Haas and to within five points of Toro Rosso in the fight for sixth place.