'He deserves a chance' – Wolff says Mercedes role can help Schumacher get back into an F1 race seat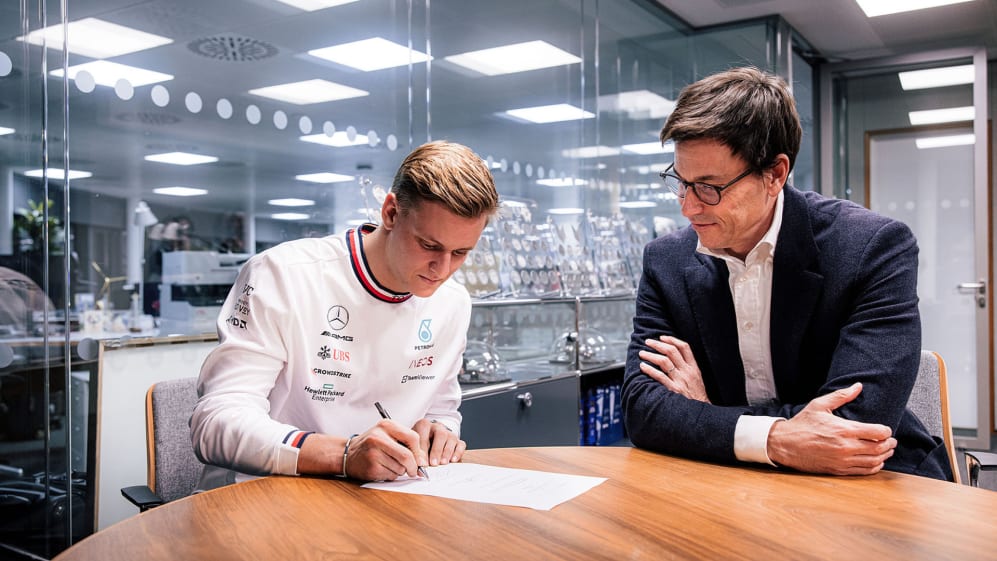 Toto Wolff says Mick Schumacher's new role as Mercedes reserve driver could help him get back on the grid in 2024 – a chance the young German "deserves", according to the Silver Arrows boss.
Schumacher, 23, spent two years racing with Haas, but left the team at the end of the season when they opted to sign fellow German Nico Hulkenberg for next year.
READ MORE: Mick Schumacher to join Mercedes as reserve driver for 2023
On Thursday, Mercedes confirmed Schumacher would be joining them as a reserve driver – a move Wolff says is a chance for the 2020 Formula 2 champ to "reassess" himself.
Speaking before the announcement on F1's Beyond The Grid podcast, Wolff said: "I really like Mick and I like the family – how they have raised their kids with this unbelievably famous name – and I think he deserves a chance.
"He won [the Formula 2 title] and that is not easy. Things can go against you in your first years in Formula 1. He was under pressure to deliver and that doesn't help, and Formula 1 is brutal. Maybe, in a way, having a year off as a third driver – similar to what Daniel [Ricciardo is doing with Red Bull] – can be good to reassess yourself and bring yourself in a better place and hopefully find a seat again."
Oops! Error retrieving Twitter post
Wolff insists Schumacher has the talent to succeed in F1 – especially given his impressive junior career.
"He always impressed me from his personality. The first time I met him, which was in his first year in [European] Formula 3 in Hockenheim, he's just a good person. [He] won [European] F3, won F2 – that can't come out of nowhere," he said.
BEYOND THE GRID: 'We learn the most when we lose' – Wolff hopes rivals will 'regret' Mercedes' 2022 struggles
In joining Mercedes, Mick is following in his father Michael's footsteps, who came out of retirement to drive for the team across a three-year spell from 2010 to 2012.
Wolff said he got to know Michael when he joined Mercedes as a shareholder in 2013, but did not want to make comparisons between father and son.
"Obviously everyone is different, and I wouldn't do Mick nor Michael any justice by commenting here on their characters," he said. "Certainly Mick is an intelligent young man that can drive."
Click on the audio player below to listen to the full episode with Toto Wolff – or head here to listen on your preferred podcast player.