'He deserves every victory he's had' – Vettel reveals he texted Hamilton ahead of record breaking win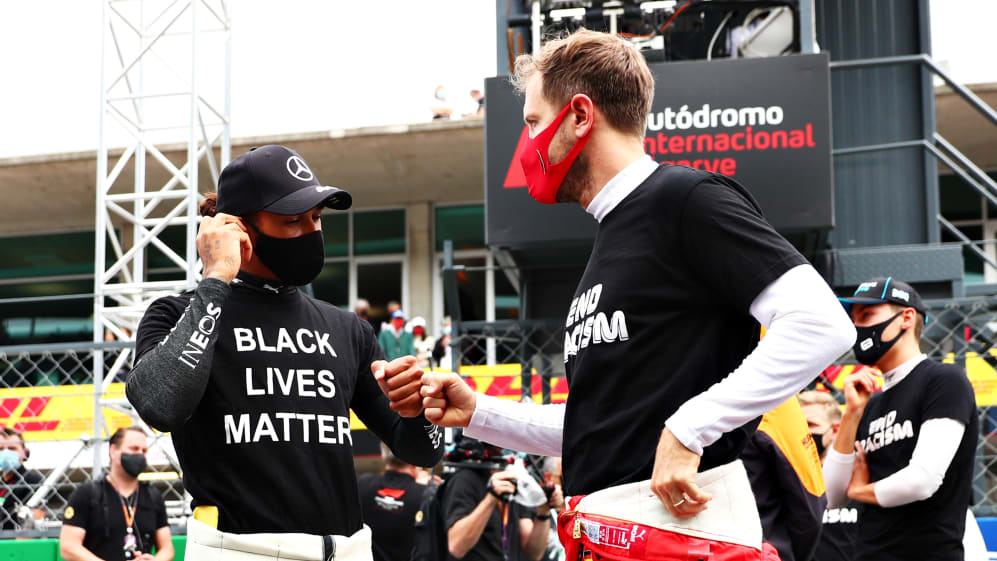 F1's all-time win record was on the mind of Sebastian Vettel ahead of the Portuguese Grand Prix, as the Ferrari driver revealed he texted Mercedes rival Lewis Hamilton with words of support ahead of the Briton eclipsing Michael Schumacher's long-time marker in Portimao.
And not only did Vettel send his rival a text, he said after the race that Hamilton deserved all 92 victories - even if many of them came at the expense of him tasting the winner's champagne himself.
ANALYSIS: How shrewd thinking enabled Hamilton to solve the tyre puzzle and win in Portugal
"I'm happy for him, I think he deserves every single victory he had, so I think the number speaks for itself," said Vettel. "I'm sure he will hit 100, I texted him before the race to get 92 so I'm sure he will continue to get even more, and I don't think you can praise him enough."
Vettel's team mate Charles Leclerc, who finished a brilliant P4 in the race, echoed his comments.
"I think similar words from me to when he equalled Michael [at the Nurburgring]. I think it's incredible what he achieved in the sport and yeah, he has achieved a lot and he has been extremely consistent throughout the years and just a huge congratulations to him," said the Monegasque racer.
Vettel, however, wasn't satisfied with his own performance in Portugal, even though he gained five positions from his grid slot to finish 10th.
PADDOCK PASS: All the reaction from a record-breaking Portuguese Grand Prix
"I can't be satisfied with any race where I only manage to take a single point. Unfortunately I didn't make a good getaway, so instead of gaining places I lost one – and for us this season it is not so easy to overtake," he said.
"When I had an empty track ahead of me the pace was quite good and this is what I will take away as the positive from here. With better qualifying we could have ended up with a more satisfying result," he concluded.
Next up is the Emilia-Romagna Grand Prix at Imola, marking the last five races of Vettel's tenure at Ferrari as he prepares to leave for Aston Martin at the end of the season.