Feature
ANALYSIS: How shrewd thinking enabled Hamilton to solve the tyre puzzle and win in Portugal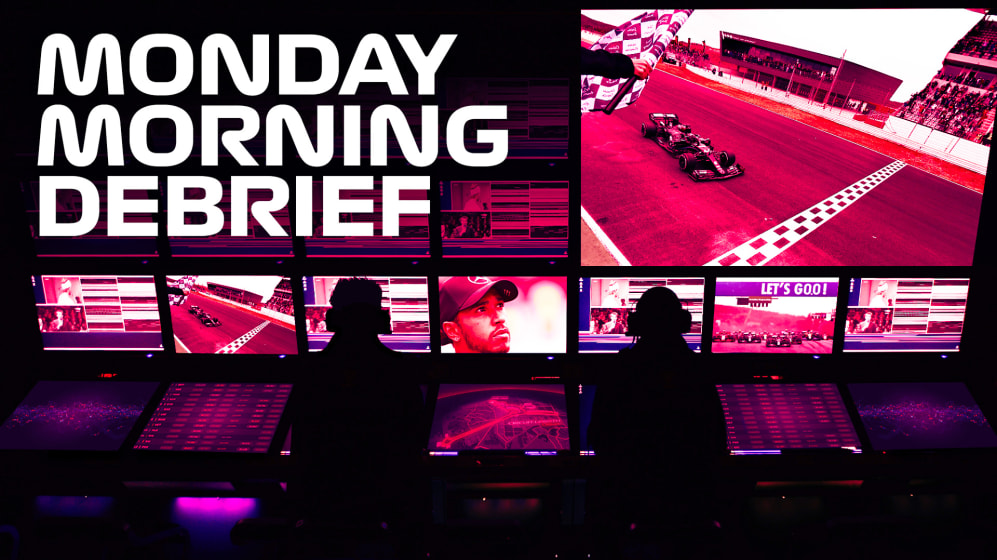 In taking his record-breaking 92nd Grand Prix victory Lewis Hamilton was in truly dominant form in Portimao. But it was about so much more than just being in the fastest car...
After being passed by Valtteri Bottas on the opening lap (and briefly by Carlos Sainz's McLaren), Hamilton worked away at understanding how to keep his tyres from falling below their ideal temperature.
READ MORE: Sainz credits rally driving mentality for giving him early lead in Portuguese GP
The super-smooth and still-oily new surface combined with the cool conditions meant the medium tyres on which both Mercedes (and Charles Leclerc's Ferrari) started were constantly on the cusp of falling out of the temperature window at which they perform. But if the mediums could be kept in that window they could be driven very hard.
By contrast, the soft tyres could not be run as hard without graining the left-front. The softs – as chosen by Max Verstappen and most of the others in the top 10 as their starting tyre – were thus constrained to be a slower tyre than the medium. But only if that medium could be kept up to temperature.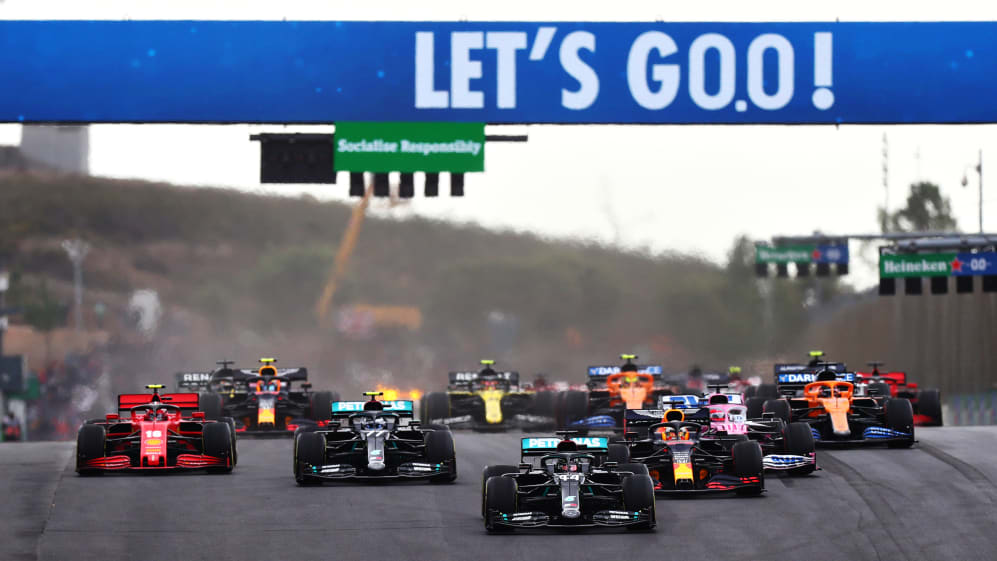 "This track, it's very, very smooth," explained Hamilton. "You see the struggle we're all having with the tyre temperatures… today was about tyre temperature. I felt through the race that I was learning, lap on lap, more about the circuit. I was trying lots of different lines and discovering new lines that worked well.
"The wind direction was very, very tricky, lots of crosswinds, headwinds and tailwinds and there was some positions that you could utilise to your favour and others that kind-of get in the way. I think the key is the times when you have a tailwind, it's minimising the loss through those stages."
READ MORE: Hamilton reveals how cramp left him in 'excruciating' pain on way to record 92nd victory
That was how Hamilton solved the challenge in the car. Keeping up the temperatures better than Bottas, Hamilton was able to close his team mate down and get a run on him through Turn 14-15 on Lap 19, allowing him to slipstream past on the pit straight with the aid of DRS. He then proceeded to pull away and win by over 25 seconds.
But it was about more than just how Hamilton adapted his driving.
It was also very much to do with a set-up he'd pushed his engineers for, one which worked the rear tyres unusually hard and protected the left-front, restricted the graining it would suffer. "I challenged the engineers on certain assumptions," he said of his chosen set-up.
"My set-up was less about qualifying and more about the race. That enabled me to keep those temperatures, to run hard enough, and those assumptions I'd challenged were what ended up giving me the speed."
READ MORE: 'I had no pace' – Bottas left mystified by lack of performance at Portimao
The Red Bull RB16's traits would have been well suited to these demands – if only it had started on the right tyre. When Verstappen eventually switched to the medium for the second stint, it was much improved. But both Mercedes were long-gone by then.
The Ferrari is a naturally oversteery car, with a shortfall in rear grip that Sebastian Vettel is finding very difficult to deal with, but which Leclerc has seamlessly adapted to. Like Hamilton, he needs front-end grip above all else and is quite relaxed if that entails a slight oversteer balance. As such, he too was able to keep those mediums in their ideal temperature band, something which allowed him to use them in Q2 and thus start the race on the ideal tyre.
Although he was never a pressing threat to Verstappen despite being on a better tyre in the first stint, Leclerc kept the Ferrari within a couple of seconds of the RB16 before Verstappen pitted. That flattered the Ferrari considerably, just underlining the superiority of the medium over the soft.
The low-grip surface and cool conditions meant none of the compounds were running too hot – and this played its part in allowing the cars to run closer nose-to-tail through the final corners than would normally be the case.
READ MORE: Leclerc says patience the key as Ferrari race pace progress helps him to P4 in Portugal
Typically, this generation of front tyre overheats when close behind another car, losing grip, and this contributing towards the difficulty of overtaking. In Portimao that wasn't the case, allowing Hamilton to run so tight in Bottas' slipstream through Turns 14-15 before passing him.
What this temperature phenomenon also allowed was a tyre that didn't steadily lose performance through the race. There was no thermal degradation – ie no grip reduction because of overheating. So, with the soft, once it was nursed through the graining phase, it would still be almost as quick as when new.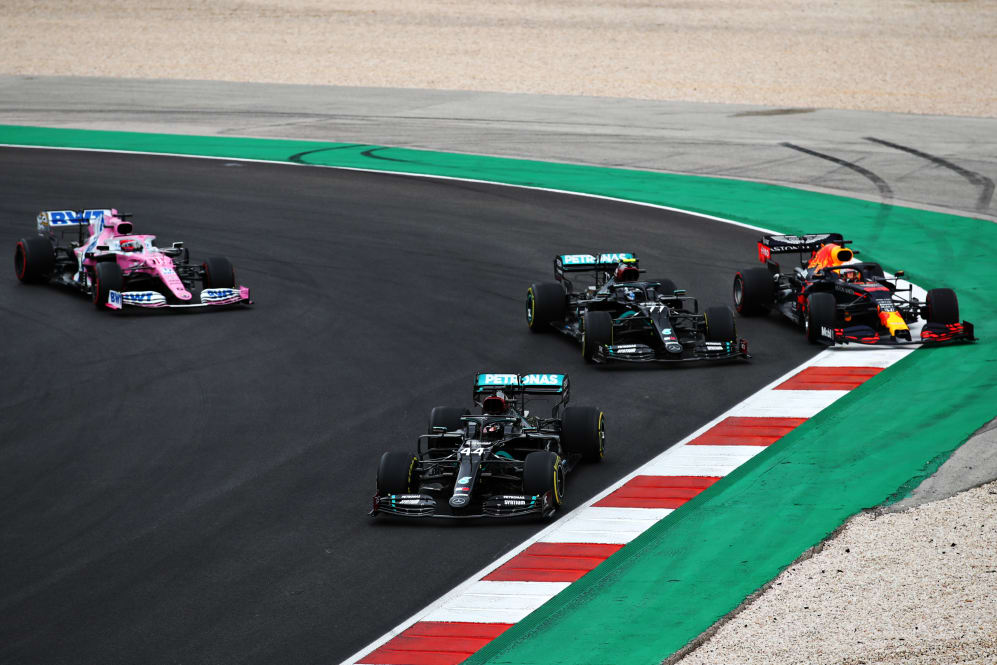 The soft wasn't a fast tyre (because of the graining) but it was possible to do a decently long stint on it. Thus, those drivers obliged to start on it didn't have their strategies entirely ruined – as show by Pierre Gasly and Sainz taking fifth and sixth places, albeit a lap down at the end.
But the fact that they, on their much older medium tyres were able to track down Sergio Perez (who was on fresh softs), late in the race underlined how the soft just wasn't the tyre to be on.
READ MORE: Perez thought 'race was lost' after Verstappen collision before recovering to P7
Renault started Esteban Ocon on the medium and ran him very long (to lap 54 of the 66 lap race), reasoning that on fresh softs he would quickly pick off the older-tyred Sainz and Gasly ahead of him. It didn't happen. As soon as Ocon pushed, that left-front simply lost grip through graining.
Mercedes (and Ferrari) chose the right tyre. Hamilton brilliantly maximised the advantage of that.