'He raced Lewis just as hard as Max does' – Horner thrilled with Perez's defence from Hamilton in Turkey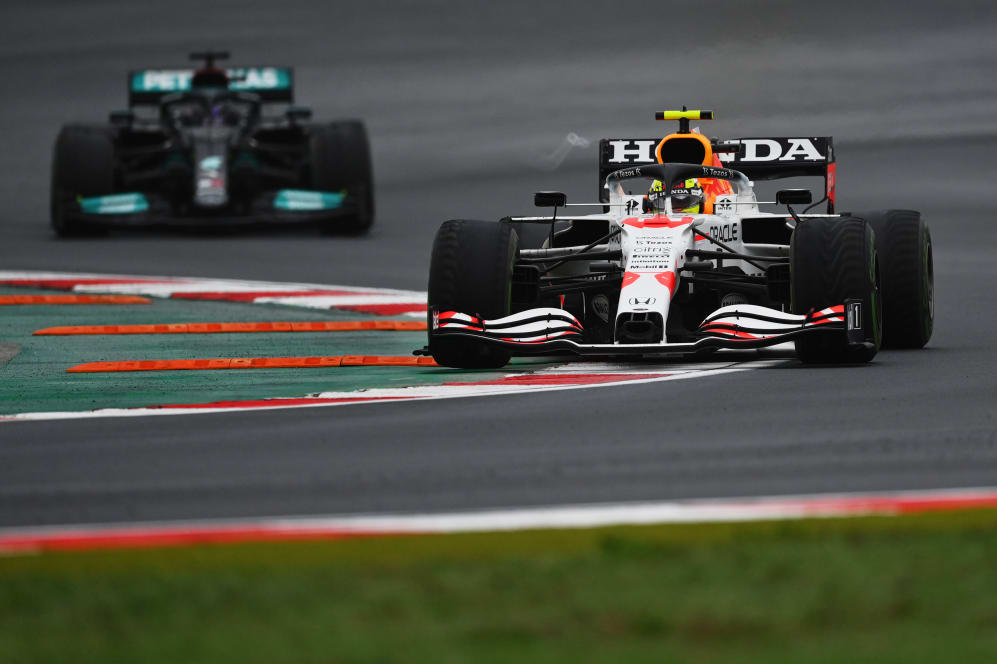 For only the second time this season, Red Bull had both drivers land on the podium, and Team Principal Christian Horner was elated that Sergio Perez had emulated his team mate Max Verstappen by holding off Lewis Hamilton in a mid-race battle in Turkey.
It was on Lap 35 when Hamilton, who started 11th, caught up to Perez and attempted to pass him at Turn 12. But the two went wheel-to-wheel through that and the final two corners of Istanbul Park – Perez being pushed wide through the pit entry at one point – down the straight and through Turn 1, where Perez held the position.
READ MORE: Verstappen calls Red Bull double-podium in Turkey 'a very good result' as Perez revels in Hamilton battle
"I mean he raced Lewis just as hard as Max does. You can see at [Turn 14] they're going wheel to wheel and he actually ended up in the pit lane!" said Horner as he watched the incident.
"He [Perez] was on the other side of the bollard, Lewis ran him out there, and then it's a drag race down the start-finish straight and he just… made it stick – so a great move by him."
The Red Bull boss also expressed his surprise that Hamilton stayed out on his starting intermediate tyre set until Lap 51, while Verstappen and Perez pitted on Lap 36 and 37, respectively.
As to why Red Bull pitted the Mexican after he had successfully held off Hamilton in that scrap (above), Horner said: "We could have left him out to keep holding Lewis; we decided to pit him to make sure we had that track position because we didn't believe that those tyres would make it to the end of the race."
READ MORE: 'I should have trusted my gut' – Hamilton reveals why he was left frustrated by Mercedes strategy in Turkish GP
With the United States Grand Prix up next, Red Bull are now 36 points behind Mercedes in the championship, while Verstappen is six points ahead of Hamilton. Where does Horner see his team finishing at Circuit Of The Americas, then?
"Austin's one of Lewis's strongest circuits and we know that he's very, very quick around there. We're fighting at it and we're not giving up anything and to be, at this stage of the championship, leading the drivers' [and] still in touch in the constructors', that's phenomenal," he said.
"For us, we're loving this fight, enjoying this scrap and there's some tracks coming up that it could go either way," Horner concluded.