'He's in this championship as much as Max is' says Horner after Perez enters fight with Monaco win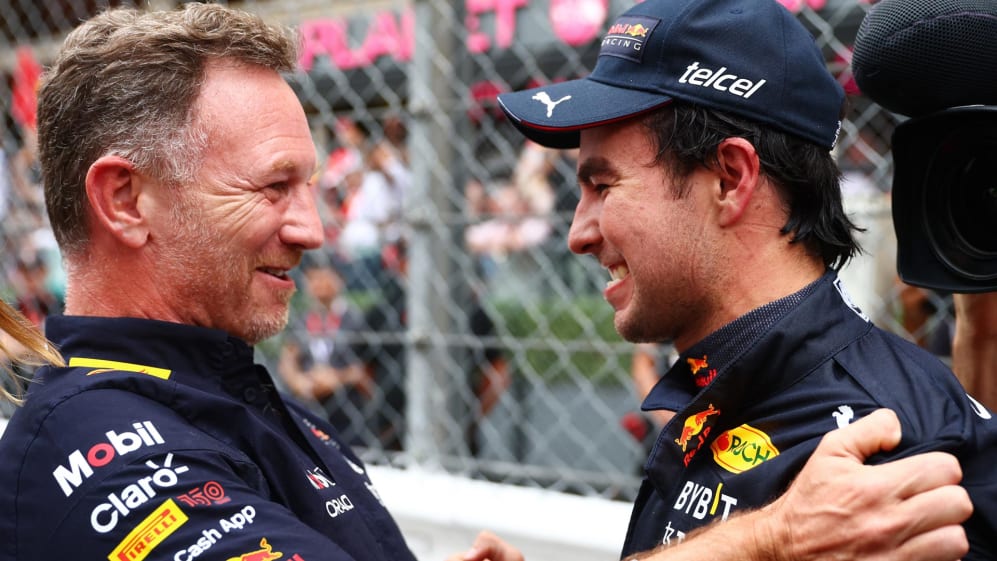 After Sergio Perez took his maiden Monaco victory, Red Bull Team Principal Christian Horner backed the Mexican's title credentials and lavished praise upon his winner.
Perez, who was asked to move aside for Max Verstappen in Spain, qualified third in Monaco and ended up jumping the front-row Ferraris in the pit stops, keeping his lead on the late Safety Car restart even as his medium tyres began to grain. Now he's just six points behind Charles Leclerc and 15 behind Verstappen.
READ MORE: Perez says he and Red Bull have cleared the air over Barcelona team orders debate
"He's in this championship just as much as Max is," asserted Horner on Sunday. "The difference between the two of them is 15 points or so now – it's nothing – but it's a long way to go in this championship and we can see Ferrari have got a very fast car. They had a better car than us on this circuit this weekend.
"I think through great teamwork, through great work from the drivers, and the pit wall and the pit stops and the double stops we managed to beat them here and that's not going to be easy at the coming races. So as a team we've always got to optimise our performance and then, at the back end of the championship, that's where it's going to get really exciting."
Horner said Perez has ramped things up with a string of great performances in 2022. After all, the 32-year-old had 84 points after seven rounds in 2021 – and has 110 points after seven rounds in 2022.
"He's doing a great a job," added Horner. "I mean, look at his performances so far. Jeddah, he had that amazing pole; the time delta between him and Max has been a lot, lot closer this year. I mean, to win this race, his third victory, what a place to get that."
READ MORE: The Red Bull strategy calls that wrong-footed Ferrari after Perez's crucial qualifying crash in Monaco
Horner also provided some insight into the issues that Verstappen had in Monaco. The Dutch racer was outqualified by Perez in Monaco but still let the Principality with a smile having finished ahead of pole-sitter Charles Leclerc.
"It's been frustrating for him that he hasn't quite had the car in the window he wanted," said Horner of the reigning champion. "That last lap [in qualifying] would've been vital because that might've put him on the front row, and we all know qualifying is so, so vital here.
"But he's happy with that result. He's beaten Charles, he's on the podium, he's pleased for his team mate, so to come away with the constructors' point, that [lead has] grown as well, that's a good result for us."
Red Bull head to Baku in the lead of both championships, Perez having taken his first victory for the team there back in 2021 – while Verstappen lost the lead in a shock retirement...