Report
Perez beats Vettel to Baku victory after Verstappen crashes out from lead late on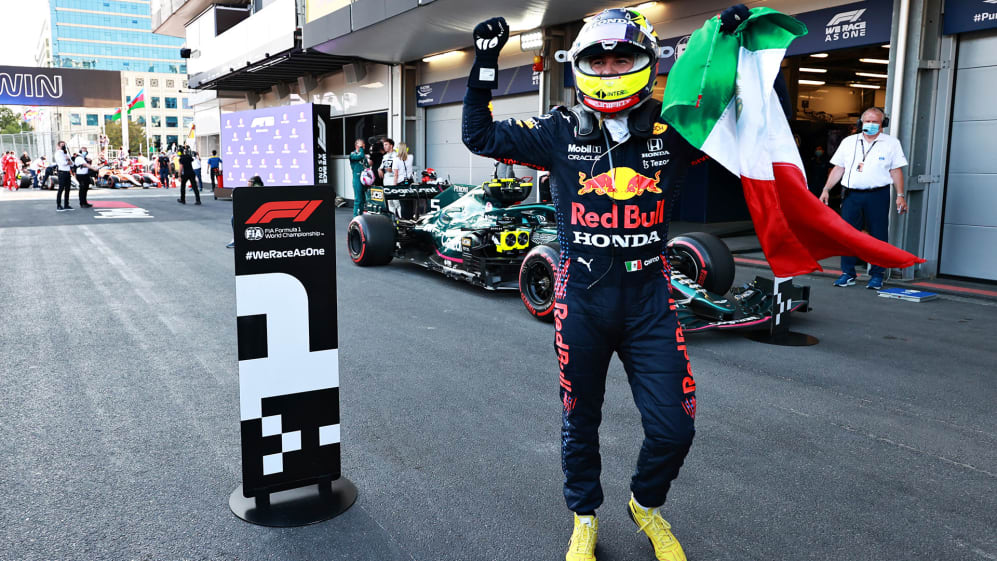 Max Verstappen looked set to take his first first-ever Azerbaijan Grand Prix victory before he crashed out from the lead with just five laps to go – giving Sergio Perez a second career victory, as Lewis Hamilton locked up on the penultimate lap to finish 15th in a hugely dramatic race in Baku.
For the first time this season, Charles Leclerc led away from pole, but he was passed for the lead by Lewis Hamilton with no need for DRS, so strong was the tow, on Lap 2. Verstappen then swept by the Ferrari man on Lap 7.
Verstappen took the lead after a crucial sequence of pit stops, Hamilton starting that sequence on Lap 12 with a slow switch for hards thanks to traffic in the pit lane. Verstappen pitted a lap later and emerged first, followed by Perez who split the championship rivals. And the Dutchman seemed to have victory in the bag, mastering a Lap 35 Safety Car restart after Lance Stroll's terrifying accident, when the Aston Martin driver's left-rear tyre appeared to gave way on the pit straight.
DRIVER OF THE DAY: Vettel makes it two in a row with Baku podium
That was until Verstappen himself, comfortably in the lead on Lap 47, spun and crashed after an apparent tyre issue of his own. Unhurt, but shaken, his crash triggered the Safety Car, which turned into a red flag that suspended the race on Lap 48. The race resumed with a standing start 35 minutes later on Lap 50, giving us two laps of flat-out action, the field all having switched tyres during the stoppage.
Perez would lead Hamilton, Sebastian Vettel, Pierre Gasly and Leclerc off the line for the re-start. Hamilton got away well, his nose seemingly ahead of Perez's, but the Briton locked-up heavily and went into the Turn 1 run-off. He finished 15th, leaving Perez in the lead, Vettel second and Gasly – having held off a charging Leclerc in the final laps – to take the final podium place.
FORMULA 1 AZERBAIJAN GRAND PRIX 2021
Azerbaijan
2021
Race results
POSITION
TIME
POINTS

1

Sergio

Perez PER

Red Bull Racing

2:13:36.410

25

2

Sebastian

Vettel VET

Aston Martin

+1.385s

18

3

Pierre

Gasly GAS

AlphaTauri

+2.762s

15

4

Charles

Leclerc LEC

Ferrari

+3.828s

12

5

Lando

Norris NOR

McLaren

+4.754s

10
Vettel started 11th but finished a brilliant second as he pitted 18 laps later than anyone else, and emerged sixth. On the re-start after Stroll's crash, he took P4 off Leclerc and Gasly, and was promoted to the podium by Verstappen's retirement.
Leclerc finished fourth as his Lap 10 undercut attempt on Gasly didn't pay off. While he tried to wrestle P3 off the Frenchman after the final re-start, his efforts were in vain and the Ferrari driver finished fourth.
WATCH: Hamilton locks up and goes straight on in crucial late Azerbaijan GP restart
Lando Norris shrugged off a three-place penalty and undercut his rivals having started P9 to take fifth ahead of Fernando Alonso, both movers in that final re-start, while AlphaTauri's rookie Yuki Tsunoda started seventh and finished there having pitted early on Lap 9.
Rounding out the top 10 was Ferrari's Carlos Sainz in P8 – who bounced back on hard tyres after a huge Lap 11 lock-up that left him as low as 15th – Daniel Ricciardo, up to ninth from 13th, and Kimi Raikkonen's Alfa Romeo in P10.
But the headline story was Verstappen's retirement from the lead, and Hamilton's shocking late lock-up that cost him a shot at re-taking the championship lead after this astonishing Azerbaijan Grand Prix finish.
As it happened
Before the drivers began their formation laps, a one-minute silence was held in memory of long-time McLaren shareholder Mansour Ojjeh and former FIA President Max Mosley – while those around the paddock also took time to remember their late friend and colleague, F1 camera person Thomas Bonnecarrere.
Cloudy skies overlooked the Baku City Circuit as the wind picked up on the formation lap, but there was no risk of rain amid high temperatures. The heat was on, then, with Red Bull arriving in Azerbaijan just one point ahead of Mercedes; third-place starter Max Verstappen four points ahead of front-row starter Lewis Hamilton in the drivers' championship.
READ MORE: 'We should get them in the ring' – Hamilton and Verstappen enjoying 'fiery' exchanges between team bosses
But all eyes were on pole-sitter Charles Leclerc as the lights went out, the Ferrari driver starting this race (unlike in Monaco) and he led away, with Hamilton, Verstappen, and Red Bull's Sergio Perez – having picked up P4 from Carlos Sainz and Pierre Gasly in the opening lap – in tow.
Who needs DRS? That was the question Hamilton asked on Lap 2 when he found himself in Leclerc's slipstream after the pole-sitter made a mistake at Turn 15. Hamilton swept by on the straight and was in the lead, Leclerc hanging on and Verstappen feeling a creeping sense of frustration that he couldn't take P2 off the Ferrari.
That frustration was duly quashed on Lap 7 when Verstappen activated DRS to fly past Leclerc for second place on Baku's monstrous straight. Leclerc fell to P4 a lap later as Perez went past the Ferrari in a similar move.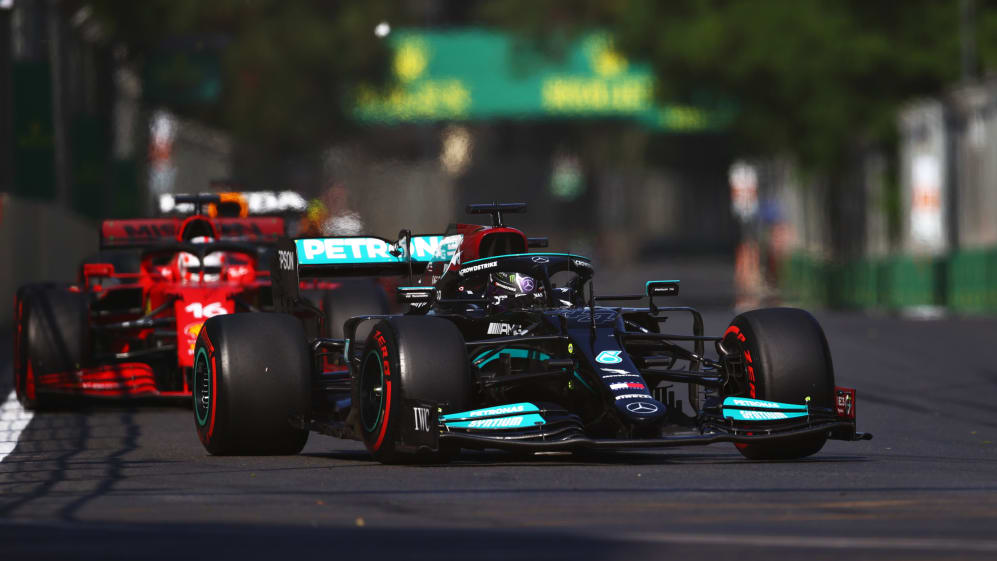 The pit window blew wide open on Lap 12, as Hamilton pitted for hards, with every driver in the top 13 having started on softs. But he was held up by Gasly's AlphaTauri, cruising past in the pit lane, and suffered a 4.6 second stop to emerge fourth. With Red Bull wary of the undercut, Verstappen pitted a lap later for hards and ended up in front thanks to a 1.9 second stop.
Perez had a brief window of clean air and set blistering pace, but his stop on Lap 12 was not as swift as Verstappen's, so he came out of the pits in second – splitting the two championship rivals. Hamilton gave chase with nothing but the RB16B's bumper in view, but could not make a move stick.
WATCH: 2021 Azerbaijan Grand Prix – Watch the race start in Baku
Cue a heart-stopping moment on Lap 31 when Lance Stroll's left-rear tyre appeared to give way on the main straight and he spun at high speed, a heavy impact into the wall following. He emerged shaken, but fortunately unhurt. The Safety Car was thus deployed for a lengthy clean-up of aero parts and shards of carbon-fibre strewn on track.
Verstappen snaked around the circuit ahead of Perez, Hamilton, Gasly, and Leclerc for the Lap 35 Safety Car restart, and the Red Bulls stayed ahead of Hamilton. Behind, there was a brilliant battle between Gasly, Leclerc, and Sebastian Vettel, who was up to sixth having started on new softs from P11, only to pit on Lap 18 – which was later than anyone else.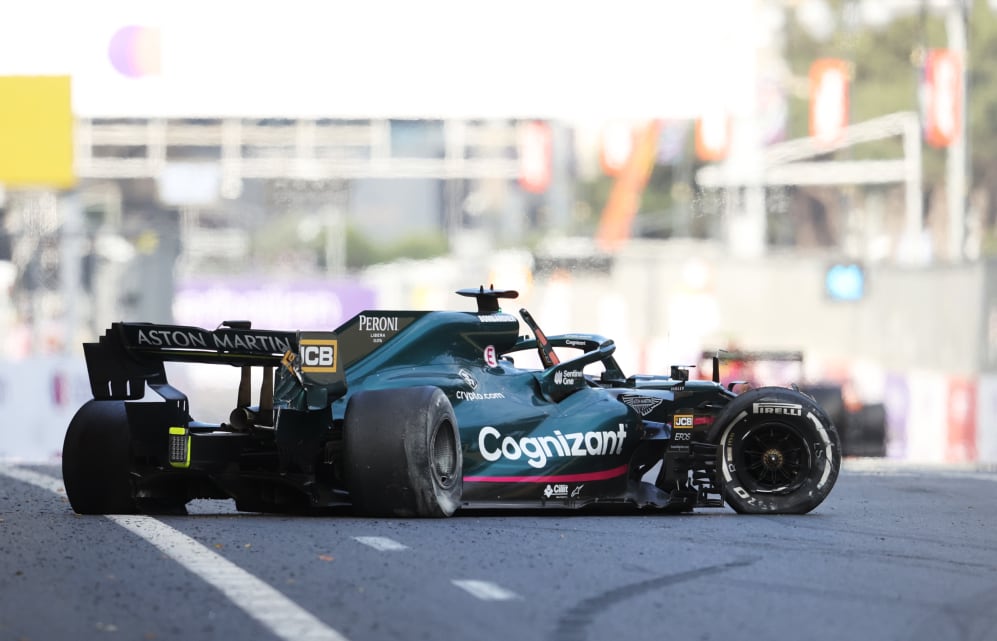 Vettel managed a brilliant pass on former team mate Leclerc at Turn 1 on the restart, the Monegasque locking up both front tyres in defence of his position and almost careering into Gasly. The four-time champion then took P4 off Gasly a lap later on the main straight, leaving the AlphaTauri driver to exclaim "That's not possible!" on the radio. Positions stayed static at the front.
Then another bombshell moment struck on Lap 47 when Verstappen's left rear tyre also appeared to fail and another high-speed accident on the main straight followed. The race leader was unhurt, but out, leaving Red Bull without a first one-two in Baku and Verstappen without a chance to extend his championship lead. What seemed a comfortable victory was dashed in a milli-second.
WATCH: Late drama in Baku as long-time leader Verstappen crashes out and race suspended
A Safety Car followed and then a red flag on Lap 48. Everything came to a standstill, the drivers stopping in the pits for 35 minutes to aid a lengthy clean-up. And the race would restart, drivers starting from their new slots on the grid, on Lap 50 of 51, all having changed tyres. Crucially, Vettel had a brand new set of softs in the bank. Perez would lead Hamilton, Vettel, Gasly, and Leclerc in P5 – whose Lap 10 undercut attempt on Gasly, starting P4, had not worked.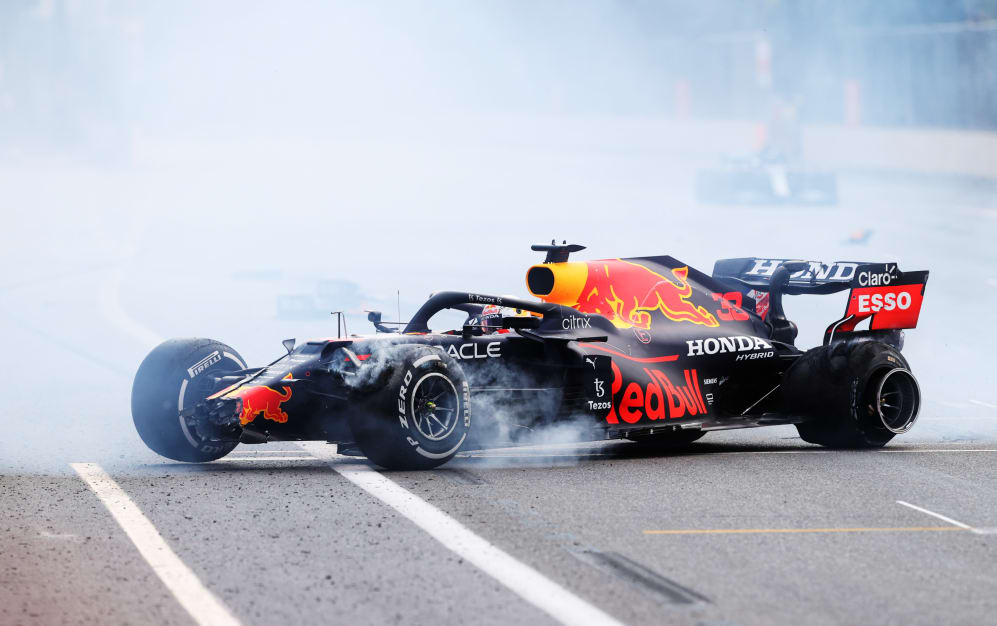 Lights out once again for a two-lap sprint to the flag, and Hamilton seemed to have his nose in front of Perez. The championship leader had, minutes before, maintained on the radio that he would not take huge risks, as there is a long season ahead. Then he locked up massively, going off into the Turn 1 run-off area, before continuing to eventually come home P15 and out of the points.
In astonishing circumstances, Perez had his first Baku victory, first win with his new team, and crucial points for Red Bull. Vettel came home second from 11th, and Gasly, having held off Leclerc's numerous attempts to overtake, took third to leave the pole-sitter fourth.
Penalised three grid places to P9 for a red-flag violation in qualifying, Lando Norris fell to P11 at the start. He was under pressure from McLaren to keep the pace up with team mate Daniel Ricciardo just behind and Valtteri Bottas ahead, the Mercedes driver having endured a difficult qualifying session. Norris undercut Bottas on Lap 8 and rallied on the late Safety Car restart to finish a brilliant fifth, even threatening Gasly for the final podium place on Lap 50.
Although Fernando Alonso benefited from Norris's grid penalty, his undercut attempt on Lap 8 was undone by less-than-ideal pace and he was soon passed by Norris and the other McLaren of Daniel Ricciardo, leaving the two-time champion as low as 12th. But a gamble to pit for softs during the Safety Car for Stroll's accident paid off, and he ended up sixth for Alpine, leaving AlphaTauri's Yuki Tsunoda in P7 where he started.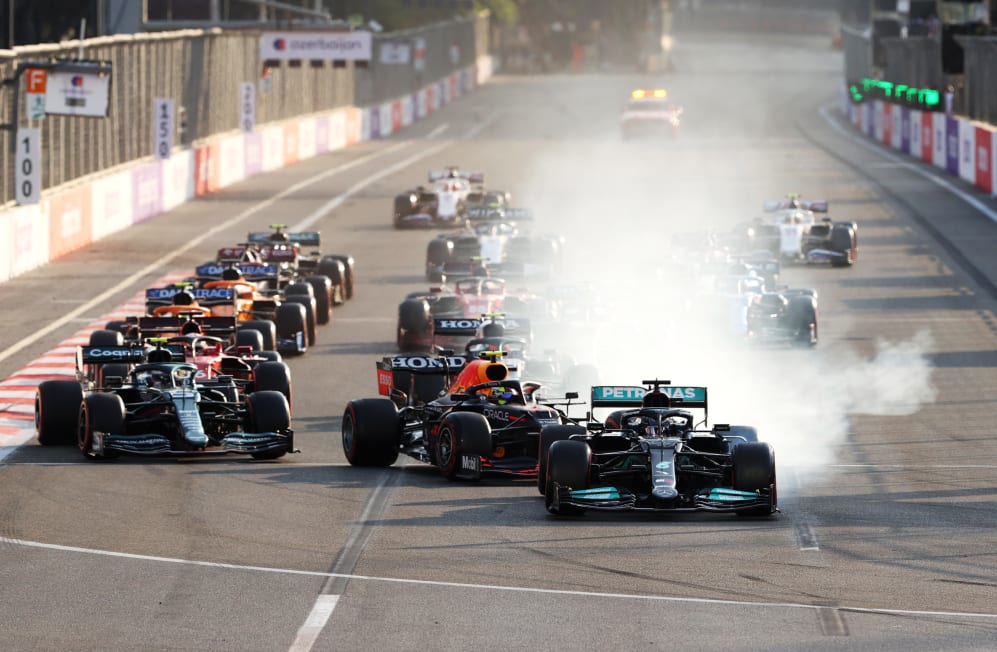 Carlos Sainz finished eighth having been as low as 14th, shrugging off a Turn 8 lock-up after his first pit-stop. He finished ahead of McLaren's Daniel Ricciardo, who started 13th and benefited from the stricken cars ahead to take ninth.
Kimi Raikkonen took the last point, for Alfa Romeo. The veteran started on mediums and passed his team mate Giovinazzi for the final point on Lap 50. Giovinazzi himself enjoyed a recovery from last to 11th, however, having taken four places in the opening lap and pitting for hards before his rivals to make up more places.
But it was a dire day for Mercedes as Valtteri Bottas also finished outside the points. The Finn qualified P10 but struggled throughout, losing places during the Safety Car restart for Stroll's accident to finish 12th.
That left Haas racer Mick Schumacher 13th, despite an unsafe relief during the first Safety Car period that left him being wheeled back into his box to re-fit his left-front tyre, and Nikita Mazepin 14th, despite being one lap down at one point. Hamilton was classified a lowly 15th for his late lock-up.
Nicholas Latifi, under investigation for a red flag infringement, finished 16th while Williams team mate George Russell pulled into the pits on Lap 50 to finish 17th. Esteban Ocon was the race's first retiree, a power unit issue stopping his Alpine on Lap 4.
But it was Perez who will leave Baku with the widest smile – on a day when neither of the early-season title protagonists managed to score any points after an extraordinary race in Azerbaijan.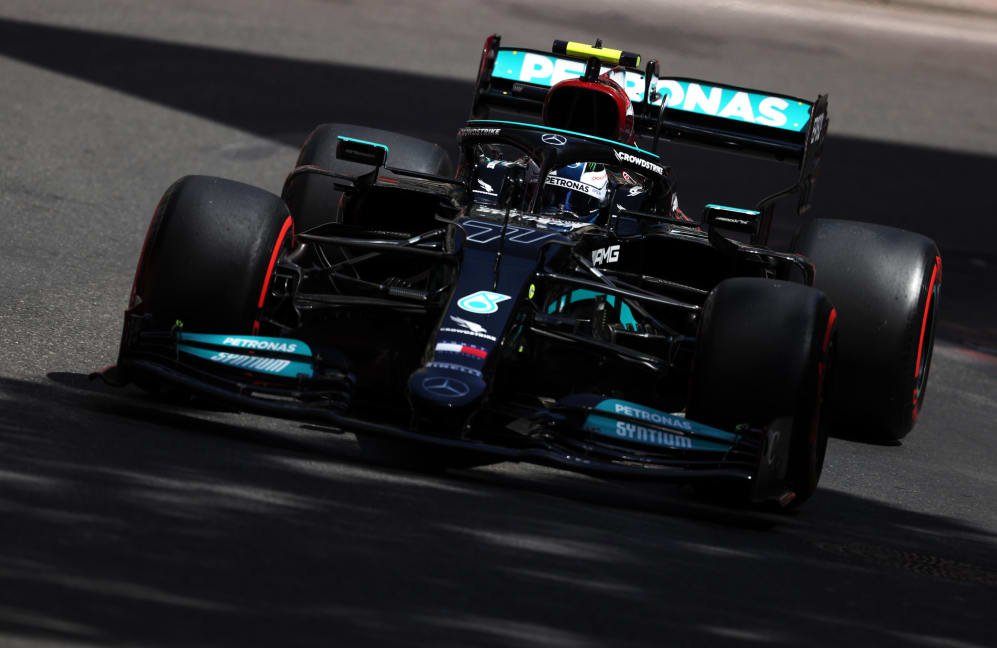 The key quote
"I'm so, so happy, for today. The race, normally Baku is pretty crazy. First of all I have to say I'm very sorry for Max because he did a tremendous race and he really deserved the win. It would have been incredible to get that one-two for the team, but at the end, it is a fantastic day for us, we were close to retire the car but luckily we managed to finish the race and it was really quite difficult all the way till the end.
"He had very strong pace throughout the race. I think he had a bit of a slow stop as well so we overcut him, a bit closer to him and he just pushed me from that lap onwards. I had the pressure from him pretty much from the beginning, and then at the [restart] I had a poor start so he was alongside me, but I was like, 'I'm not going to miss it', y'know? I broke as late as I possibly can and he did the same and it didn't work for him. At least it's a good game for the team." – Sergio Perez
What's next?
We have one weekend off until the French Grand Prix on June 18-20, with many questions to be asked as Verstappen missed out on a chance to extend his championship lead, and Hamilton missed out on a chance to gain the championship lead here in Baku.
Join us then and stay tuned for up-to-date reaction from the incredible, unforgettable, 2021 Azerbaijan Grand Prix, right here on F1.com.