'His grandma must drive quickly!' – Horner hails 'amazing' Verstappen after Silverstone win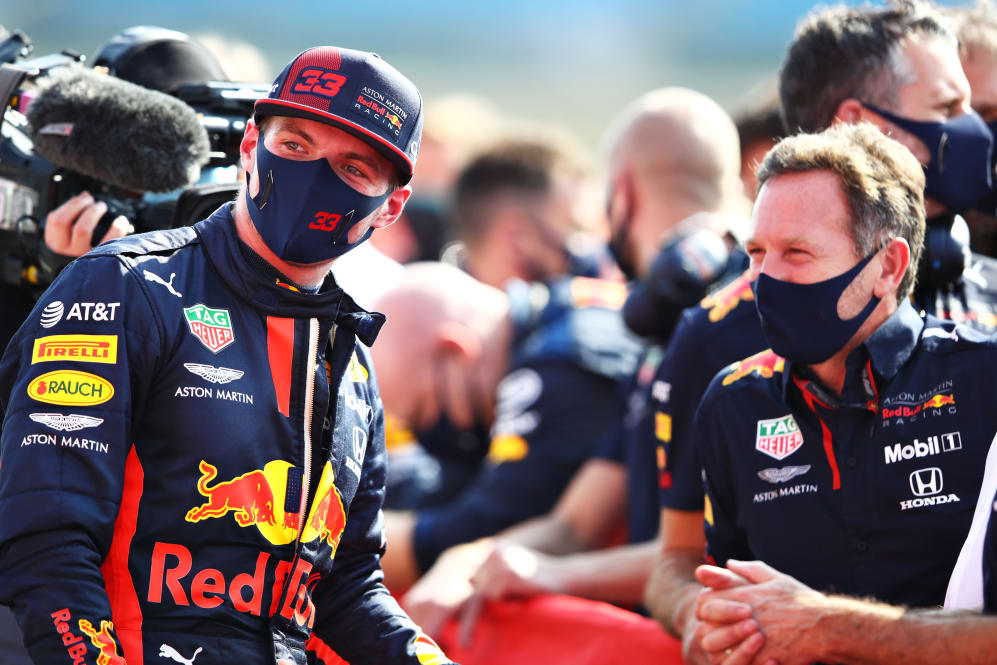 Max Verstappen told his team he was in no mood to drive "like a grandma" when Red Bull asked him to manage his tyres as he hunted down the two Mercedes in the 70th Anniversary Grand Prix. He kept the pressure on – and went on to clinch a sensational win. His boss Christian Horner was suitably impressed with his performance, quipping "his grandma must drive quickly"…
After an inspired and brave decision to qualify on the hard compound tyre, allowing him to start the race on that tyre while everyone else in the top 10 was on the mediums, Verstappen set about making his edge count, pressurising Valtteri Bottas and Lewis Hamilton as they struggled to keep their mediums alive.
READ MORE: If Lewis hadn't joined Mercedes, Hulkenberg was our next choice – he deserves to be in F1
With all of the field struggling with wear, his race engineer asked him to back off and save tyres, but Verstappen replied: "Mate, this is the only chance of being close to the Mercedes – I'm not just sitting behind like a grandma!" He piled on the pressure, then ran deeper in the first stint to fly into winning contention – and never looked back.
"His Grandma must drive very quickly," joked Horner after the race. "Yeah we just had them [Mercedes] covered."
He added: "Max has got a great feeling for these tyres and we've seen on numerous occasions he's been able to manage these tyres incredibly well. We know that following a car closely, you do damage your tyres.
"We knew that Mercedes would pit because they were on that softer compound to begin with, so we wanted to make sure we could make hay while the sun was shining and have tyres left.
READ MORE: Why Red Bull's tyre gamble was a double risk for Verstappen – and how it so nearly backfired
"He was very confident that he was really protecting those tyres through the high-speed corners and was well-placed for when they did pit and he was absolutely right and he managed that incredibly well.
"Likewise on the medium tyres and again at the end of the race when he had pace in hand just in case Lewis started to really come back at him really aggressively on the harder tyre."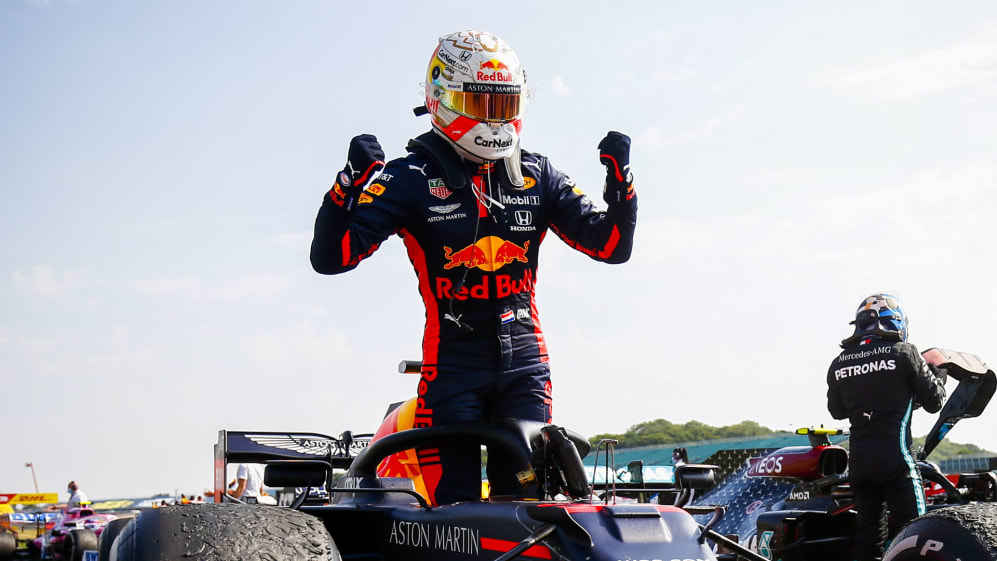 Horner was particularly pleased with the outright performance of the RB16, which proved to be a genuine threat – and in reality faster on the day – versus Mercedes.
"I think there's a lot for us to understand from this race," he said. "The car worked fantastically well for Alex [Albon, who finished fifth] as well and the pace was right there.
READ MORE: The Winners and Losers of the 70th Anniversary Grand Prix
"We switched our strategy, we were going to go hard in the middle but we switched to medium to get rid of that tyre so then we were essentially on the same strategy as the Mercedes boys and were able to cover them. And whatever they had, Max could cover so that was fantastic."
He added: "It was an amazing performance today I mean the pace in the race was beyond what we expected. We started on that sort of reverse strategy, Max was just chilling out at the beginning of the race. The pace in the car – it was just so easy today and even after Mercedes pitted and went onto a new hard we were able to pull away and at that point you think this really is game on now."