Feature
The Winners and Losers of the 70th Anniversary Grand Prix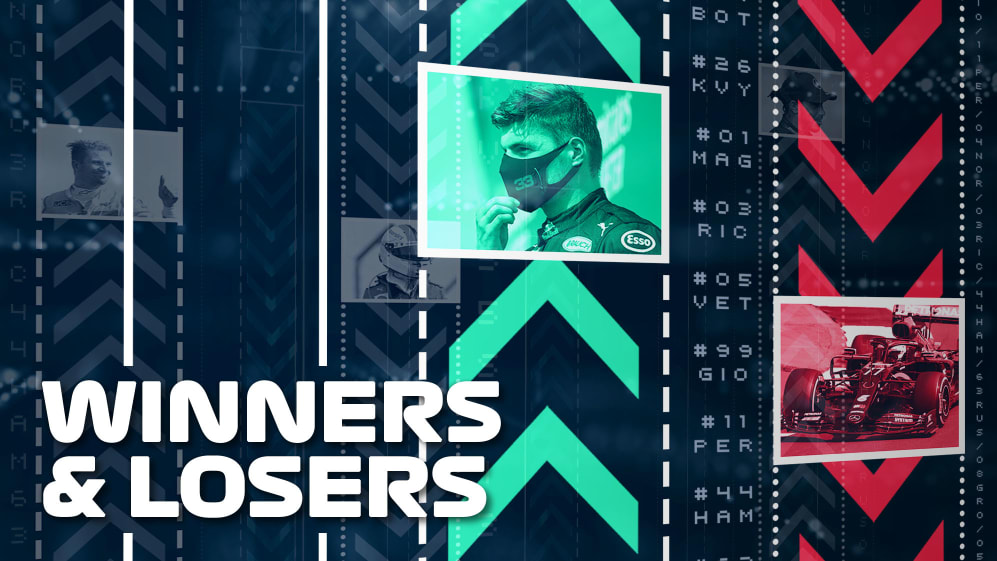 Rarely in the turbo hybrid era have Mercedes been beaten on pure performance by Red Bull, but Max Verstappen added another win to his team's tally with a sensational drive to victory at Silverstone. We've picked out the winners and losers of the 70th Anniversary Grand Prix…
Winner: Max Verstappen
"I am not just sitting behind like a grandma," said Verstappen in response to his team telling him to manage his tyres rather than attack the two Mercedes. His decision to ignore that request and crack on laid the foundations for his ninth career victory.
The Dutchman is already known for his supreme feel with the tyres, allowing him to get the maximum out of the rubber without destroying them. In warm conditions, on softer compounds, this deft touch was exactly what was needed.
READ MORE: Verstappen hails 'incredible' victory at Silverstone, saying 'I didn't see it coming!'
The result was his opening win of the season, and first since last year's Brazilian Grand Prix. He moved into second in the drivers' championship, behind Lewis Hamilton, closing the gap to 30 points.
In winning from fourth, he became the first driver to win from somewhere other than pole since Hamilton in Mexico last year, while victory was Red Bull's first at Silverstone since Mark Webber triumphed back in 2012.
There's a long way to go, of course, and this is only one race, but Verstappen has given hope that this title race may not be a forgone conclusion after all.
READ MORE: Max Verstappen defeats Mercedes duo to seal brilliant Silverstone win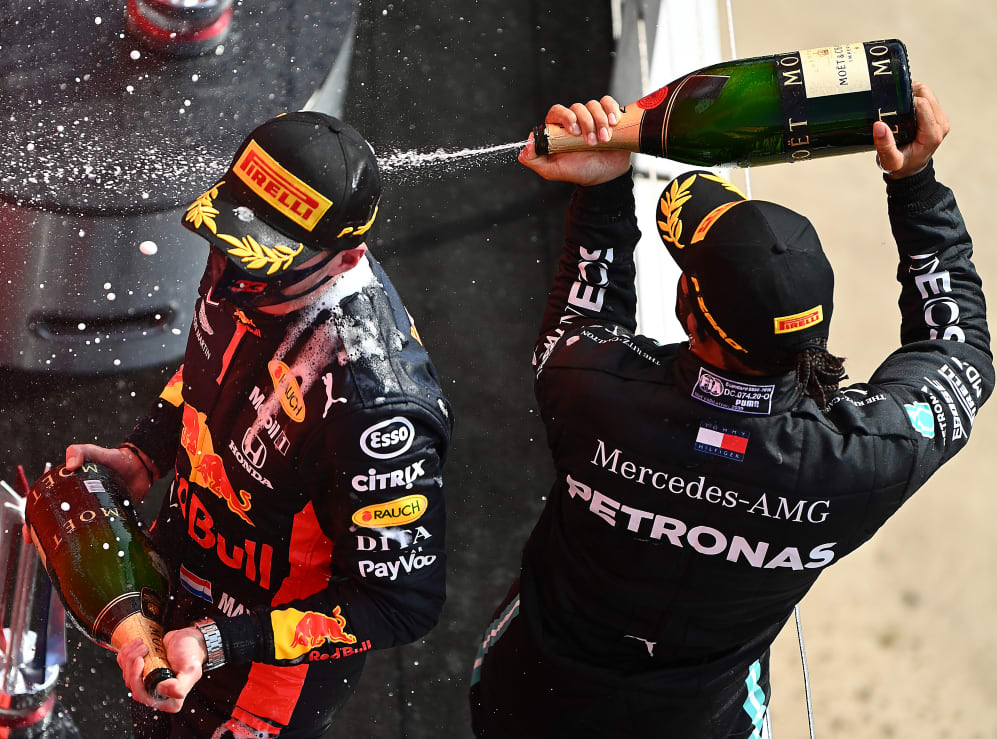 Loser: Valtteri Bottas
While Verstappen re-ignited his title hopes, Valtteri Bottas suffered another blow to his. Sure, he rebounded from a non-score last week to finish third, his fourth podium in five races, but the newly re-signed Mercedes driver started on pole and was on course to finish above championship leader Hamilton.
So he expected better. However, the team's struggles on the softer compounds meant he could not threaten Verstappen for the win and he ended up with the inferior strategy, which involved a longer final stint, and that dropped him behind his team mate. He now trails Hamilton by 34 points.
READ MORE: 'As a team we were sleeping' – Bottas points finger at Mercedes strategy as he slips from pole to third
Winner: Charles Leclerc
Ferrari's SF1000 is not good enough on pure pace to score top four results right now, and yet Leclerc has managed to do it three times in four races, most recently taking a brilliant fourth at Silverstone.
Even he was surprised by the result when speaking after the race, as he felt that had he been offered an eighth-place finish on Sunday morning, he would have snapped your hand off.
To rise up to fourth, gaining four places, and end up just 10 seconds behind a Mercedes, is hugely impressive – and was made possible by his decision to take a risk and make a one-stop strategy work.
READ MORE: Delighted Leclerc says fourth place 'feels like victory' after strategy gamble pays off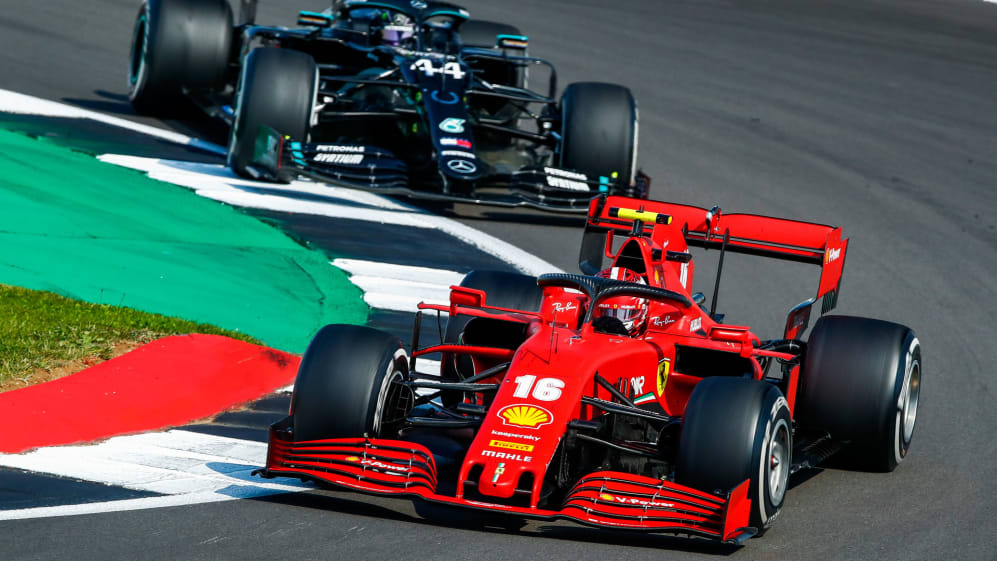 Loser: Sebastian Vettel
While one red car was motoring, the other was in all sorts of bother. Vettel said on Saturday that he had no answers to his lack of performance, and his form on Sunday suggested he is still searching.
The German spun at Turn 1 at the start, dropping to last having started 11th – and while he recovered to the fringes of the points, a strategic error by his team forced him into traffic after his pit stop and thus his chance of points evaporated.
He has now not finished higher than 10th in his last three Silverstone starts and is suffering the ignominy of sitting 13th in the drivers' championship, just four points clear of Nico Hulkenberg – who's only contested one of the five Grands Prix.
READ MORE: Vettel says Silverstone strategy did not 'make any sense' as ends up P12 after early spin
Winner: Nico Hulkenberg
Hulkenberg achieved a feat by simply taking the start at Silverstone, having failed to do so seven days previously. The German qualified a brilliant third, and though he lost a place to Verstappen almost immediately, he showed enough pace to suggest P4 had his name on it.
But vibrations that were so bad they necessitated a third pit stop meant he dropped down to seventh, behind team mate Lance Stroll.
Still, it's points on his first race back as a super sub for Sergio Perez. He maintains his 100% finishing record at Silverstone, as well as his run of finishing in the top eight in his last six starts at the British track.
READ MORE: 'Vibrations' forced late stop says bemused Hulkenberg after finishing P7 on F1 race return
Loser: Daniel Ricciardo
There was talk of a possible shoey by Ricciardo when we chatted in the pen early in the weekend, the Australian buoyed by his fourth place at Silverstone the previous week. He delivered on that expectation in qualifying, with a brilliant fifth, and Renault's race pace suggested he would be in the mix to convert that come Sunday.
But after losing a place at the start, he re-joined in traffic after his stop, and then a spin while defending from McLaren's Carlos Sainz ruined his tyres and forced him to stop again, ending all hopes of a points finish, let alone finishing inside the top five, as he ended up P14. It ends a three-race run in the points.
READ MORE: 'The race just kept getting away from us' – 14th place Ricciardo explains where it all went wrong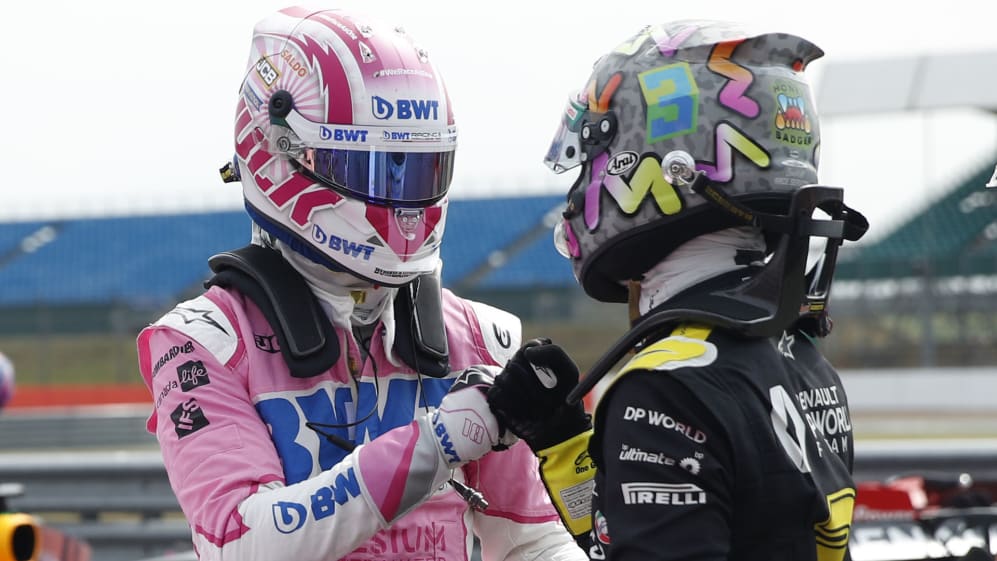 Winners: Pirelli
When things go to plan, Pirelli don't usually get a mention. When things go wrong, the tyre supplier gets criticised by many. But at Silverstone, their decision to bring softer tyres had a direct impact on making the 70th Anniversary Grand Prix an absolute cracker of a race.
The softer compounds, that were running mandatory higher tyre pressures following last week's problems, combined with warm conditions and the high-speed nature of the track meant that some teams were left scratching their heads on Sunday afternoon. And that yielded arguably the most entertaining race of the year so far.
READ MORE: Why Red Bull's tyre gamble was a double risk for Verstappen – and how it so nearly backfired
Loser: Kevin Magnussen
One of the downsides of back-to-back races is that if you have a crash, there's not very much time to get spares sorted – and that's what hurt Kevin Magnussen and Haas this weekend.
The Dane was forced to run with a string of old-spec parts, including the old floor, after crashing with Alex Albon last Sunday, and as a result, found the car hard to dial in throughout the weekend. His Sunday was a long one, and ultimately vibrations forced his retirement in a bid to protect the suspension.
He has now been the first retirement in each of the last three races that have taken place at Silverstone.
Winner: Lewis Hamilton
Hamilton isn't interested in anything bar winning, so he'd probably be surprised to be in this section. But the truth is, second place is a great result on a day where Mercedes really struggled to work the tyres.
He finished ahead of his biggest title threat Bottas and limited the points loss to outside threat Verstappen. In doing so, he also maintained his record of never having been beaten by a team mate at Silverstone in the hybrid turbo era. It's one of his best circuits, having finished in the top two in each of the last eight events here.
70th Anniversary GP Facts & Stats: Hamilton matches Schumacher podium record
And he edged ever closer to breaking a significant record with second, as he is now level in terms of podiums scored with Michael Schumacher on 155, while three more successive finishes will move him level with Nick Heidfeld's all-time record.