Honda-Red Bull relationship 'better than expected' – Horner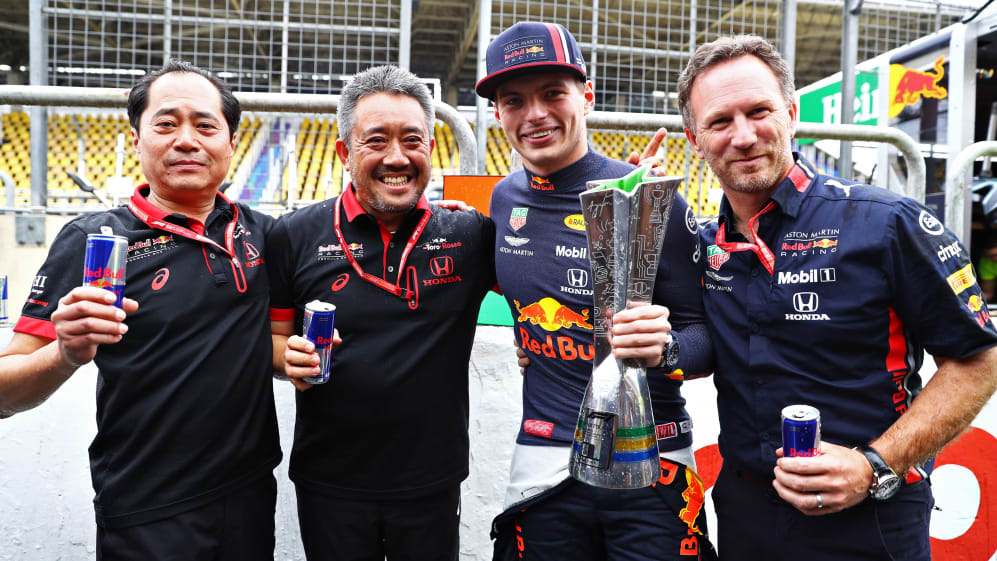 Red Bull's decision to switch to Honda power this season may have raised eyebrows after the Japanese company's difficult F1 return with McLaren, but Team Principal Christian Horner says that the new relationship has outweighed expectations.
Speaking in Brazil before Max Verstappen took Red Bull's third Grand Prix win of the season, Horner was asked if the relationship with Honda was going "better than expected."
He replied: "I think in many respects, yes. There were a lot of questions as to why we had made the move to Honda.
WATCH: Red Bull perform a pit stop in zero gravity
"I think very quickly, at the first Grand Prix, we achieved a podium. We've scored more points than we had at this time last year. All around, reliability has been strong, performance has been getting better and better.
"I think on the chassis side we were affected more than we thought going into the year by the front wing regulation change and Honda have certainly exceeded our expectations in all areas. So, it has been a really very positive start to this partnership."
Honda had mixed success as a works team from 2006-2008 before leaving F1, only to return in 2015 as McLaren's engine supplier. Their struggles from 2015-2017 are well documented, with Fernando Alonso infamously branding them as "GP2 engines" and the team suffering a number of reliability issues in that period.
Few would have predicted at the time that Toro Rosso and Red Bull would be using Honda power in 2019, the former having switched in 2018, and even more so that both of them would be on the same podium at the 2019 Brazilian GP.
Horner said that the Honda power unit's evolution this year was "great", and it bodes very well for the 2020 season, given that regulations stay the same next year.
"The progress that has been made with the introduction of each engine has been great to see. Reliability has been strong," he said.
"This year was always going to be a transitional year in this first year of this new partnership but it feels like momentum has built through the year and with stability of regulations in all areas for 2020, we're really looking to take the positive momentum from RB15, the current car, into RB16, which will be our 2020 contender."
Coming up is the Abu Dhabi Grand Prix, where Red Bull won three times with Renault engines, in 2009, 2010 and 2013. Since then, however, they've only scored one podium at Yas Marina.