Red Bull's mechanics completed what was officially Formula 1's fastest ever pit stop at the 2019 Brazilian Grand Prix, changing Max Verstappen's tyres in a 1.82s blur. But now the team have released a video that shows them taking their pit stop skills to new heights.
A posse of the team's mechanics have completed the world's first zero-gravity pit stop, with the help of the Russian space agency Roscomos, and aboard an Ilyushin Il-76 MDK cosmonaut training plane.
READ MORE: New world record earns Red Bull 2019 DHL Fastest Pit Stop Award
With a 2005-spec Red Bull RB1 to work on (it's narrower than current machinery) the team filmed the edit over the course of a week, enduring seven flights and around 80 'parabolas' – periods where the plane climbs at 45 degrees before falling again in a 'ballistic arc' at 45 degrees, creating a period of weightlessness.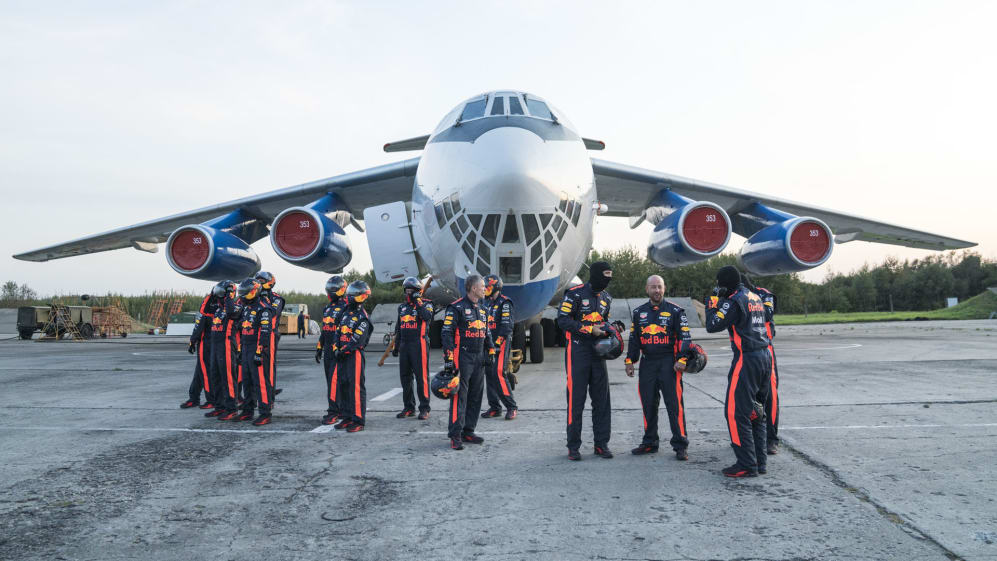 "The first parabola we did was really quite strange," said Red Bull mechanic Paul Knight of the experience. "There isn't a sensation of going up or down. Climbing at 2G, with twice your normal bodyweight, feels like being planted into the ground and you struggle to move. Then that sensation reverses when you go over the top and into freefall.
"We were all a bit like Bambi-on-ice at first – legs everywhere. But we figured out how to hold ourselves and the best way to deal with the sensations. It's an amazing experience, like nothing you'd ever imagine."
Enjoy Red Bull's ground-breaking edit in the video above – and then see what they can do on terra firma below, as the team serviced Max Verstappen to victory at Interlagos.