Horner hails Red Bull's 'incredible achievement' after 'sensational' Verstappen seals team's 100th F1 victory in Montreal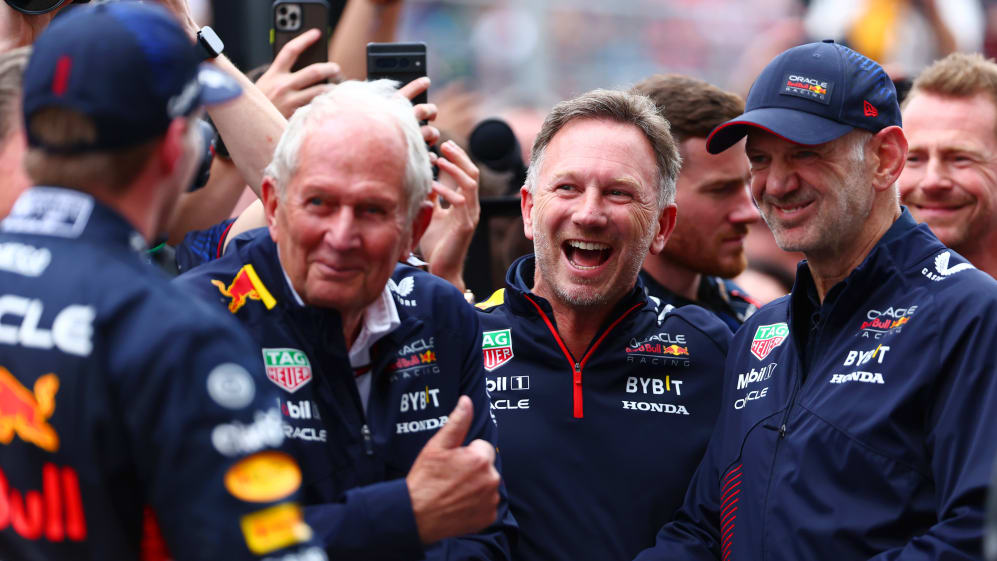 Christian Horner hailed Red Bull's 100th win this weekend at the Canadian Grand Prix as an "incredible achievement" – before also delivering his verdict on whether his team can win every race this season.
Following Max Verstappen's victory in Montreal this weekend, Red Bull became just the fifth team in Formula 1 history to reach the 100-win landmark – after Ferrari (242), McLaren (183), Mercedes (125), and Williams (114).
MONDAY MORNING DEBRIEF: How Ferrari banished their qualifying blues with strong Montreal recovery
Horner has overseen all 100 of those victories since taking charge of the team upon their entry into the sport in 2005. And speaking to Sky Sports F1 following the Canadian Grand Prix, Horner paid tribute to his team.
"To get a century of victories for the whole team is an incredible achievement. Not just here but for all the people, the men and women back in the team that put in all the long hours," acknowledged Horner.
"A hundred races is a lot, but a hundred wins, that's 27% of all the races we've entered we've won. It is an incredible, incredible statistic."
It was also Verstappen's 41st victory in the sport, with all coming behind the wheel of a Red Bull race car. When it was put to Horner that the Dutch driver had won 41% of the team's races, he replied: "Max has just been sensational this weekend.
READ MORE: Verstappen wins Canadian GP to claim Red Bull's 100th victory and equal Senna's tally
"It was a tricky race for him today because of the tyre temperatures. I think for all the guys I think was tough out there; it was quite cool, and tyres weren't in a happy window."
Red Bull have won all eight races so far this season – with Verstappen having won six and Sergio Perez also winning twice – and Horner was also asked whether winning every Grand Prix this year was possible.
"We're just taking things one race at a time. I don't think you let your mind drift too far in the future," Horner answered. "So many things can wrong. Can we? Yes. Will we? Who knows.
"Because there are so many variables in this game, we just take things one race at a time. The team are doing an incredible job, Max is driving out of his skin at the moment. Just collectively, the team are doing an incredible job."