Horner praises pit crew after unexpected Verstappen stop – but admits Red Bull lacked pace to win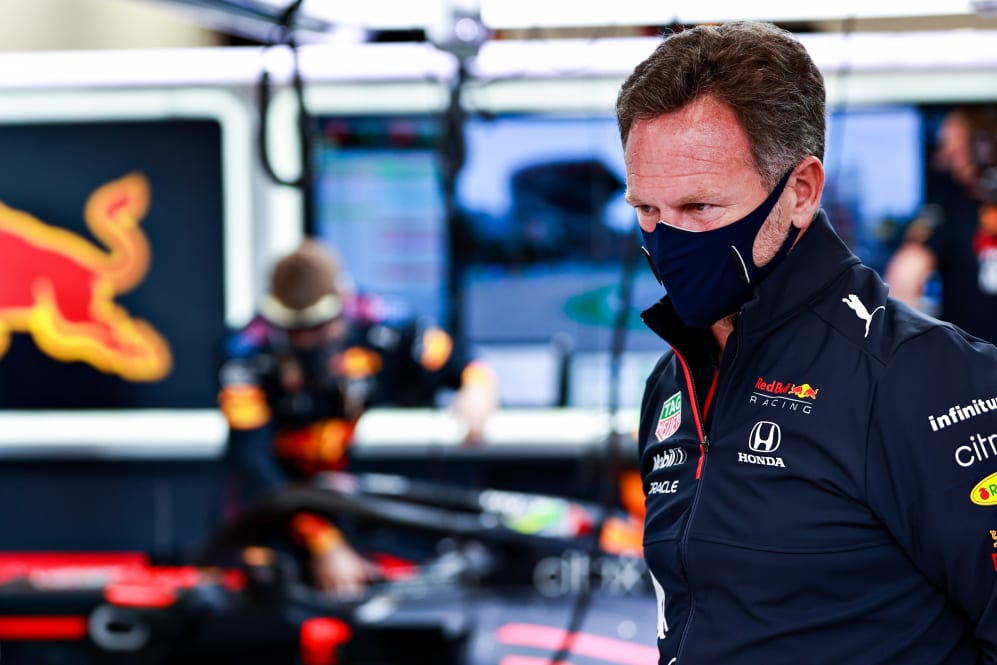 Christian Horner praised his team's pit crew for their quick work after revealing that they weren't expecting Max Verstappen to pit when he did in the Spanish Grand Prix – but the Red Bull boss admitted his car and driver combination simply weren't quick enough to beat Lewis Hamilton in the race.
Verstappen wrestled the lead from centurion pole-sitter Lewis Hamilton going into Turn 1 on the opening lap and the Dutchman then pitted for mediums having led until Lap 24. Cue confusion in the Red Bull pit box when the team scrambled to get the race leader's tyres fitted, as Horner explained.
READ MORE: Verstappen says he was 'a sitting duck' in Hamilton fight, as he defends Red Bull strategy call
"Unfortunately we were gearing up for the stop and then Max just arrived in the pitlane and we hadn't' actually called him in at that point," said Horner, "so quick reactions from the pitwall, from GP [Gianpiero Lambiase] his race engineer, from the pit crew to get that turned around without losing more time. I think it was a four-second stop so they recovered incredibly well to get that turned around at that short notice," he said.
The Red Bull boss then explained that he expected Hamilton to pit the next lap and emerge in the lead given Verstappen's slow stop.
"Because we had that slow stop," continued Horner, "we thought they'd immediately take [tyres] that next lap. Obviously, they didn't, we got back that track position. But they just looked like they had the quicker car today," he added.
But Hamilton, in an ingenious call by Mercedes, was pitted on Lap 28 – and again on Lap 42 – after which he regained the lead on Lap 60 having clawed back a 22-second deficit to Verstappen. Horner told rival boss Wolff that Mercedes were "quicker" than the Red Bull on Sunday, and that pace helped them execute that offset strategy.
READ MORE: I learnt more about Verstappen in Spanish GP than all other races put together, says Hamilton
And, when asked whether Red Bull could have responded to Mercedes' strategy, Horner explained alongside Wolff: "I don't think we could. I mean, in fairness, hats off to Lewis and Mercedes; they were just quicker than we were today, [shown by] the fact they could follow so close in the first two stints of the race. We were surprised they didn't go for the undercut early and pull the trigger. So, we'd managed to keep track position.
"The two guys [Verstappen and Hamilton] were out on their own, there was a free stop effectively for Lewis and at that point with the set of mediums you guys carried over into the race, you know, 'OK, we're on the back foot now' and we had nothing to retaliate with other than the Fastest Lap at the end of the race," he concluded.
Red Bull head to Monaco 29 points behind Mercedes in the standings, Hamilton 14 points ahead of Verstappen in the Drivers' Championship.