Verstappen says he was 'a sitting duck' in Hamilton fight, as he defends Red Bull strategy call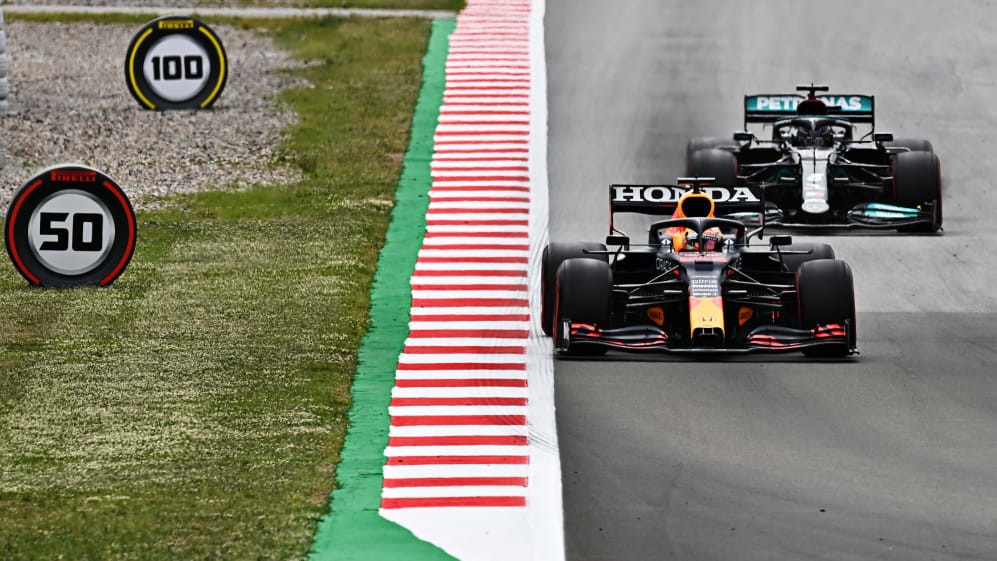 There were shades of Hungary 2019 at the 2021 Spanish Grand Prix, as Mercedes' Lewis Hamilton used a two-stop strategy to defeat Red Bull's Max Verstappen's planned one-stopper, and claim his fifth straight win in Barcelona. But despite having led the majority of the race, Verstappen said there was nothing he could have done to prevent the Mercedes driver from triumphing.
Making his 100th appearance for Red Bull at the circuit where he both started and won his first race for the team back in 2016, Verstappen tried to maximise his chances of taking victory with a brilliant pass on Hamilton for the lead into Turn 1 at the race start.
But with Red Bull then aiming for a one-stop strategy for Verstappen, Hamilton pitted for a second stop on Lap 41 of 66, before using the extra tyre pace to pass Verstappen six laps from the end – Verstappen then pitting for softs to take the fastest lap bonus point, but with the Dutchman ultimately having to give best to Hamilton, a similar outcome to Hamilton's victory over Verstappen in Hungary two years ago.
READ MORE: Late pass secures Hamilton victory in Spain after race-long battle with Verstappen
So, how did Verstappen sum up the outcome in Spain?
"Too slow – that's how you sum it up," he said. "There's not much else to really discuss. I tried really everything to manage it as good as I could, looking after tyres and stuff, but it's just not enough when behind you, they're just pushing you and you see there's clearly a bit more pace.
"In a way, I could see it coming, you know?" he added. "Already at the end [of the first stint] with the softs [Lewis] was faster. Then when we put on the mediums, he clearly had a lot more pace, he could just stay within one second. There was not much more we could have done. They went for another stop then I knew it was over. I was already struggling with the tyres. You could see every lap he was just getting closer and closer. So a bit of a sitting duck."
READ MORE: 'P4 the best we could have done' – Leclerc delighted with 'very competitive' Ferrari performance in Spain
Verstappen's struggles with the one-stop strategy begged the question of why Red Bull hadn't simply mirrored Mercedes' call to stop twice. But Verstappen said that copying the Silver Arrows' strategy wouldn't have been enough to prevent Hamilton's victory.
"I think if we would have let's say gone for that earlier second stop, I don't think I would have caught Lewis up after that," said Verstappen. "Because on those mediums, I think I was a bit slower. For Lewis to be that close on a track like this all the time, within a second and sometimes having DRS, I think it just shows that there was not much I could do out there to make a difference.
"But nevertheless, I think it's still of course a good result. Of course you always want more, I think that always needs to be the aim, I think we shouldn't be happy with a second place at the moment. But nevertheless, we tried everything.
"I got ahead in the start so basically you really try to go for it, and then of course it looks good when you're leading for so long in the race," added Verstappen, who led 54 of the 66 laps in Spain. "But you have to also look to all the things that are happening throughout the race, and I think overall, here we were just lacking a little bit of pace in the race.
DRIVER OF THE DAY: Hamilton adds fan honours to Barcelona victory
"It's been like this a little bit so far this year, where it seems like qualifying we're quite competitive, and in the race struggling a bit more… We just need a faster car, it's very simple, then you don't need to get into a situation like that, and that's what we've got to focus on."
Hamilton's third win in four races saw him move 14 points clear of Verstappen at the top of the drivers' standings – with Mercedes now 29 points clear of Red Bull in the constructors' fight.