Horner: Red Bull have 'reasonable race car' in China but Ferrari still 'gold standard'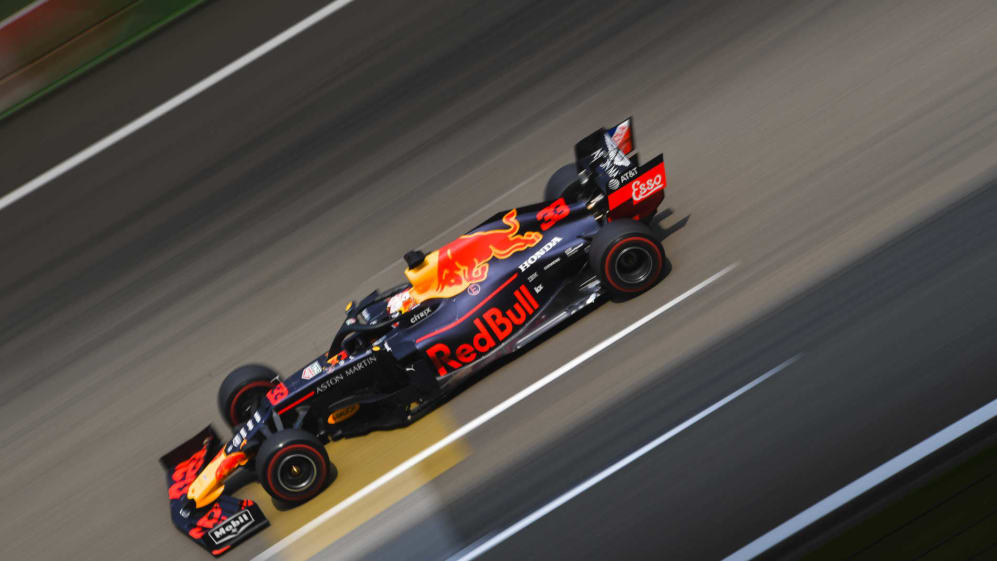 Max Verstappen finished Free Practice 2 for the Chinese Grand Prix in third place, and an encouraging 0.2s off the leading pace of Mercedes' Valtteri Bottas, to leave Red Bull team boss Christian Horner positive about the team's outlook for the rest of the weekend.
Verstappen would likely have been even closer to Bottas and the leading Ferrari of Sebastian Vettel – who finished just 0.027s adrift of the Finn – had he not enjoyed a wild slide as he came through the final corner on his fastest lap, while he also complained of issues with his car's 'Friday-only' gearbox.
READ MORE: Bottas shades Vettel in FP2, with Verstappen close behind
So with lap time apparently still in the locker, was Horner daring to believe that his squad could be in the mix with Mercedes and Ferrari in Shanghai?
"I think particularly with that wobble from Max in the last corner there, without that he would have been capable of doing the time that Bottas… and Vettel did," said Horner. "So I'm pretty confident that we've got a reasonable race car here this weekend."
Horner, however, knows that if Red Bull are to repeat their win in China from 12 months ago, they'll need to overpower the might of a Ferrari team whose car, he was prepared to admit, was the current "gold standard" in the field.
"They've done a great job," he said. "They're ballistically fast on the straights, and they're obviously carrying a lot of wing as well, so it's up to us to try and catch them. But they're certainly the gold standard at the moment, and it's impressive, even compared to a Mercedes."
READ MORE: Mercedes admit 'Ferrari power unmatched by anyone'
Both Mercedes and Ferrari can expect to further reduce their lap times in qualifying once they engage their engines' respective 'party modes'. But did Red Bull have that same luxury with their Honda power units?
"We'll make a step," Horner reckoned. "I don't know whether it's as big as the other teams, but it's certainly coming, it's something Honda have worked very hard on over the winter. Definitely we have more performance in qualifying… That's good to see, and as different engines are introduced this year, that will only increase."
Horner will be hoping to see both of his cars in Q3 for the first time this year, meanwhile, despite Pierre Gasly appearing once again to struggle in the second RB15 on Friday, the Frenchman finishing FP2 nine-tenths down on Verstappen's time in P10.