Feature
How an electrical gremlin caused Sainz and Leclerc's wildly contrasting weekends in Australia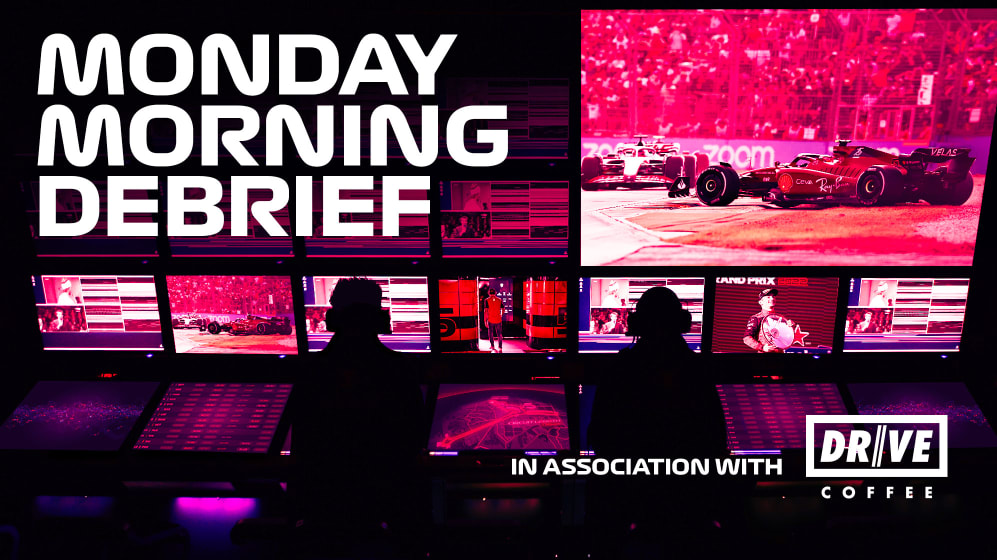 The divergence in fortunes of Ferrari drivers Charles Leclerc – totally dominant from pole to put himself in a commanding lead of the world championship – and Carlos Sainz, ninth on the grid and spinning out on Lap 2, was stark. But their respective fortunes flipped on a knife-edge.
Leclerc's domination of the Australian Grand Prix was based upon how he and Ferrari got the car in the perfect sweet spot of balance during a weekend where that was quite a difficult thing to achieve. Achieving that balance was also absolutely crucial in avoiding the tyre problems suffered by Max Verstappen and Red Bull even before their retirement with a fuel leak.
READ MORE: Dominant Leclerc beats Perez to Australian GP win as Verstappen retires
Red Bull's Christian Horner admitted post-race that they'd gone in the wrong direction on set-up after misreading the evolution of the track through the weekend. Into Saturday they were running a set-up to protect the rear tyres (which had looked problematical for them on Friday) whereas it turned out to be front graining which was the limitation on race day.
This also gave them a difficult understeer balance in the slow turns of Sector 3, allowing Leclerc in the lithe Ferrari to secure pole by 0.3s ahead of Verstappen. From there, after winning the start, Leclerc was able to dominate, Verstappen always limited by front-left tyre graining.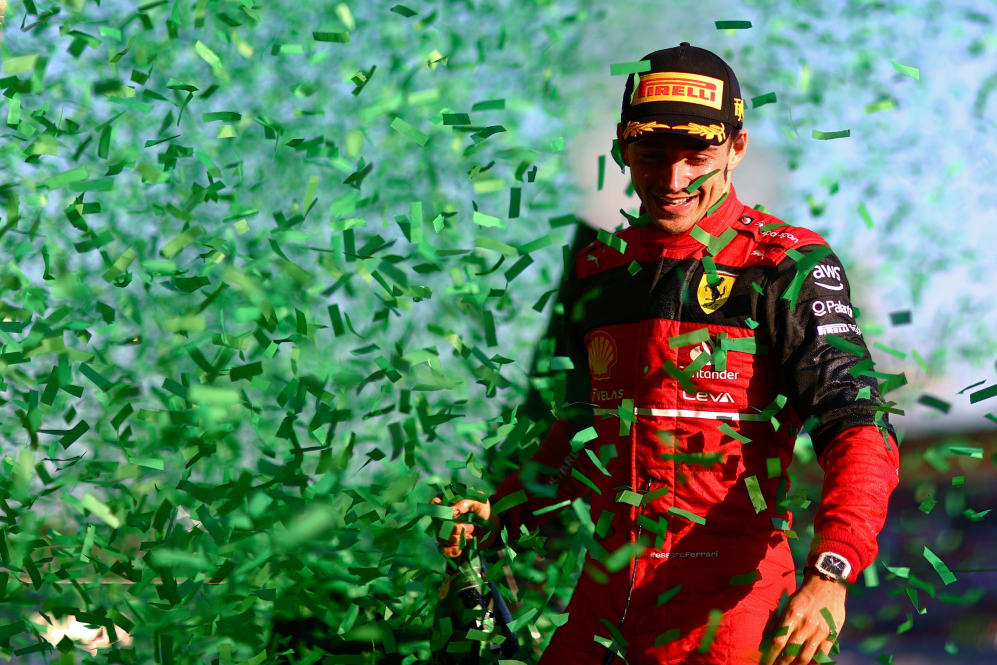 It was a copybook perfect weekend for Leclerc.
Things were rather different for Sainz. He came into this weekend having been perturbed by his missing pace to Leclerc in Bahrain and, to a lesser extent, Jeddah. He felt he'd made progress in the Saudi Arabian weekend in feeling and understanding the car and was keen to put those lessons into use at Albert Park.
In the practices of both Friday and Saturday morning he was in terrific form and run for run looked every bit as fast as Leclerc for the first time this season. "It looked like it was going well, and felt like I was a lot more home with the car and I did some strong laps," he summarised.
FACTS AND STATS: Leclerc takes first Ferrari grand slam since 2010
It all began going wrong in Q3. In Q2 he'd gone for two push laps to the one of Leclerc – and it had worked for him, giving him a time a couple of tenths faster than his team mate. For the first Q3 lap he was planning to do this again, meaning he needed to get out earlier in order to fit two runs into the session.
There was a delay starting the car, later traced to an electrical problem with the steering wheel. His run plan was altered to do just one push lap after a single preparation lap to bring the tyres in. Getting out late, he was quickly into the groove. Leclerc had just set provisional pole but at the end of Sector 2 Sainz was going faster. He was 0.144s up. He was within sight of the start/finish line when a red flag was thrown for Fernando Alonso's Turn 11 accident.
So as everyone sat in the pits waiting for the final Q3 runs to begin, Sainz had yet to set a time. Again, the plan was for a single tyre-prep lap before the attack lap. Again, the car refused to fire up. Leclerc left the pits to embark on what would be the pole lap. By the time they got Sainz's car started there was no longer time for a prep lap – and on tyres nowhere near temperature he could only record the ninth-fastest time of the session. Even his Q2 time would have got him fourth on the grid, had he repeated it. But this was a disaster.
READ MORE: Australian GP weekend a 'bit of a disaster' says Sainz after spinning out
Instead of the standard choice of mediums to start the race on, he and the team opted instead for hards – the theory being he could use the car's pace as the slower medium-tyred cars pitted ahead of him, allowing him to overcut them with a much later stop.
On the dummy grid the car yet again refused to fire up. In desperation the steering wheel was changed. That allowed the car to start – but the replacement steering wheel wasn't properly set up. "Similar problems with the switches in the car as yesterday," he explained. "Some switches not working. We had to change the steering wheel one minute before the start which meant the second steering wasn't well configured for the start, and I had the wrong start map setting which was giving me anti-stall in both starts."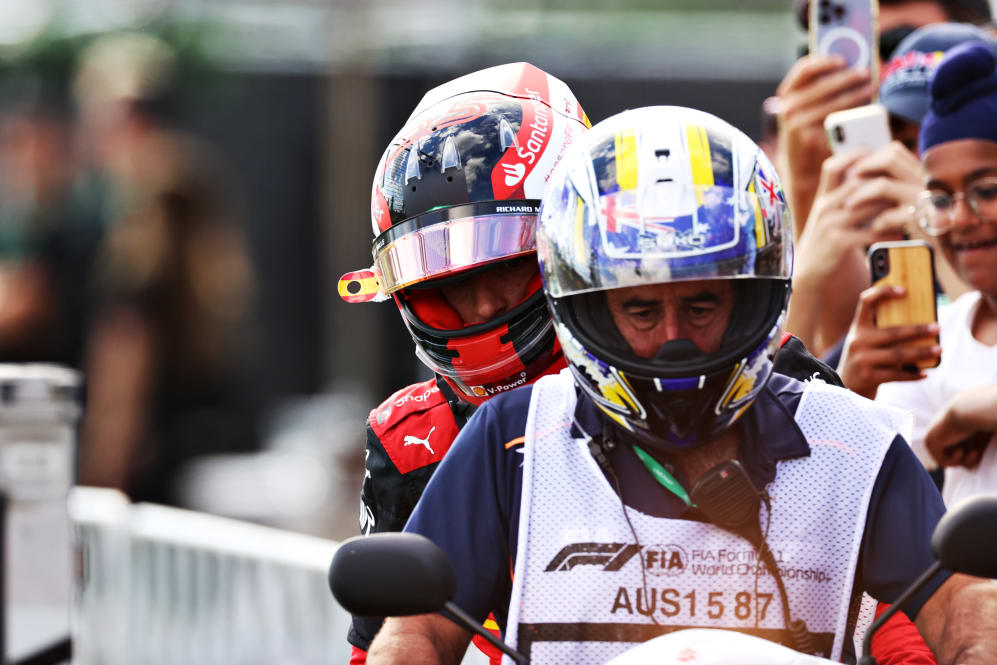 That and the low grip of the difficult-to-warm hard tyres meant he dropped to 14th – and then lost further places on the opening lap. Frustrated and trying to push on, he spun into the Turn 9-10 gravel trap on the second lap. It could hardly have been a more stark contrast in fortunes between those of his team mate. The point of divergence between them seemed to be nothing more than an electrical gremlin.
"I need to be hard on myself for a driver mistake," he said afterwards. "Obviously we're still getting to know these tyres and clearly the hard tyre this weekend was tricky in the initial laps and I shouldn't have pushed as I did. It's an easy conclusion. I shouldn't have pushed so much and I should have stayed patient.
HIGHLIGHTS: Watch the action from a thrilling 2022 Australian Grand Prix
"But at the same time, we were not perfect as a team. Too many steering [wheel] issues, anti-stall problems and the quali which meant it puts you on the back foot. It puts you under pressure and I didn't react accordingly."
The timing of this sequence of misfortunes and errors is particularly bad, in that it seems Ferrari are clearly in a title campaign. Leclerc's big points advantage – 38 points post-Melbourne – will be a hard one for Sainz to swallow.