'I could feel the energy out there' – home hero Stroll reflects on P9 in Montreal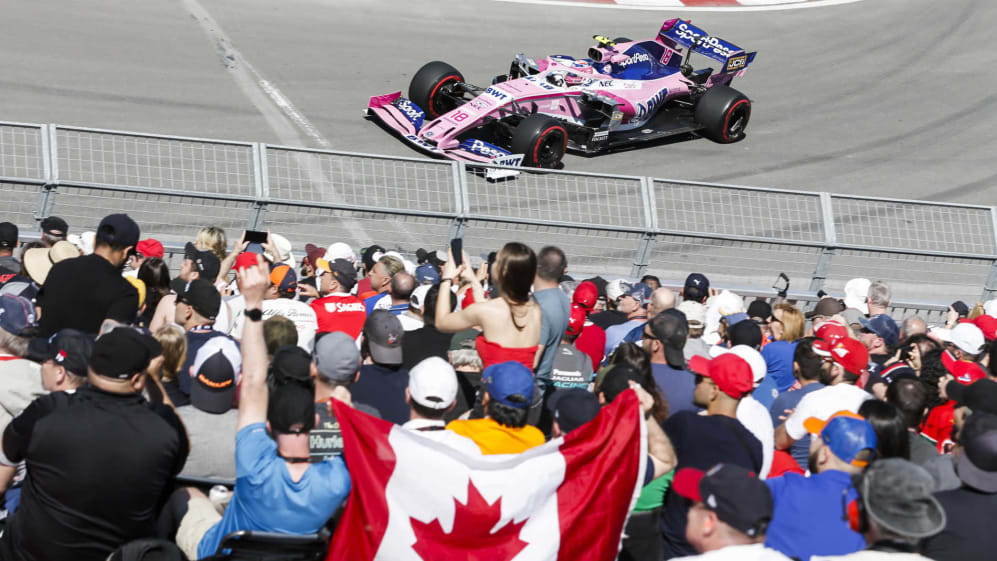 Two years ago, Lance Stroll secured his first ever F1 points at the Canadian Grand Prix with a fighting drive from 17th on the grid to ninth for Williams. And this year, at the wheel of his Racing Point RP19, Stroll repeated the result exactly, with a performance he called one of the best of his career so far…
Stroll appeared set for a difficult race when he suffered a hydraulic leak on Saturday morning that forced him to switch to an old spec Mercedes power unit – the team having received the upgraded specification for this weekend – before both he and team mate Sergio Perez failed to make it out of Q1. For the Canadian, it was an 11th straight Q1 elimination.
After starting the race in 17th on the hard tyre, some fine moves on the likes of Antonio Giovinazzi and his team mate, and holding off the challenge of Pierre Gasly in the faster Red Bull, meant that he was up to eighth by Lap 46 when he made his only stop of the race for mediums.
READ MORE: Vettel penalty hands record 7th Canada win to Hamilton
Emerging from the pits in 10th, Stroll then performed a fine overtake on the struggling Carlos Sainz with three laps to go to close out his third ninth place finish of the year – and he couldn't help being reminded of his triumph for Williams two years previously.
"It really brings back some good memories," said Stroll. "It was a very similar story today. We started 17th, just like back in 2017, picked them off one by one and finished P9.
"It was a well fought race. We nailed the strategy – starting on the hard tyre, going long, that was the key to our race today. We managed it perfectly. I was able to take that tyre really, really long into the race and make some bold moves out there, which was also key to our race.
"Passing Giovinazzi, I went down the inside of Perez into the hairpin in front of my home fans – I felt the energy out there and I thought, 'Right, I'm just going to send it down the inside', did it, pulled it off and then made it stick around the outside of Sainz in the chicane with a couple of laps to go to grab that extra point. It makes it that much sweeter that we really had to work for it today."
This race is definitely is up there with some of my best. I'm going to celebrate in style
Asked whether he felt the race had been his best F1 performance so far, Stroll replied: "There were some good ones last year… and no one saw them from where we were in the Williams! Every race is unique in its own way, but this one definitely is up there with some of my best. I'm going to celebrate in style."
Racing Point have endured a difficult couple of races, scoring zero points at both Barcelona and Monaco. But Stroll believed that the positive result in Canada would give the squad momentum to build upon in the next few Grands Prix.
"It's great," he said. "It definitely shifts the momentum from the last couple of races which were challenging for us as a team, both cars missing out on the points, and I'm really glad that, everything considered yersteday, the engine blow up, fitting the old PU back on which was a hit in terms of performance, and everything that happened, to walk away with some points is really a great result."
Stroll's two points for ninth place – with team mate Perez failing to score after struggling to make his medium-hard strategy work for – wasn't enough to stop Racing Point being overtaken for fifth place in the constructors' standings by Renault, with the team now lying in sixth with 19 points.