'I couldn't disappear' – Bottas gives his view on collision with Stroll as he's hit with five-second penalty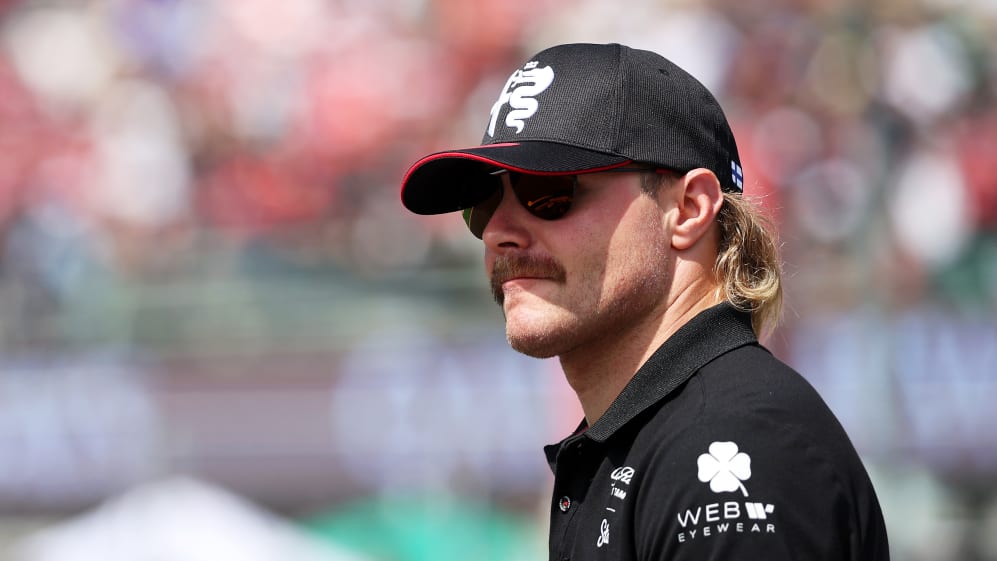 Valtteri Bottas was left to reflect on a "tough" race in Mexico after the Alfa Romeo driver finished last of the classified drivers, as he also gave his view on the incident with Lance Stroll for which he was penalised.
Bottas and Alfa Romeo had served as one of the surprise packages of the weekend as the Finn qualified in ninth – after making it into Q3 for the fourth time – only to finish the race in 15th, with a post-race five-second penalty dropping him below his team mate Zhou Guanyu.
READ MORE: Verstappen 'very proud' after record-breaking 16th win of the season in Mexico City GP
Reflecting on the afternoon, Bottas said: "Was a tough one today. Definitely unlucky as well because the first Safety Car came like one lap after we stopped. So, that meant we lost lots of ground and obviously in the red flag everyone could change their tyres.
"Restart was fine, but it was a bit of a train and eventually I ended up crashing with Lance, which was the last nail in the coffin not to get points today."
The Lap 67 incident with Stroll happened as the Aston Martin driver looked to overtake Bottas for 13th at the stadium section. However, as they made their way to the penultimate corner the two collided, sending Stroll spinning before he was forced to retire.
After the stewards investigated the incident, Bottas was hit with a five-second penalty for his part in the collision, knocking him down a place.
READ MORE: Hamilton has 'total faith' Mercedes can build a contending car in 2024 after finishing second in Mexico
Giving his view on the incident, Bottas said: "I mean [Turn] 13 was fine, he was obviously pushing me a bit wide but then going into [Turn] 14 [and] there was no space for two cars, and I felt like I couldn't disappear. By the time I hit the brakes it was too late."
Zhou, on the other hand, started the race from 10th and was running in the points in the early stages of proceedings. But as the event went on, he slipped further down the standings, and he explained how that happened.
"We boxed for the undercut after eight laps, [and then] red flag," said Zhou. "Lost all the track position, [and the] tyre advantage. Had to do the last start unfortunately with a used hard tyre which is actually the oldest tyre out there for the last restart, just not ideal."
READ MORE: Norris enjoys 'best ever' stint as he climbs from P17 on the grid to fifth in Mexico
He was also heard on the radio complaining of overheating and a burning smell coming from his C43. Asked what the issue was, Zhou said: "There was quite a bit of warming going on.
"But I think it was very similar to the issues of others out there. Just with this track particularly we have to manage a bit more."