Verstappen 'very proud' after record-breaking 16th win of the season in Mexico City GP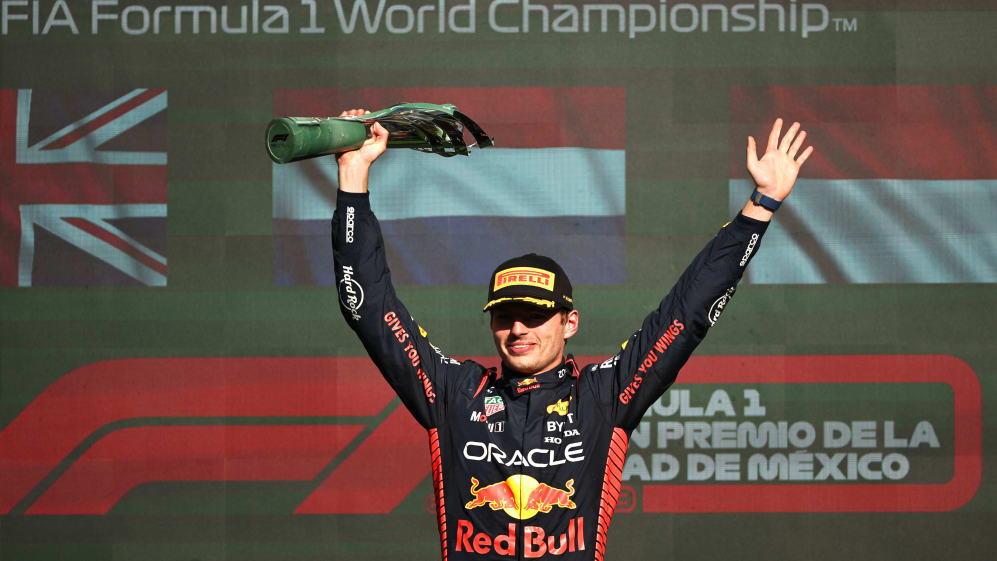 Max Verstappen has spoken of his pride at achieving a record-breaking 16th win of the season at the Mexico City Grand Prix, surpassing his own previous score of 15.
The world champion lined up in P3 on the grid for the race and made an impressive start, having started to challenge pole-sitter Charles Leclerc into the first corner. While Red Bull team mate Sergio Perez found himself out of the running after colliding with Leclerc, Verstappen stayed out of trouble and had a mostly unchallenged run to the win.
READ MORE: Verstappen charges to record 16th win of the season after Perez's opening lap crash in Mexico
There were some interesting strategy changes along the way though, with the Dutchman opting to pit early as part of a two-stop plan. This became a one-stop when a red flag was thrown halfway through the Grand Prix following a heavy crash for Kevin Magnussen, and Verstappen subsequently had another strong getaway on the restart en route to victory.
While Verstappen was satisfied with how things panned out, he admitted to being curious about how stopping again might have affected his race.
Reflecting on the Grand Prix, the winner said: "I think that start definitely made it a bit easier for me in the first stint as well, also because I was going to do a two-stop, so that of course gave me those extra couple of seconds that would've looked great on the plot anyway if we'd have made it happen. The tyres round here, it's always very hard to manage but I think we had quite decent pace, then of course we opted to box a bit earlier.
"I think also on the hard tyre we were quite competitive. It would have been quite interesting to the end to see how much faster I could have gone on the new set of hard tyres, but I think the strategy was looking great.
"Then of course we had the red flag, so basically everything that we did we could throw in the bin and start over. Then again it was all about having a good start and try to keep the lead into Turn 1, which we did, and after that it was just pace management to the end to keep the tyres alive, looking after the car, the brakes, everything."
READ MORE: 'I paid a high price' – Perez admits he 'took a risk' in race-ending incident after hoping to win in Mexico
In regards to the close battle with Leclerc and Perez into Turn 1, Verstappen said that he wasn't nervous "at all".
"It's not the first time that I've been two-wide or three-wide into Turn 1 here," he acknowledged. "But also we all trust each other, and of course you are all on the limit braking into the corner but it was all fine I think. Then I saw on my outside something happened, but luckily on the inside we could stay out of trouble."
With three rounds remaining in the 2023 season, Verstappen has already broken records including the most consecutive wins in one campaign (10), as well as now setting a new benchmark for the most victories in a season with his 16th P1 result of the year.
"It's been another incredible season," the 26-year-old commented on his latest feat. "The car's been unbelievable to drive in most places. When you then, as a team, work really well together you try not to make too many mistakes over the whole season, then you can achieve something like that.
FACTS AND STATS: AlphaTauri's best result of the year and another Verstappen record
"Of course I'm very proud of the achievement, because I think after last year when I won 15 I was like, well if I can ever try to replicate something like that I would be very happy. Now we are here with 16, so just very happy with everyone's performance in the team for the whole year, basically not making a lot of mistakes."