'I don't think one race will influence anything' – Bottas says Hungary error won't decide Mercedes future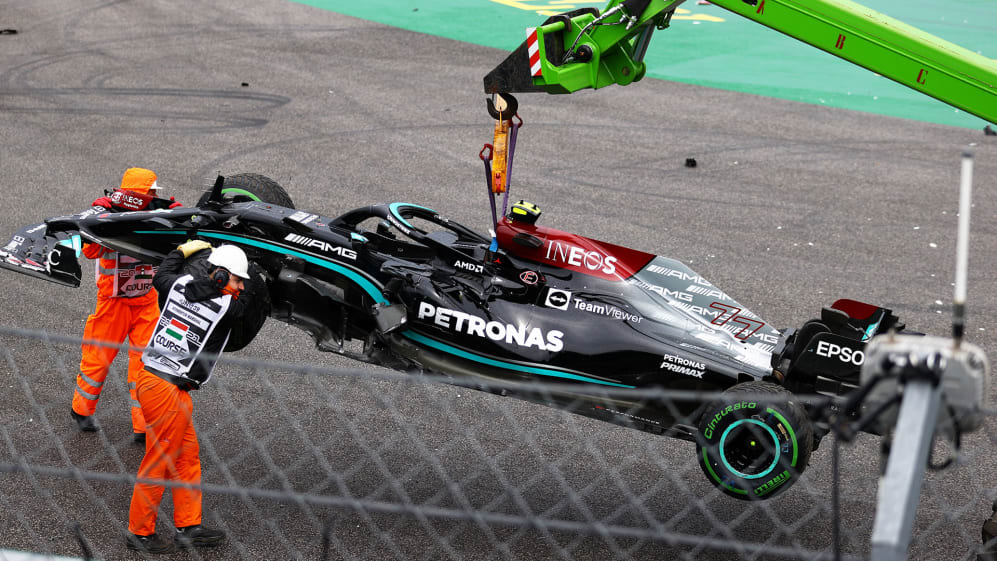 Valtteri Bottas causing a multiple-car crash at the start of the Hungarian Grand Prix probably wasn't the best way to impress his Mercedes bosses heading into the summer break. But despite his future at the team hanging in the balance, the Finn dismissed the notion that his error would have any baring on whether he stayed with Mercedes for 2022.
From P2 on the grid, Bottas suffered wheelspin off the wet start at the Hungaroring, and was outdragged by the McLaren of Lando Norris – who sits above Bottas in P3 in the drivers' standings – on the way down to Turn 1.
Bottas then locked up his brakes and slid into the McLaren before hitting Sergio Perez's Red Bull, with all three cars retiring, as Max Verstappen's Red Bull was then hit by Norris, causing significant damage to the Dutch driver's Red Bull.
READ MORE: 'It's not how things should go' – Wolff apologises after Bottas crash ruins Red Bull's Hungarian GP
"Obviously my mistake," said Bottas, who received a five-place grid drop for the forthcoming Belgian Grand Prix. "I was the one coming from behind and it's up to me to brake early enough but I misjudged the braking point.
"It shows it's not so easy in those conditions to predict, but I should have braked earlier, because when I started braking, I was closing in, then I locked the wheels and I hit Lando, and that caused the whole mess. So, my misjudgement and my mistake."
With Mercedes having said they would decide who would drive alongside Lewis Hamilton for 2022 over the summer break – with George Russell, Bottas' rival for the seat, set to carry out a Pirelli test for Mercedes at the Hungaroring today – Bottas refuted the idea that his error in Hungary would influence the Silver Arrows' decision making.
READ MORE: Russell to drive for Mercedes in this week's 2022 tyre test in Hungary
"We didn't speak about [my future]," said Bottas when asked if he'd had a post-race conversation with Team Principal Toto Wolff. "I don't think one race will influence anything. I don't think so. We'll see in the next weeks what happens.