'I expected Grosjean to see me coming', says Bottas after FP2 crash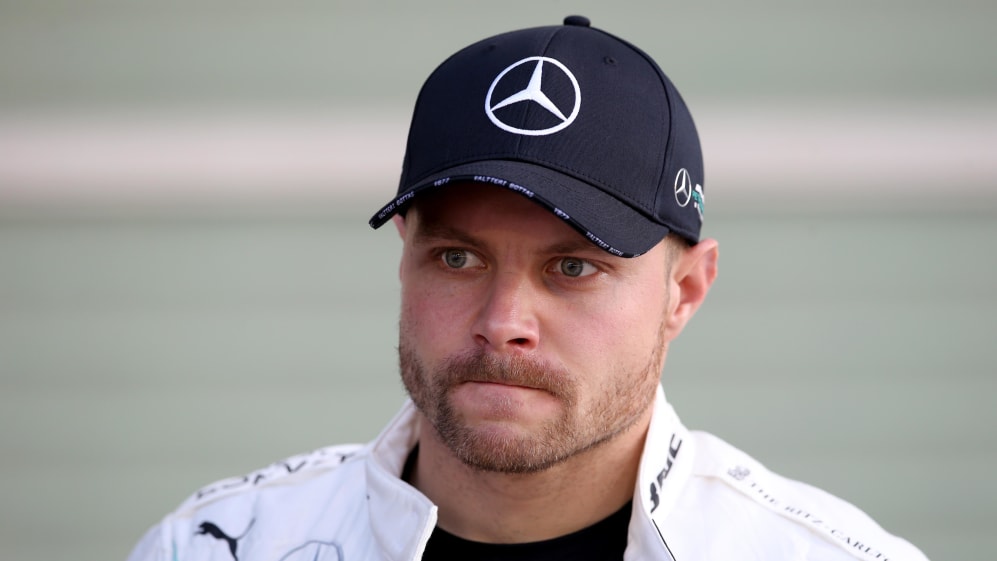 After heading the times in both Free Practice 1 and 2 in Abu Dhabi, the only black mark on Valtteri Bottas' Friday at Yas Marina was a reprimand he received from the stewards after a clash with Haas' Romain Grosjean during FP2 – a simple case, according to the Finn, of an on-track misunderstanding between the two drivers.
Bottas was approaching the Haas at speed on the run down to Turn 11 midway through FP2. But as Grosjean stayed right on the entry to the corner, Bottas accepted what he thought was an invitation to pass the Frenchman, before Grosjean re-took his line. The two drivers collided and both half spun, with debris from the incident causing the session to be briefly red flagged.
READ MORE: Hamilton struggling to find rhythm at Abu Dhabi season finale
"I think he didn't really see me coming inside," said Bottas, "so apologies, but there was nowhere for me to disappear – I went for the overtake and that was it.
"Honestly I thought he would see me coming because he was… trying to cover the line, but I thought he was aware I was there. I didn't know he wouldn't look at the mirror before turning in and I expected him to see me. Then I saw the gap decreasing and there was no escape."
FP2 REPORT: Bottas fastest again, despite tangle with Grosjean
Grosjean was left fuming in the aftermath of the incident, barking into his team radio: "What the **** was that?!" But after Bottas had excused himself, and the stewards had handed the Mercedes driver his first reprimand of the season, the Haas driver subsequently mellowed.
Valtteri offered me one of his floors!
"Valtteri apologised," said Grosjean, who suffered floor damage in the incident. "He made a mistake. He even offered me one of his floors but we have to stick with what we know!"
Grosjean was left frustrated, however, given that he was running a new aerodynamic package – which he used to take sixth and seventh in FP1 and 2 respectively – which the team now wouldn't be able to employ during qualifying.
"In FP1 I was really happy with the floor, the modifications and so on, so I said let's carry on with it into the second session," said Grosjean. "Unfortunately, we only had one of that package. Tomorrow we have to change the car back. It's not great as we did a really good job today with sixth in FP1 and seventh in FP2, best of the rest in both sessions."
Apart from the reprimand, meanwhile, the stewards decided there was no need for further penalties for Bottas, although he'll start from the back of the grid on Sunday anyway, having taken new Mercedes power unit elements coming into the weekend.