'I felt like this could be my day' says Perez as he misses out on maiden pole in Texas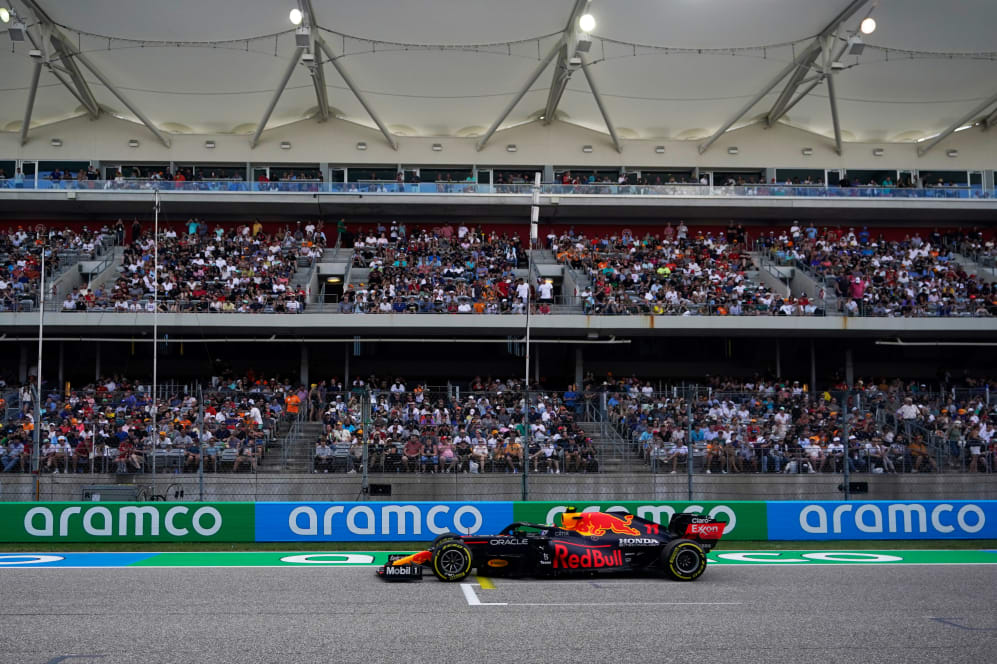 There was a huge roar as Sergio Perez came over the line in P3 at the Circuit of the Americas but the Mexican was more concerned that he had missed out on what could have been a front-row start alongside Red Bull team mate Max Verstappen – or even a maiden pole position.
Perez qualified third, just 0.015s behind Mercedes's Lewis Hamilton and 0.224s behind Verstappen, for the United States Grand Prix. But he did hold provisional pole before his rivals eclipsed him with their final runs in Q3. He explained how he felt after taking P3 on Saturday afternoon.
HIGHLIGHTS: Watch all the action from qualifying for the US Grand Prix at COTA
"I was just into my own thing – I knew there was some time to find so I felt like this could be my day, you know?" began Perez. "Unfortunately I didn't put it all together there in the end where it counted.
"Yes, it was pretty tense but I think I knew it was all down to the final chance: how much I was able to find. I was on a pretty good lap; I think in Turn 1 itself I was able to find a couple of tenths. I just couldn't keep it up completely throughout the lap and didn't get 100% out of the car today. I think Max did a fantastic job, same as Lewis, so we finished where we deserved today, I think," he added.
While no one has won a Grand Prix at COTA from behind the front row, Perez's team mate Verstappen has already proven that precedent is there to be challenged having broken Mercedes' streak of pole positions at Texas that stretches back to 2014. And the Mexican driver said he did not count out a solid result on Sunday either.
"Still, I think we are in a good position. I think it's going to be a pretty long race tomorrow so not too concerned about the qualifying; I think there is plenty of opportunities for tomorrow."
READ MORE: 'I'm not worried about what's happening behind me' – Verstappen relaxed about front-row showdown with Hamilton
Perez added that he took confidence from his third-place display in qualifying, especially given his stellar pace throughout the weekend as he also topped FP2 and FP3. "Not just from today, you know, starting the weekend, it shows how hard we are working behind the scenes to try to get on top of the car together with my engineers," he said.
"We haven't had the year that we were hoping [for]; the adaptation has been longer than expected but we've been working flat out and yes, we can see the progress and yes, I can just expect to keep getting better," he said.
Red Bull aim to claw back ground as they sit 36 points behind Mercedes in the constructors' championship ahead of the 2021 United States Grand Prix.