'I love these days', says Hamilton after 'close to perfect' wet-weather pole lap
1.216s – that was the margin that Lewis Hamilton's mastery of the wet conditions at the Red Bull Ring allowed him to take pole by during qualifying for the Styrian Grand Prix. But the six-time champion said that he'd had to overcome some 'heart in mouth' movements to secure pole number 89 of his career, with a lap he called 'close to perfect' considering the conditions.
With FP3 for the Styrian Grand Prix having been cancelled and qualifying delayed by 46 minutes as rainstorms rolled over the Red Bull Ring, when the action got started, it was Hamilton who led the first two segments of the wet session.
But with more rain failing in Q3, and despite already being on provisional pole, a bravado display from Hamilton saw him clock a full set of purple sectors on his final flying lap to consolidate his pole position, finishing an astonishing 1.216s clear of Red Bull's Max Verstappen – with the Dutchman having spun on his final attempt – and nearly a second and a half clear of Mercedes team mate and last week's pole sitter Valtteri Bottas.
QUALIFYING REPORT: Hamilton beats Verstappen to pole by 1.2s with epic lap in the wet
And speaking after the qualifying, Hamilton knew he'd pulled out something pretty special out of the bag in Austria.
"I mean honestly, it was a fantastic lap, the last one," said Hamilton. "I had one big moment the lap before the last, a big aquaplane which definitely had my heart in my mouth but I was able to improve on the next lap, nice and clean. I love these days.
"The importance of managing your time out there, managing your battery pack, knowing when to use the few laps that you have on the qualifying modes, making the gap, not making the mistakes when it counts.
"Obviously the lap that I had before was good enough but still, that last lap for me was really as close to perfect as I could get it in those conditions. And considering it was raining more, it makes me even happier knowing that I could go a little bit quicker in that time."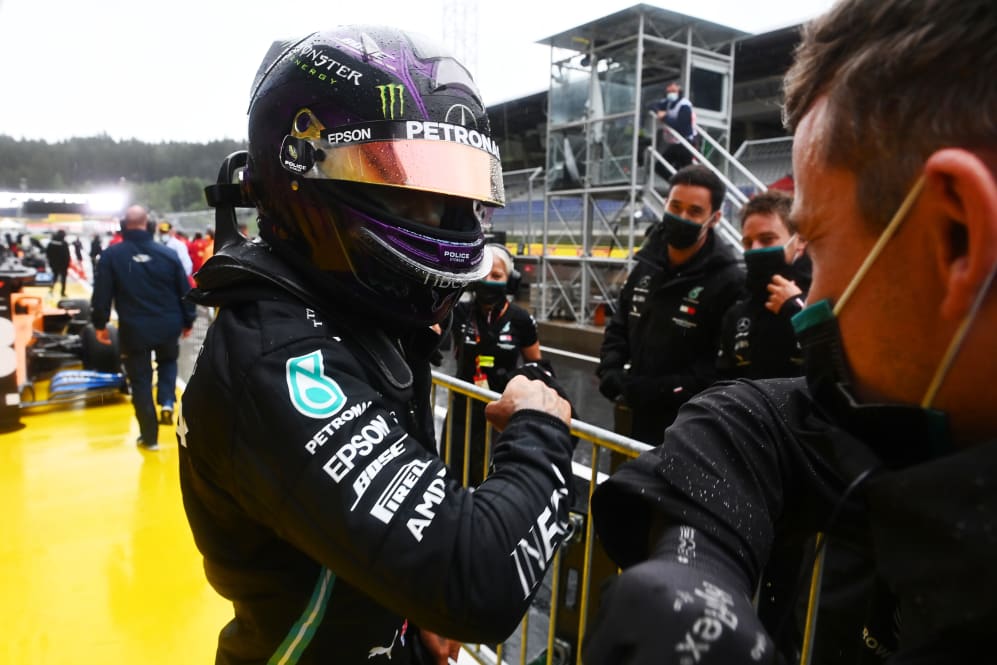 Hamilton went on to compare his performance at the Red Bull Ring to his epoch-defining victory in the wet at the 2008 British Grand Prix.
"It definitely takes me back to times like Silverstone 2008, because when you're really at one with the car and not phased at all… you have to be really dynamic with your driving style from corner to corner because the wet patches arrive, the puddles are shifting about with the cars that are driving ahead of you, which is a massive challenge.
"I'm smiling under this mask," he laughed. "Super happy."
Friday Pace Analysis: Verstappen was fastest, but do Red Bull really have the speed for victory?
Hamilton's Friday in Austria hadn't been a smooth one, as he'd ended up over six-tenths adrift of Bottas in Free Practice 2. But the Briton confirmed that work done overnight by his team should make life easier for him when he starts on pole tomorrow.
"The guys did a great job last night just going through [everything] with a fine comb to understand, to just double check the car and then look at the data," said Hamilton. "We understood what may have been causing the problem and felt more confident going into today knowing hopefully that wouldn't be an issue. So there's no longstanding issues."
Hamilton will now line up on pole for the third time at the Red Bull Ring, with conditions set to be more favourable for the drivers on Sunday.