Feature
Friday Pace Analysis: Verstappen was fastest, but do Red Bull really have the speed for victory?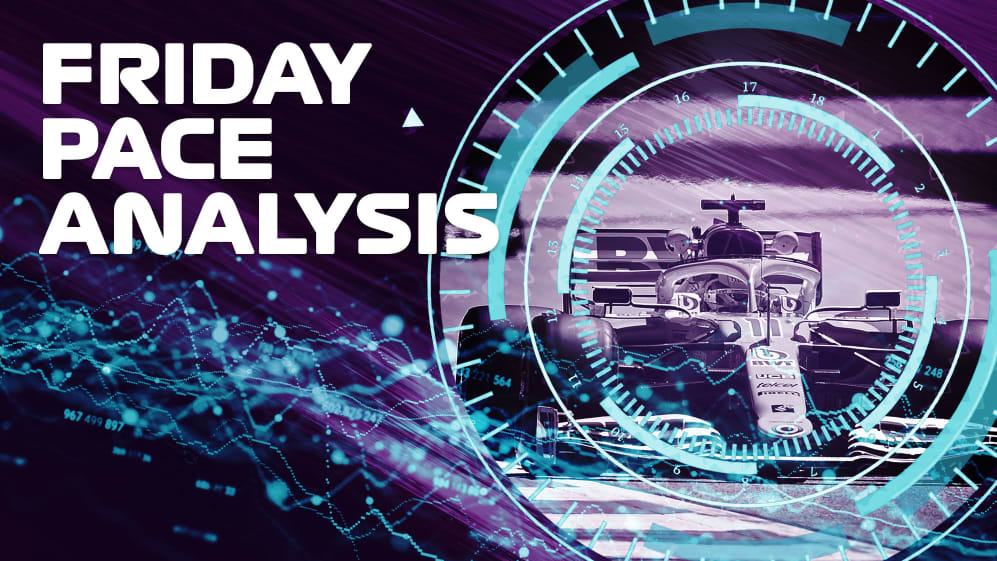 Friday practice is traditionally all about teams doing their homework, gathering data in a bid to find the sweet spot of their car ahead of qualifying and the race. But at the Red Bull Ring, ahead of the Styrian Grand Prix, FP2 took on added importance. Things got serious.
With heavy rain predicted for Saturday, the FIA informed the teams that the times set in second practice could count for the grid if qualifying couldn't take place on Saturday or Sunday morning. So unsurprisingly, the teams took a little more fuel out than they ordinarily would and attacked their run on the soft tyres a little harder than they usually would.
So how did that go? And what did we learn? Let's have a look at the data.
FP2 REPORT: Verstappen heads Bottas and Perez at the Red Bull Ring as Ricciardo crashes
One lap pace
Max Verstappen had reason to be downbeat after last weekend's Austrian Grand Prix, the Red Bull driver retiring with an electrical issue when in the hunt for victory. But he wiped that out of his mind as the field got back in their cars to do it all over again at the Red Bull Ring on Friday – and sent a powerful message of intent with the fastest lap of the day.
The two-time winner of the Austrian Grand Prix tends to call it how it is when discussing the team's form. If it's been a bad day, he'll say it. If it's been strong, he won't be shy in highlighting that. Today was a good day, when I spoke to him, the team having run back-to-back tests on parts and found a positive direction to go forward into the weekend – and Verstappen reckons they have made a good step in performance.
He ended up quicker than Bottas by just 0.043s, but following our ideal lap analysis – which combines a driver's best mini sectors around the lap – that advantage would swell by a couple of tenths. When we analysed the real lap times, taking into account fuel, Mercedes were actually the fastest, 0.3s quicker than Red Bull. But sources suggest that while Mercedes do seem to be quicker overall on one lap, it's actually much closer.
IDEAL LAP: An alternative look at the FP2 timesheet for the Styrian GP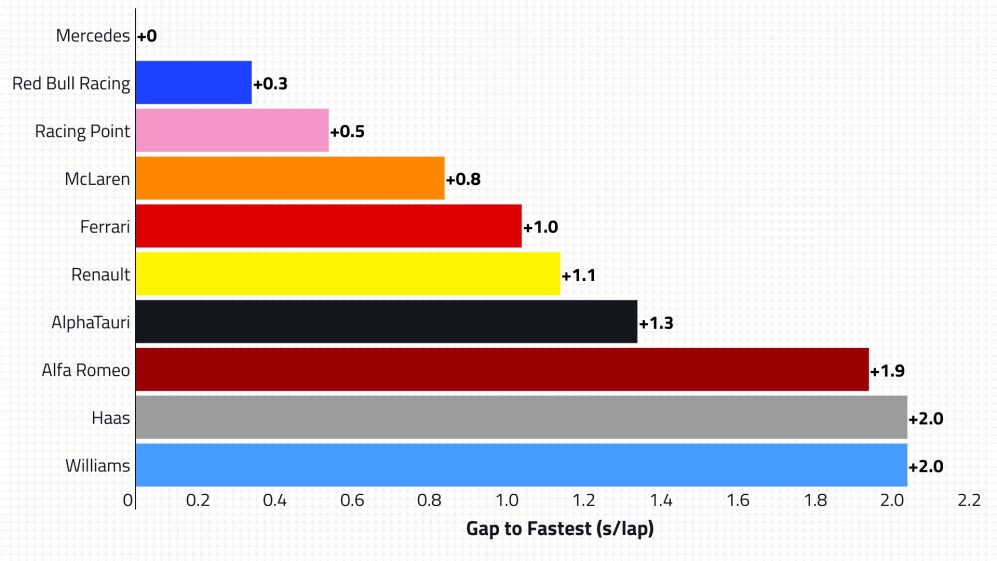 READ MORE: Racing Point aiming to 'get back the points we lost last weekend' says Perez
Next up is Racing Point, 0.5s off the pace on short runs, and two tenths adrift of Red Bull according our data. Racing Point had something of a breakthrough during the days between races regarding the understanding of their car. From the off on Friday, both Sergio Perez and Lance Stroll felt super comfortable with the car, and the pace just came. Given this is a whole new concept for the team, it's not a surprise it's taking time for them to understand it.
Perez and Stroll were third and fourth respectively in second practice, and speaking to people in the paddock, if qualifying happens, there's a genuine feeling that at least one of those cars can make it onto the second row of the grid – which is a remarkable achievement for a team that finished in the bottom half of the constructors' championship last year.
McLaren were next up, Carlos Sainz saying he's finally found a balance that he's comfortable with after struggling a lot last weekend. It's not perfect yet, but the Spaniard made strides today and that showed on the timesheets. McLaren look like they are the fourth best team right now, ahead of Ferrari, when it comes to qualifying pace – and providing Lando Norris feels better, after suffering chest pains during Friday practice, there's a good chance they could have two cars inside the top eight as a bare minimum.
Ferrari were disappointing on the timesheets – and they're down in fifth in our ranking. Charles Leclerc reckons he got the best out of a heavily updated car, but Sebastian Vettel says there's way more to come. His time isn't representative as his best lap was deleted for exceeding track limits. He's in a far better place this weekend, so expect him to figure more highly in qualifying.
READ MORE: Ferrari is 'like a different car' on high fuel after new upgrades, says Vettel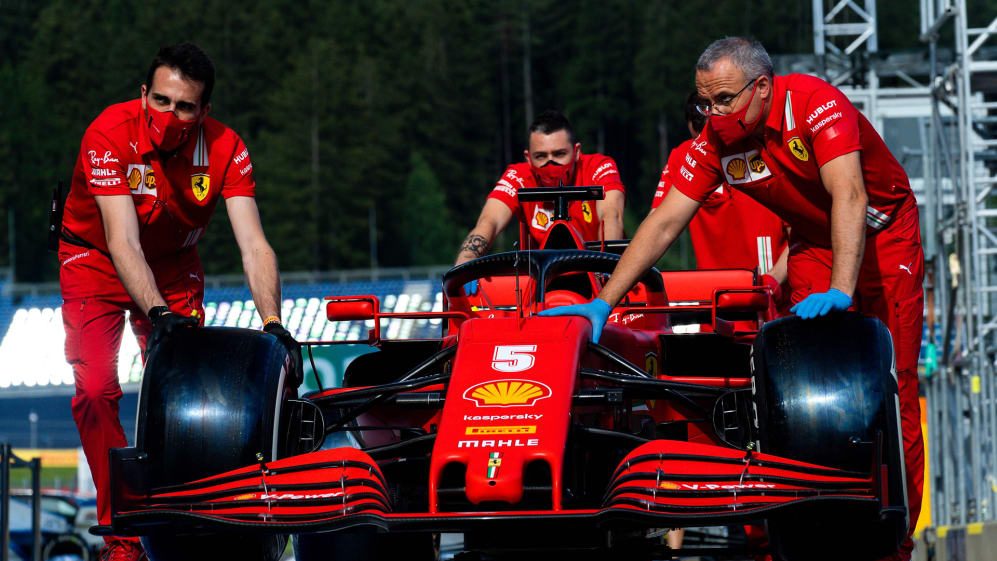 Race pace
Mercedes pulled out all the stops to fly in new wiring looms in time for the car build on Wednesday, after they encountered "electrical noise" problems during the last Grand Prix. The early signs are positive, the team reporting that the new looms have certainly "improved the situation" but they need more time to conclude that the issue is resolved.
Valtteri Bottas was pretty happy with how the car felt on Friday, particularly over a race distance, but Hamilton was less enamoured by his exploits on Friday. While the car felt good for the reigning world champion, the times weren't following through so there's certainly some work to do overnight. But based on the long run data gathered between them, things are looking pretty tasty for the duo, as they hold a 0.5s advantage over the rest of the field.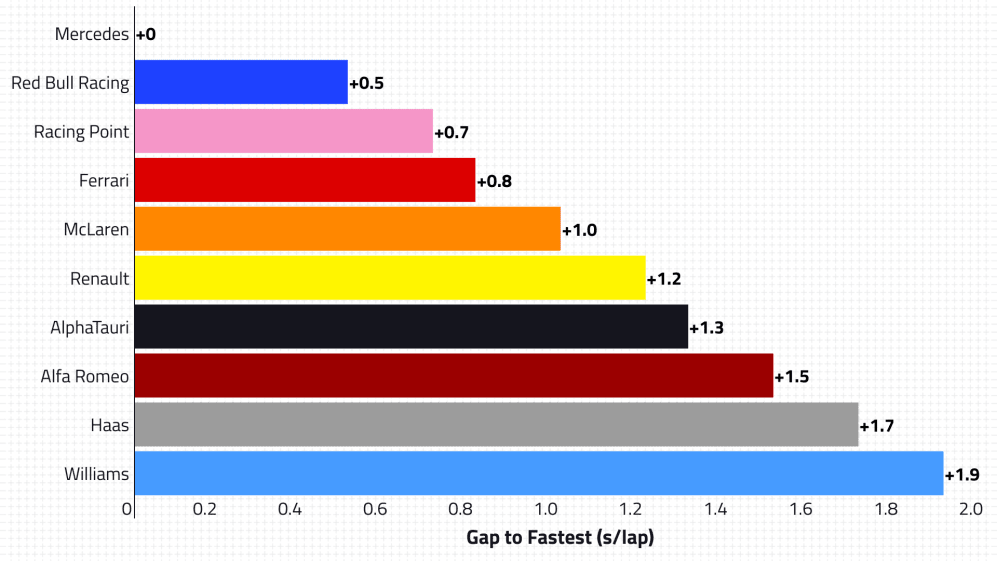 Red Bull are emerging as the second-best team on the grid, the Milton Keynes-based squad collecting some very useful race pace data in Friday practice and emerging as the strongest team in the low and medium speed corners. It wasn't the ideal end of the session for Alex Albon, the Thai driver losing the car and skating into the gravel when running the hardest compound, but overall, they're encouraged by the numbers as they clocked up the laps across the softs, medium and hard tyres.
Racing Point backed up their short run pace with their long run lap times, the pink cars just two tenths a lap slower than Red Bull, and around one tenth quicker than Ferrari. It might explain why they're quietly confident of playing a key role in Sunday's race, when conditions are expected to be cooler.
McLaren were next up, with just half a second separating them with Renault, AlphaTauri and Alfa Romeo, so there could be a pretty tasty battle for the final few points-paying positions. Haas and Williams bring up the rear, but they had contrasting fortunes.
While Haas struggled with balance, exacerbated by the hot temperatures, Williams went experimental with their approach, and while most of the their tests didn't work, there was still a general feeling that they are making progress and in a position to challenge those in front of them.
READ MORE: 'We've made a good step,' says Red Bull's Max Verstappen after topping FP2
Verdict
Those in the paddock might need to pack their wellies and an umbrella for Saturday, so torrential is the rain expected to be. If FP3 and qualifying can't happen on Saturday, the FIA's weather forecast suggests that the bad weather for Sunday morning has receded, so it would be possible to run qualifying then, a few hours before the race.
The Styrian hills are quite a volatile region in terms of weather, so things can change quickly. With that in mind, the F1 family intends to turn up on Saturday in the hope qualifying, at the very least, can take place.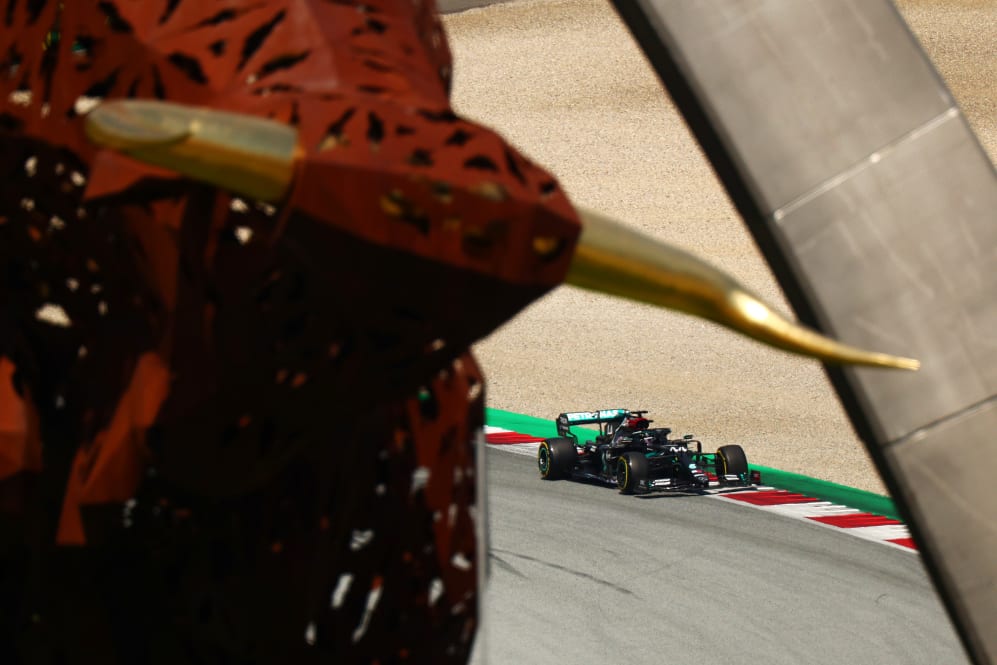 With wet conditions, that very much levels the playing field and opens the door for drivers who excel in the wet to outperform the car, creating a potentially mixed up grid. If rain sets in and sticks around for Sunday morning, we'll be using FP2 for the grid, leaving Verstappen on pole, an all-Racing Point second row, Hamilton down in sixth and Vettel a lowly 16th.
So for all the naysayers who said that the second race in Austria would be a carbon copy of the first race, it looks like you'll be proved wrong for a plethora of reasons, including the fact that mother nature is set to get involved. With all that in mind, we've got the ingredients for a cracking weekend ahead. Can we top last week's thriller? On the evidence of what we've seen so far, it's looking very good.