Feature
F1's Best Drives #8 – Hamilton's wet-weather masterclass at Silverstone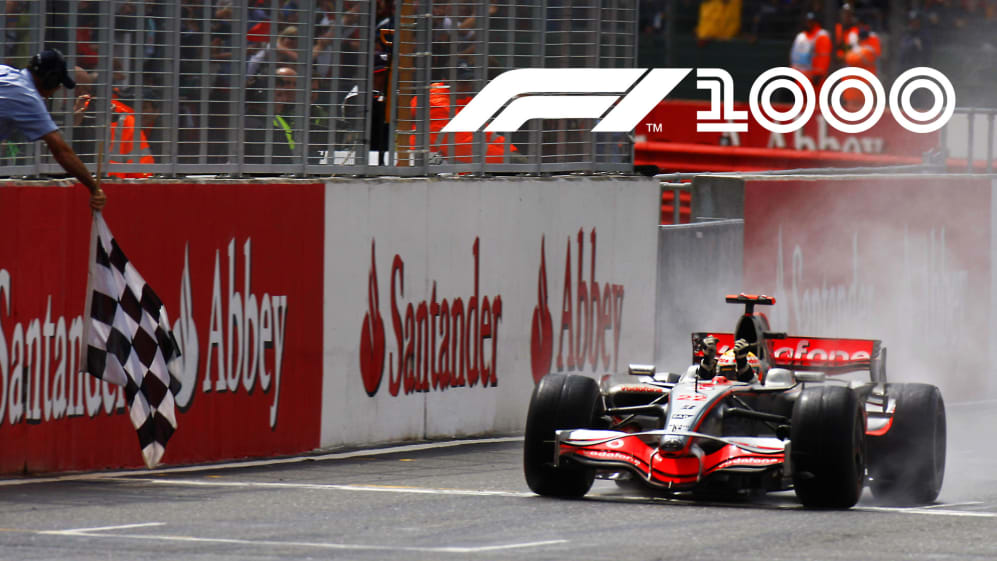 The upcoming Chinese Grand Prix will be the 1,000th race in the world championship's glorious history, and in celebration we're counting down the 10 best performances of all-time, from virtuoso drives to brilliant comebacks. And who better to curate our list than Hall of Fame journalist David Tremayne, who has been on the ground at more than half of all of the F1 races run to date. Here, he remembers Lewis Hamilton's phenomenal wet-weather performance at his home Grand Prix in 2008 which, after a costly and embarrassing error two races before, helped remind people that he truly was a once-in-a-generation talent.
Who:
Lewis Hamilton
Where:
Silverstone, England
When:
2008
Race number:
794
Lewis Hamilton had a reputation to rebuild when he lined up fourth on a very damp grid for the 2008 British GP, after running into Kimi Raikkonen's Ferrari in the pit lane in Canada, and being compromised by the resultant penalty in France.
But in just under 100 minutes of brilliant work he emulated the English climber Joe Simpson, and as he scaled his mountain he eradicated the bad memories and sprang back into the lead of the world championship. On an afternoon when cars were spinning everywhere, he made everyone else look like also-rans as he won by more than a minute, in what he described as the best race of his career.
READ MORE: F1's Best Drives #9 – Button's against-the-odds Canadian comeback
Team mate Heikki Kovalainen pushed his McLaren into the lead from pole position, but it was Hamilton from the second row, and on the supposedly inferior inside line, who was alongside him as they brushed gently going into Copse Corner. Kovalainen stayed ahead. But as they went into Becketts on the fifth lap Hamilton slid elegantly by in a decisive move.
Raikkonen momentarily looked a threat after Kovalainen had later spun, but lost out on worn intermediate tyres after their first pit stops as McLaren gave Hamilton a fresh set. By half distance, he was 23.7s ahead of Germany's Nick Heidfeld and Kovalainen.
Rubens Barrichello, on extreme wet tyres, became the only man who overtook Hamilton all race – but only to unlap himself
So phenomenal was Hamilton's speed that his McLaren crew urged him to slow down, but he was driving at a comfortable pace. "I said, 'Hold on a second, what's going on? I'm not even pushing.' I didn't want to slow down, because the moment you do that you lose concentration. I really had to be very sensible. I had to imagine I was 60 seconds ahead and then fell off, and that would have been so embarrassing. There's no way you could come back from that, you would have to retire! It was just about managing it all."
At the mid-point it began to rain hard, turning Silverstone a skating rink. And now Hamilton had to worry about rain steaming his visor, forcing him to raise it at strategic points on the track. At one point he couldn't see out of his visor or his mirrors. And it was during this stage that Rubens Barrichello, on extreme wet tyres, became the only man who overtook him all race – but only to unlap himself.
READ MORE: F1's Best Drives #10 – Schumacher walks on water in Spain
"All I could hear was the tone of two engines," Hamilton said. "I thought, 'Oh no, just let him past, stay on the inside and brake early. He came flying down the outside… It was such a tough mental challenge!"
As rivals Felipe Massa and Robert Kubica suffered, the Brazilian spinning five times and the Pole making his first error of the season, Hamilton sailed serenely on to head Heidfeld and Barrichello home.
As a demonstration of resolve and dominance, his peerless performance was reminiscent of Ayrton Senna's great win in the similarly tricky Grand Prix of Europe at Donington Park 15 years earlier.
Hamilton's younger brother Nic had reminded him the previous evening that he was the master in the wet, and he dedicated one of the most crushing demonstrations in recent F1 history to his family, which had stood by him in his recent tribulations.