'I paid for Ricciardo's mistake' says Sainz, after ending second straight race in gravel trap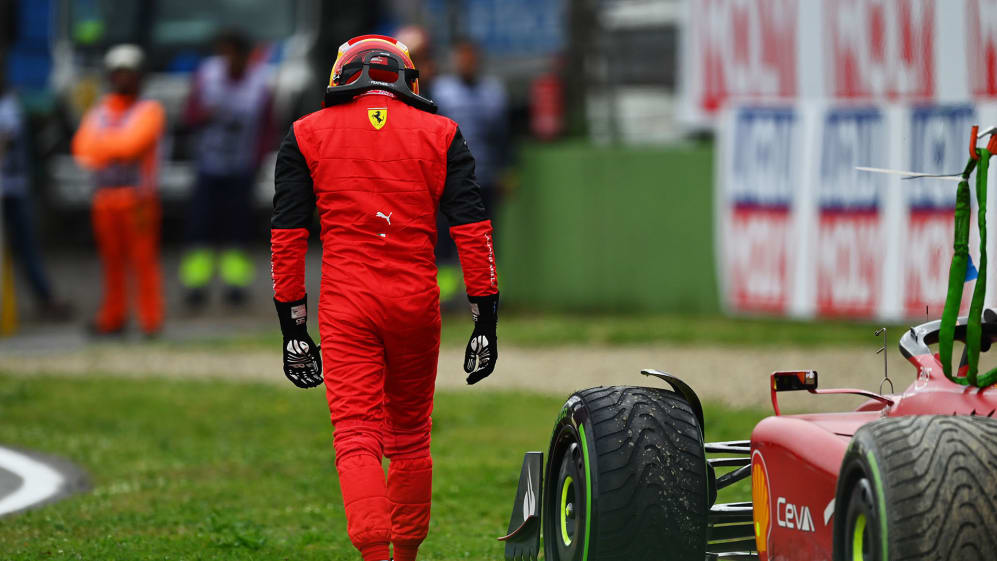 Carlos Sainz's Emilia Romagna Grand Prix lasted just two and a half corners, after he and Daniel Ricciardo made contact on the opening lap which forced Sainz into the gravel and out of the race – leaving the Spaniard "not happy" after his second consecutive retirement.
In Melbourne two weeks ago, a mistake by Sainz saw him crash out of the race on Lap 2, while in Q2 of qualifying at Imola, another crash saw him hit the wall at Rivazza 2.
But having earned P4 on the grid in the Sprint, a slow getaway from Sainz saw him duelling with the P6-starting Ricciardo into Tamburello, the pair making contact that spun Sainz around and into the gravel, where his Ferrari beached.
READ MORE: Verstappen leads Red Bull 1-2 as Ferrari falter in action-packed Imola race
And Sainz – who announced a contract extension with Ferrari on Thursday – didn't conceal his disappointment when he spoke to the media after his second successive DNF.
"It was a difficult start as you saw," said Sainz, "but there were still 63 laps left, and even if you lose a position to a McLaren like Lando [Norris] or whatever, it's still a long race to go, especially in these conditions.
"But unfortunately, I think I left plenty of space for Daniel on the inside but he decided to get on the kerb and understeer into me and that was it for my race. Very unlucky – nothing I could do differently there, but it is what it is.
"It's tough," added Sainz. "I'm not happy, and it's tough to go through it, especially in a home race like this with all the tifosi, getting the support from them, wanting to do a good race for them. Yes, as I said, the start wasn't great; we will analyse why but it was still a long race ahead and for some reason, I was the unlucky guy that for someone's mistake, I had to pay. It's how it is."
DRIVER OF THE DAY: Verstappen gets your vote after dominant Imola win
For his part, Ricciardo put his hands up and admitted that he'd been at fault in the incident – with the Australian seen after the race seeking out Sainz to apologise.
"Obviously not the way I wanted Sunday to go," said Ricciardo, who carried on in the race but finished P18 and last, as team mate Norris scored a podium for P3. "A painful one and obviously not the way I want to affect someone else's race.
"From memory, I think I got onto the kerb just to try and buy myself a bit more space, because I know at some point it's going to bottle up, but I think once I got on the kerb, I just slid off it and then started to slide up into him.
"Obviously intentions were, in a way, good to try and, let's say, leave some room. But in those conditions obviously I didn't have the grip I was hopeful for, slid up into him and ruined his race as well. Then we had damage and it was a painful 60 laps.
"I'll go and see Carlos," added Ricciardo. "I'm sure he was in [the media area] already, but go and see what I can do now to apologise and just try and move on for Miami."
WATCH: Leclerc hits barrier chasing Perez for P2
The misery of Sainz's retirement for Ferrari, meanwhile, was compounded by what transpired with team mate Charles Leclerc, who lost what appeared to be a certain P3 after spinning at the Variante Alta on Lap 53 of 63, eventually coming home P6 on a tough day for the Scuderia in front of the tifosi.